November 15, 2021
How was your Sunday readcashers?
Pardon me for writing another yet nonsensical content as my mind truly wanted to rest from thinking deeply, lol. Don't worry, there would be more to follow so bear with me, lol. There's nothing wrong with taking a break anyway. If you'll ask (of course you won't), how I spent my Sunday morning? Well, I woke up very late, like 10 in the morning, since it's my holiday. Thereafter, I just slacked in my abode while interacting with the BCH community until 1 in the afternoon without taking any food. Fasting has been my routine every holiday as it could help me cleanse my body and recover cells. That's what doc said, lol.
Back on track. Permit me to post my Sunday Ramblings ft Acro Y' Stic.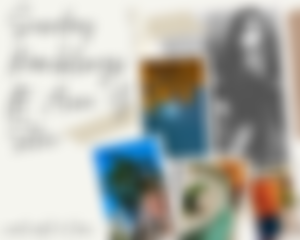 Sunday was as ordinary as my typical mundane Sunday because my feet didn't urge me to walk farther to burn a few calories of my petite body. Do I even need to burn anything? Do I even have fats or enough calories to burn? Lol. My silly mind asked me when I wrote this part.
Under this thin frame, is, of course, fats, because if there isn't, I should have been like a walking veggie, or a smushy, pale, non-fat yogurt. Speaking of fat. When I put on my undershirt (I thought it would be colder outside so I put one on), I noticed that the sleeping dinosaur in my tummy is getting bigger as it's obvious from the outside. It's making my tummy fat to look at. Or should I say, I am gaining fat only in that part, lol. It made me think, did I eat more? Or slack more? Lol. It seems like I am pampering that dinosaur more than myself. Haha.
Fast forward.
Noticing the wind on the 8th floor of our building, it was a bit cold. And I thought it would be colder outside that's why I opted to put on an undershirt, so I don't need to bring a jacket in case the temperature falls at night. But when I stepped out of the building, the scorching rays of the sun welcomed me that elevated my body temperature shortly.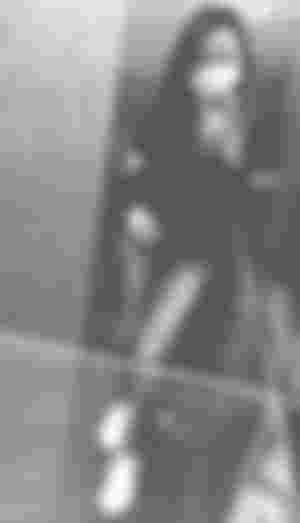 Dang! Who won't feel hot anyway if you're wearing a thick long sleeve shirt with an undershirt? lol. It seems like I didn't want to catch a cold, but wanted to sweat instead. It might help me burn calories lol. Anyway, I didn't get back home to change my clothes but continued my journey instead.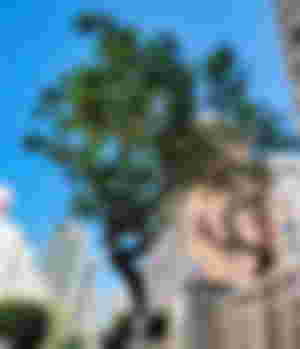 After a few walks, I found this beautifully trimmed tree, standing tall and begging me to take photos of it. And so I did it a favor. Its colors compliment well with the blue sky. Isn't it? Pity tree though. Some branches of it were cut down as part of its annual haircut.
Yearly, big trees in our compound and other parts of HK are trimmed to avoid accidents, especially during stormy and windy seasons. Nonetheless, they did a good job trimming this tree beautifully.
Right after taking photos, I walked forward as my gurgling tummy was calling my attention to feed the hungry dinosaur inside it. As I get closer to the city down the alley, the breeze was getting colder, which I liked more. Wearing thick long sleeves wasn't a wrong decision after all.
And at the end of the second block before turning right to the main city, there I saw my favorite congee restaurant and so I stopped over to get some warm food. It's the same restaurant where I usually eat pumpkin congee every Sunday. I was feed up with it, so I chose a different flavor which was mushroom congee and this sesame ball that was cut into pieces.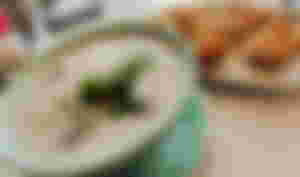 Munching the sesame ball indulgently, it reminded me of "buchi" in the Philippines. But it's quite bigger, softer, and tastier than the buchi in our place. It's made from glutinous rice, so it's quite chewy, yet yummy. Some sesame balls in HK are also filled with some flavors such as sesame seed paste itself, or red bean paste, and other Chinese fillings.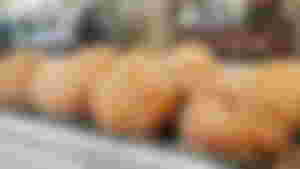 But after eating congee, I felt thirsty as I didn't order any drink. That's because the congee itself was watery but after eating the sesame ball, it made me thirsty. A few blocks from the restaurant is a ShareTea shop, so I ordered my favorite green tea with grass jelly this time, before heading to my favorite spot inside the Kowloon Walled City park.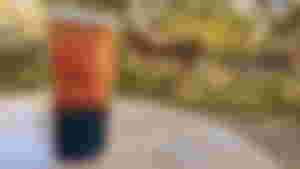 Lo and behold, my favorite green tea in my favorite spot. My throat was no longer dry after pouring some cold tea into it. While enjoying my tea, I opted to watch the trending Red Notice movie of my favorite Ryan Reynolds, Dwayne Johnson, and gorgeous Gal Gadot.
It was an awesome, fun, and full of adventure movie with a surprising twist in the end. Truly, the production team did a great job choosing the casts. They are all fantastic artists.
Not just that! Because I also saw my favorite singer Ed Sheeran in it. Kudos to the whole team. However, they didn't finish him singing my favorite Perfect as the Polizia intruded the wedding ceremony. Only those who watched the movie can understand my blabbering, haha.
Generally, my Sunday was mundane no more as I was entertained by the movie while enjoying the solitude the place gave me despite having the literal red notice down there. You know that. The annoying monthly visitor of the ladies.
Surprisingly, I didn't feel any pain the whole day and the monthly dysme was gone for a day allowing me to enjoy my holiday. Again, only ladies would understand this part 😅. It's kind've private, lol. But I know, it would punch my pelvic painfully at any moment, once I hit the sack perhaps.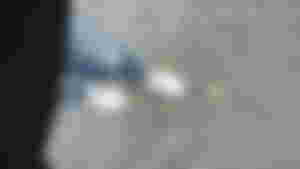 It was half an hour past five in the afternoon when I left the place as I still need to buy something for myself. The dusk was slowly invading the fast-approaching night and so I made a stroll before it turns darker.
At night before the clock hits 8 O'clock, I strolled back home and I saw the silent moon hanging beautifully in the calmed sky. Of course, the frustrated photographer didn't lose the opportunity to capture the stunning moon. And look at those leaves of the trees. Aren't they pretty? The Fall indeed falls putting sepia hues on the leaves which make the trees look vintage.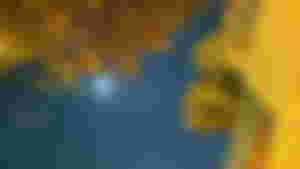 So that's how my Sunday went. Mundane it might be to you, it's kind've though, lol. But at least, Red Notice had formed a curved line on my lips the whole time of binge-watching. It made my day complete.
And that's all folks. My Sunday Ramblings ft Acro Y' Stic.
How did you spend your Sunday? Have you watched the Red Notice movie yet? I recommend you to watch it for free here.
And the moon inspired me to write a poem which I posted on noise.cash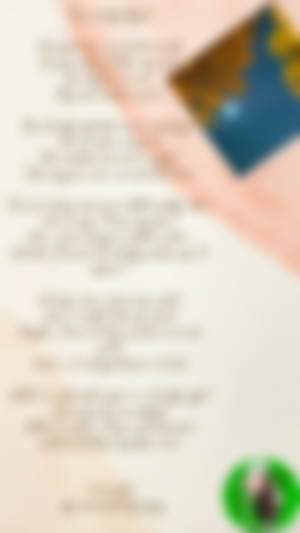 Another Acrostic writing 😁.
Feel free to read my other acrostic writings:
Because Of You (My Life Has Changed)
Enjoy and thanks for your time.
©read.cash/@Jane (All Rights Reserved 2021)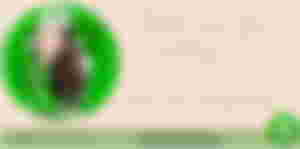 Time of writing: 11/14/21 @2pm