"My biggest fear as a mom"
Sponsors of GarrethGrey07
Basically, one thing is for sure, if you were already a mom like me, then probably your biggest fear's was when your child being sick. For sure you'll gonna get paranoid as well.
_____________________
Hello there lovelies, it's me again. How was your day so far? Today is quite a bad day for me, as my son suddenly got a fever. I actually don't know why he suddenly had a fever as upon waking up yesterday morning he was totally fine.
Yesterday morning he woke up earlier than me. At around 6:30 AM he's already awake and he immediately grab his toy's and play. That's actually his common thing every morning, rather than asking his milk. So when I felt that he was already awake, I forcefully wake up and prepare his milk then give it to him after. He immediately drink his milk and while he was drinking I prepare myself as I needed to go out to buy our viand as well. After he finished his milk he get up and went to our door immediately, that means he wanna go with me 😅.
His actually smart. He really knows that one's I prepare myself that means I'm gonna go out. So there were really time's that even he was still wearing his pajama he is already with me and running outside. Sometimes if I don't allow him to go with me, he will grab his sleeper's by himself and would wait me in front of our door, so if ever I go outside his ready. Lol. Ready to run outside 😂.
So since he already finish his milk I bring him outside. He was very happy, he was still active as he keeps on running. I can't concentrate on buying our viand as I keep on watching him. He don't like that I'm gonna carry him, when we we're outside, and so I can't stop him from running around.
After I bought our viand we walked back home. He was just walking right beside me. When we arrive at our front door I let him go inside first as I suddenly saw Lala (our cat) with the other two cat's under our roof. The two male cat's are fighting over Lala. I think it's their mate time and so males are fighting for female cat, and so I called Lala. I don't want her to get pregnant yet, she's still young😅.
While I was calling Lala, I didn't notice that my son went outside again. I just knew when I suddenly heard that something fell in my back. I don't know how he fell but I just took him back inside again and close our door.
He was still okay. He was still playful and active the whole morning. After I finish cooking, I prepare him for bath and he was still enjoying playing with the water, just like he usually do. He really loves playing with the water, specially if the weather is freaking hot.
Furthermore after my partner leaves home to go to his work, I let him play with his toy's first. Then at around 10:30 AM I prepare his milk then I prepare his hammock as he was already feeling sleepy. After 10 minutes of swinging he falls asleep.
I finish my chores in the kitchen, then after I finish my chores I started reading articles. I firstly check Hive, and do some follow back and re-blog since my RC (resources credit) was still charging. I can't do comments yet and I think I can comment again after two days more as my RC was just 40%, it's takes a little time to become full.
However at around twelve (12:00) noon, he cried and so I swing his hammock again. I was actually busy unpacking the parcel of my partner as he instructed me to took a photo and video of the item while I am unpacking it, so if ever it has a damage he can ask a refund or replacement from the seller. But since my son woke up I didn't get a chance to took a Vedio of it.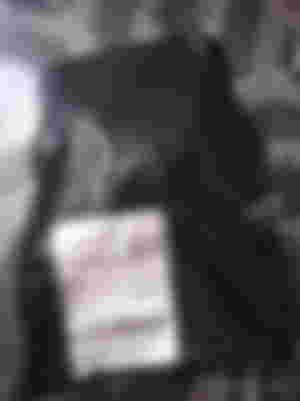 I continue swinging his hammock but since he didn't stop from crying I checked on him. I wonder whats wrong and I got surprise when I touch him and found out that he was too hot. His temperature was really high as he was burning with his fever. I got so worried and so I took him out from his hammock and carry him.
Unfortunately I had no thermometer at home and so I can't check how high his fever was,but I can really felt that it's too high.
I keep on forgetting to brought a new thermometer as every time we we're outside I always get busy with my son.
I was really worried and his fever makes me scared. I already have a traumatic experience with a high fever and so I really can't think properly yesterday afternoon. I don't know what to do. I don't know how am I going to help my son, but hearing his cry is scaring me.
I decided to chat my mother-in-law. I was actually hesitant but I am already worried and scared and I really needed help.
Translation of my message;
....It seems like garreth has a lame mei (short for mommy), as he got a sudden fever. He was still fine lately, but now his hot.
...do some massage so he gets sweat and then let him take paracetamol.
..do I need to put some coconut oil mie? He's really hot.
...does his back also hot? To which body part was hot, massage it with oil.
After I read her message, I immediately massage his back. He also keeps on crying and so I can't hold my phone anymore.
After two hours he finally fall asleep. He was lying in his hammock and so I put a wet towel on his forehead so his temperature may drop.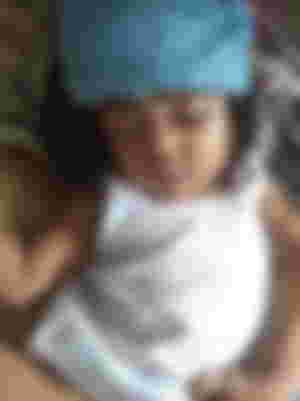 I was really scared, as this is the first time he got a high fever since then and so I can't help not to overthink. I can't took my eyes away from him I can't help not to look back when my brother has a high fever. I keep on thinking what's the possible reasons he got fever. I'm being paranoid again, and from time to time I keep on checking him.
He woke's up at around 5:00 PM and he cried again. It seems like something is hurting him, but my instinct is telling me that his condition isn't that serious and so I must not get panicked. He continued to cry for almost one hour and I do everything to calm him down, until he finally did.
_____________________
Around 7:30 PM his Papa arrive home and he suddenly act like he was totally fine, like nothing happens 🤔🙄. His still have a fever but I can feel that it already drop as I also giving him his medicine. I just don't understand why he suddenly become so energetic when his father arrived home. He was playing and running around again like he was totally fine. Until he gets tired and fall asleep.
Last night I tried to type this article but he suddenly wake up. He was feeling irritated as his body is feeling hot again and so I give him medicine again. Last night I really don't have enough sleep as he was so grumpy. He was irritated, as he was feelin' hot again.
_____________________
This morning he wakes up at around seven and his being playful again. Hopefully his temperature will continue to drop as he, being sick is killing me.
How about you, how do you normally react if your child got sick?
_____________________
Anyway this is all for today and I'm sorry if I haven't read your articles as I am being busy yesterday. I'll try to cope up today.
Have a nice weekend and thank you for reading.