Look what I got: I bought new Earphones!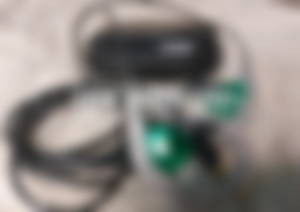 Lead Image Edited on CANVA
One of the things that I really need right now is earphones. Actually, I already had one, but it was a bluetooth headset. It means that when I use it, I can only use it for 3 hours, depending on how many hours I charged it. It's really hard for me to use a Bluetooth headset because it's in 'panira mode' when I am watching Korean dramas. I can only use the bluetooth headset to hear what I am watching for 2 episodes. As you know, I really like watching, especially now that I have some new K-drama favorites to watch.
That is just an example of why I need to buy new headphones, and here are the three main reasons why:
First, I need earphones that I can use to listen to music 24 hours a day, because music is my cure for depression and anxiety.

Second, I require earphones because I occasionally communicate with my mother. I call her and talk with her and use her free time to gossip with her. I don't like it when our grandparents or other people hear what we are talking about.
I'm too lazy to charge my bluetooth headset, so whenever I need it, I say, "I didn't charge my bluetooth headset pala." I only charge it when I have the energy to plug it in its charger, and sometimes I can't find it where I put it.
Third, I need clear earphones because my bluetooth headset's noise is not that good when I use it. The sounds and voices are not clear.
That's why on August 1, 2022, I decided to use my Shopee app to look for a good pair of earphones to use. There are some cheaper earphones, but I don't like them. The reason? Continue reading and you will find it at the end!
These are the headphones I got from Shopee! These are the first headphones that wowed me.
When I bought my old mobile phones, there were some simple earphones included as a freebie, but now that there are a lot of new Android phones released on the market, I haven't seen some Android phone companies selling their products with an earphone included as a freebie. Even my Samsung Galaxy A52 5G phone has no earphones included, but some mobile shops that are resellers are offering freebies, especially when the Android phone is a new release.
Okay, so this is the earphone that I bought in the shop.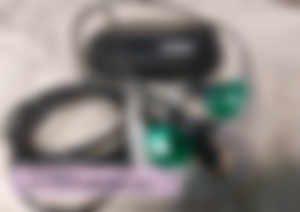 Image edited on CANVA
The brand name is QKZ, and I have never heard of this brand of earphones, but I think it was a local brand and not that famous. The model of this earphone is the AK6 106dB 1.2M high fidelity wired earphone.
Before we talk about the body parts, performance, and, of course, the things that I discovered and what I like about this thing, let us talk about the packaging first.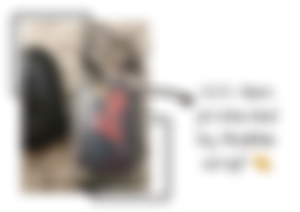 What I like best is that the item was still protected by bubble wrap despite its small size and light weight. Sometimes some sellers didn't protect the small items and just put them on the plastic parcel. So I am really thankful to the seller/shop because they still protected and secured my order.
Now Let the Unboxing begin!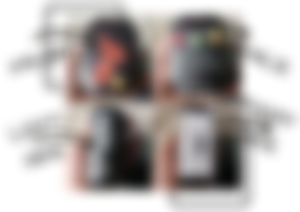 As you can see, there is a cover. I can't understand what the words are saying on the left side of the cover and in the back too, but I think it was the Chinese name of the brand and the translation of "made in China" and the address of the company where this item was made.
What I am curious about is the QR CODE of this item. But I didn't bother to scan the code, and I didn't rip it. I just put it aside.
Wait! Before we continue, this is the best and most exciting part that I will share with you. This earphone was so very cheap and I know that everyone can afford it, but I didn't know that it has an earphone case included where you can put your earphones and the important extra earphone accessories.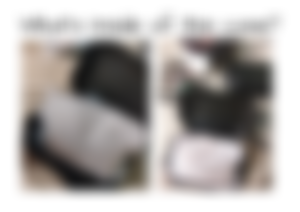 I still can't get over opening these headphones that I bought because of this case and the white plastic. It was so very satisfying! This is my first time feeling very excited about opening an item that I bought online. Let's see if it's what's inside.
The first thing that I noticed is this: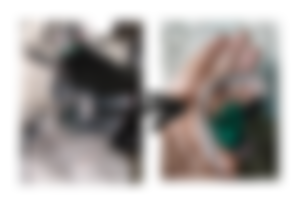 I don't know what it is, but this is the thing that you can use to make the earphone wire fit on the back of your ear.
Next are these 2 things that I never expected that I could also get from buying this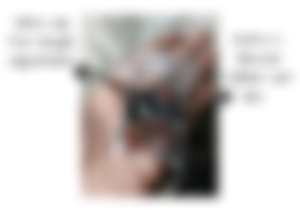 I'd never had an earphone with extra silicone rubber ear tips before, so if the first pair gets damaged, you'll have an extra to use, as well as a wire clip for length adjustment. Because the wire of these earphones is so long, they are perfect when you are using your PC or tablet when you are watching and you like to be far away from the screen.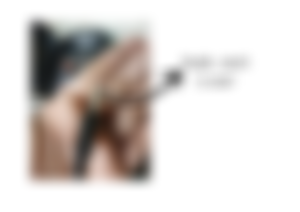 I've never seen anything like this before. I mean mostly, some of the earphones that were sold on the market never had this audio jack cover. This is my first time seeing an earbud that has an audio jack cover and you know what? This is very impressive because it can protect your audio jack from being damaged. Because sometimes when we always put our earphones everywhere, the audio jack can also be affected and damaged, just like what happened to my Samsung earphones back then.
Now, we are done talking about the accessories for the earphones, so let's talk about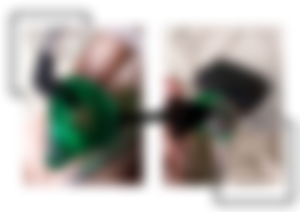 So, as you can see at the beginning of this blog, my earphone color is green. Because I really liked this color, it symbolized Bitcoincash Color and a #Club1BCH too.
Anyways, I really like the design of the earpiece because I can see it inside and that is the main reason why I chose to buy this kind of earphone because it was so very cool when I could see the things inside, and usually, this is the design of the earphones that some K-pop idols used when they performed on stage. However, what I just don't like is the logo on these earphones, but it's okay because I know that the logo will disappear soon when I use them every day.
Another thing is that this is just made with plastic glass and when you are not careful to put it on the table or anywhere, it will crack and damage the inside.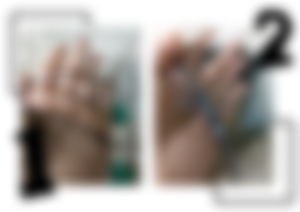 The wire is just made with a thin wire and coated with a thick plastic, but I think it is safer than the other earphone wire. I mean, based on my experience, when Zebra and Fuego were still kittens, they always liked to play, and they played with my Samsung headphones. bite there, bite here, bite everywhere and, as a result, it was damaged and broken.
The stop, play, and volume buttons are just okay for me. They are not hard to press and they work very well, and the mic works fine too.
Sound Volume rate: 1000/10
When you insert the earpiece into both ears, you cannot hear the voices outside. Even though the volume is just low, it was very loud already. It can't damage your ear.

You can hear the voice very clearly and the sounds of the instruments are just the same as in the original song. There are no irritating sounds or additional effects like in the other earphones that I bought before.
So far, I don't have any issues with these earphones that I bought, but I haven't rated them on the shop of the seller yet because I will use them for 1 week first and see if the performance of this item changes.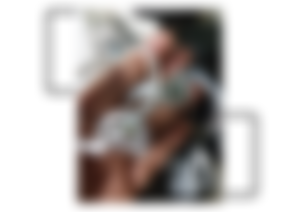 I bought 2 pieces of headphones and the other color of my other headphones is clear white, so when this colored green earphone gets damaged, I will have a replacement.
This is my first time trying to review headphones. I wrote this for fun because I wanted to try writing about reviewing gadget accessories. Since I already tried publishing a make-up tutorial on HIVE, I also want to try and experience writing this one just like my favorite gadget reviewer vlogger, Mary Bautista, on Youtube. I was amazed by how she reviewed the gadgets like new released mobile phones, laptops, tablets, etc.
Anyway, this is all for today! I hope you have fun reading this very very long blog of mine. If you want to try these headphones, click here.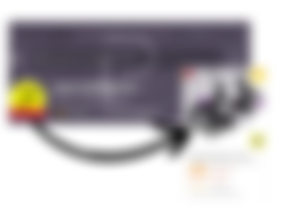 Thanks for reading! This not a sponsored blog.
---
My Previous Articles:
If bitcoincash is a Human: What would you like to say to him?
Quit talking you are not important!
I was invited to the 7th birthday!
Buying Equipments for blogging about make up tutorial
What weird or useless talent do i have?