To feel the fresh air you almost forgot how to feel because you've been used to aircon or electric fans now. It's the kind that relaxes the nose, because it's fresh. Oh, is the air polluted in your area? That's so sad. Maybe there's no trees or plants of some sort to freshen the air.
It's a good thing my mother is a green thumb. She loves planting, and nature loves her. No matter how small our lot is, she is still able to house many types of plants, and even give the fruits to her friends, and our neighbors, usually.
I stay in this nice-sized room father constructed recently. It was elevated, because the space below is for the dogs, and other stuffs. I love every bit of staying here, as I could always have a good view of nature.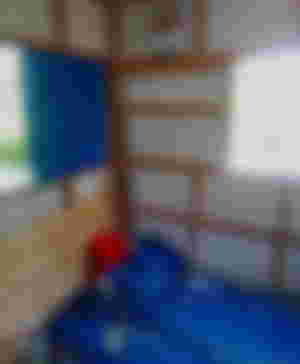 In the picture above, you could see the place where I sleep. I love my bedsheet and the matching pillow cases! There is also my favorite TATA Face pillow, and two adorable stuff toys, plus my earphones. There is also the black notebook and blue pen because I like writing and scribbling things on my free time. On the corner are my water bottles and alcohol.
Above are two windows where fresh air comes and goes. Whenever I look over any of them, I could see greens, and blues of nature.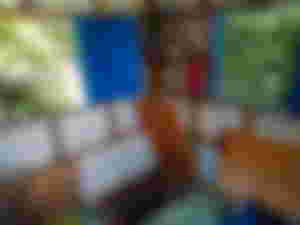 In this photo above, you can now see the third window. There is actually a fourth one, as father made windows on all sides of this room, but it is not open now. If you look closely at the top-most of the photo above, dad made some spaces in between to encourage more air exploring here. You also now have a clearer view of the greens I was talking about.
The room is made entirely of plywood, and dad made it to be sturdy. If you'd notice the wood placed diagonally, it is actually a door-like entrance, so we can put it down for a bigger sleep space. It is opened right now, since it's daytime. So I can conveniently come in and out. I have mentioned earlier, too, that this room is elevated, so below the rectangular hole are stairs my father also made.
Now, I am done with the mini-tour of this room. Let me show you mom's wonderful plants.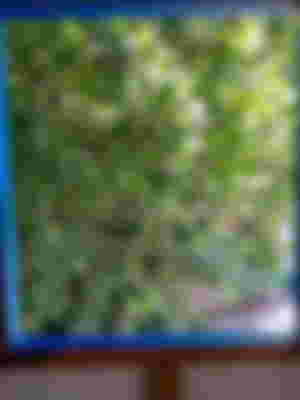 Photo above is the window on the head area of my bed. The calamansi tree is showing it's vibrant color with pride. We don't have to buy calamansi anymore because we have our own to pick from.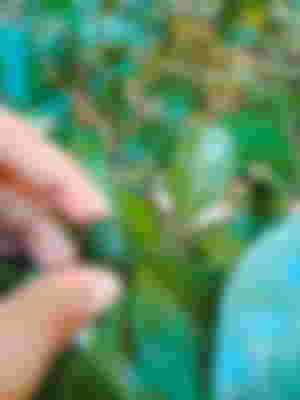 Just yesterday, my younger brother asked me to pick some well-grown calamansis for his drink.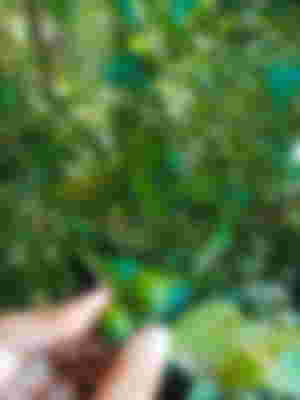 They are so beautiful aren't they? This calamansi tree has been supplying us for years now, thanks to mom's amazing powers to take care of it.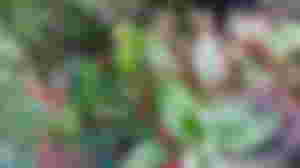 Looking further down the same window, mom had father prepare a spacious platform for different plants to grow, as you can see in the picture above. There are big and small vases that showcases different beauties. Green, white, violet, and orange are just some of their vibrant colors.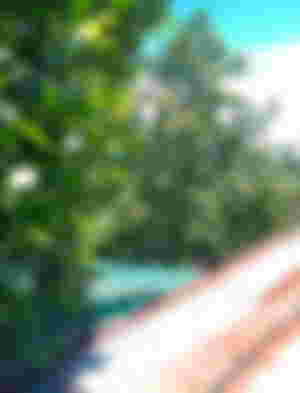 Now, if I look across the landscape from this same window, I can see yet another tree. That's a tree planted by a neighbor. Oh, our rusty roof says hello. LOL. The rusty roof is from our main house. The green roof is from the house beside ours.
From this view, I could also see the beauty of the blue skies, of course. It never fails to make me smile.
Now, let's move on to the third window. The one near to the entrance area of this room.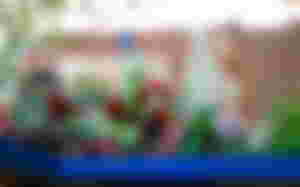 There are more flowers here of other colors, but I could not capture all of them. I hope you'd still see those blue ones on the right most of the photo above. Don't you just also love the different shapes of each leaves? They are indeed fascinating!
These plants are placed on the roof of our mini-hut (or "Kubo" in Filipino). That is also another mini-room constructed by father. Isn't he amazing? The roof layes are quite rusty too, but don't worry, they are just additional layers. The real roof ain't that rusty.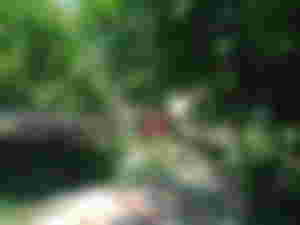 Looking farther across this third window, you can see more greens. Say hello to our clothes hung to dry! (Haha!) That is another empty lot from across the small road. It is sunny right now, so I am sure those clothes will dry soon.
Now, I am going to show you the favorite window of mine. The one beside the bed I am sleeping on. This where I could get a better and wider view of the sky. If you look back at the very first picture in this article, it's the window that shined the brightest.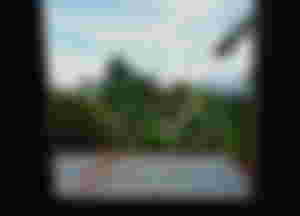 Across the rusty roof of ours (how many times did this roof have its own moment here? LOL) is a majestic view of the trees, the forest far across the horizon, and of course, the sky. My favorite blue sky.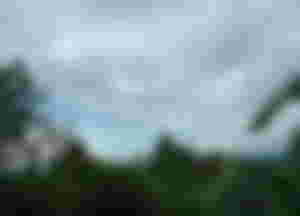 Let your eyes enjoy this beautiful scenery. You can see some banana trees. Yes, some of those are ours, others are from our neighbors. See those beautiful clouds? They look like cottons clustered together that added beauty to the sky.
---
Just earlier, I had some sweet moment with nature. I got a bit tired from cleaning this room, so I did rest. Sitting down, I appreciated more these plants, trees, and flowers that I saw. I turned off the electric fan because I realized there is a strong air enough to freshen my feeling despite the summer weather. I lied down and just stared at the sky for a few minutes. I appreciated its calming beauty.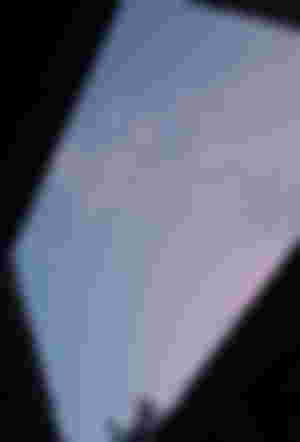 Overthinking is my nature. Even I did my best at something, or even get praises from it, I always can't help but think about it from time to time. What I should have done better. The what ifs. The criticisms I myself created.
I only have one week to figure out some things relating to my own problems. Nowadays, I am thinking, and thinking. I always think. Even to the point that I should not, I still do.
Until I had this little session with nature. Another free therapy, this time for real. While enjoying the scenery, and breathing the fresh air, I opened my favorite classical music playlist and it made the experience a lot better.
I am not thinking much now. I am just enjoying the remaining days of this period. I know this is not forever. Worrying won't solve the problem. I followed nature's advice.

Thanks for being here! This is my entry for Miss @JonicaBradley's old writing prompt, NATURE. If you are like me who decided to write about it somehow late, here are the rules.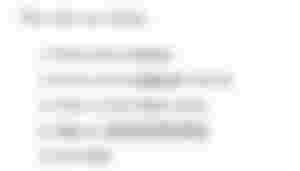 ---
A special shout out to one of my first set of sponsors, that has been very supportive of my journey until now. @Peter-Molnar , I appreciate your sponsorship renewal. I am always grateful!
And let me mention my top 3 sponsors!
Peter Molnar (mentioned above)
---
I am excited to see your name on my sponsor block. Thank you in advance!
Be a writer in this amazing platform right NOW! Register HERE ❤️ and let me know so I could guide you through.
Let's hang out on noise.cash! I also go by the name username. Want some assistance? Don't forget to tell me. I am more than willing to.
Published 09/18/21

All photos are mine.

Lead Image is yours truly having "peace" with nature, quite literally. LOL.