And because of that, it's the time to share our monthly Bitcoin cash earnings that we got to earn from writing articles on read.cash and making short but meaningful posts on noise.cash. We usually do this not to brag the amount we earned from these sites but only to share and document our small achievement and fruit of our labors.
September has 30 days but it seems like we only had 15 days this month.
At the start of the month, I was actually optimistic of the possible things that could happen as the days pass by. I admit I was hopeful that I would get to earn more Bitcoin Cash this month. It is because I have a lot of plans where I would spend my possible earnings from my articles and short posts. I was eager to grind more to achieve my daily goal which is to publish 1 article every single day on read, and to post on noise too.
Browsing all the articles I published since the start of the month, I am glad of the articles I wrote. I got to remind myself of the goals I aim to achieve before 2021 ends, and one of those is to have 10Bitcoin Cash, which I already ended in an article I wrote and published yesterday. I also got to travel to South Korea even though it is just all in my imagination for now, but I know with the help of Bitcoin Cash and these platforms, I will be able to travel to that place in the future, especially that I'm already saving up and building my Travel Fund for it. And this month, last September 06, 2021, I also celebrated my 1st Blogging Anniversary on this platform.
Although I feel like this month is not that good to me, I am still grateful because of the positive things that happened and all the blessings that I received this month.
And because today is the day to showcase our BCH Earnings for this month, here are the total amount I earned from read.cash and noise.cash.
I consider this month as productive because I was able to publish a total of 30 articles, including this one. This means that I did not miss a single day not publishing any article.

Because of my effort to write articles and my determination to achieve the 1 article per day goal, I was able to accumulate a total of 0.41 BCH, which is currently valued at $205 or about 10,300 pesos. And based on my calculation, I earned an average of $6.83 per article I wrote.
Compared to my previous earnings from the last months, it seems like my earnings this month is lower than my usual earnings before. It is because the Random Rewarder seems to be unsatisfied with my articles, or he is busy flirting with others. The current low price of Bitcoin Cash also affects my earnings.
I just feel really lucky that the "bug" before helped me to earn better because if not for the bug where I earned $60+ for my noise.cash article, I would only earn $140+ (7,000 pesos) this month. Although I miss the robot that would tip my articles generously just like before, I am still grateful for him because he did not miss to upvote any article that I published. The amount I earned this month is still better than nothing.
I don't know what happened to my account that I am experiencing zero tips from the site after 9 months of using it.
After 30 days of continuously making short posts on the platform, I only earned 0.045 BCH from it, or equivalent to $22 (about 1,100 pesos).
It's actually a total of $27 but the $5 that I donated to ate Pachuchay yesterday came from my noise.cash wallet. And I'm glad that I was able to help even in my simple ways through noise.cash.
Since the day I signed up on noise.cash until this month, this is my first time to experience to earn this low. This is like the lowest amount I have earned in a month from the site so far, and I hope it will be the last. I am not complaining tho. However, I am still hoping that the day will come where I would earn better again. To be honest, my noise.cash earnings from the past months have helped me in achieving my Bitcoin Cash goals, and it would be amazing if I get to earn better again so I can still buy my needs and provide for our daily necessities in the house.
Nevertheless, I am still grateful for the amount I have earned this month. Again, it is way better than getting nothing.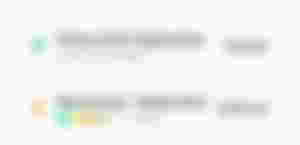 In total, I was able to earn 0.45 BCH this September. I plan to send it all to my Expenditures wallet in bitcoin.com, then later send it to my coins.ph wallet, and slowly convert it into fiat when the price pumps. I am going to save a portion of it to my Travel Fund, and send half of it to my bank account and withdraw the money for personal reasons.
September might not have turned out the way I expected it to be but I am still beyond grateful for the earnings I have earned this month. I'll just continue grinding and working hard because I know that the best is yet to come. Cheers!