We are the generation of pure anxiety
The big impact of anxiety in our society was overwhelming as the pandemic. It burns a lot of hope, love and communication. We cannot undo what happened and fast forward the time to process everything all at once. The scary part of today's society is the anxiety that people get and it continuously attacks them regardless of age. Anxiety shouldn't be born, but it lives with us everyday.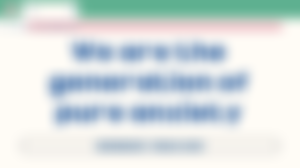 As a 21 year-old guy, I experienced a lot of anxiety in my life and most frequently it happened during exam weeks, extreme family issues and personal issues. It would occur for a very long time and it would only stop when the problem or issue was already solved. I had this mindset and nature that as long as that problem is still existing in my life. I will do my best to solve and fight it so that my anxiety will be dissolved. 
Right now, my source of uneasiness is Hive blogging, why? I am afraid that with my hectic and full schedule in the University. I might find it difficult to go online. I would love to discover and understand the Hive because it's a new opportunity. A new opportunity that I wouldn't want to miss. I started to browse different communities and I read their rules carefully. Yes, I noticed that every community has their own rules to follow and a preferred tag. 
As my second day in Hive continues, I wrote another article titled A place to Remember in Cavite. It was a blog about my travels with my friends in Maragondon, Cavite. I actually blogged about it before and it was my first ever blog here in read cash. I was having fear and nervousness a while ago because I cannot publish the article. I thought my resource credits are not enough, or something I did wrong. But bro @Eunoia told me to check the title. Oh yes, I forgot to copy paste the title from my outline. Goodness! 
Aside from the hive, I am having anxiety about upcoming midyear classes. Our midyear class will start this Monday and I am not ready yet. Our second semester just ended a week ago and I didn't have enough vacation. No, it was not just me, but we don't have enough time to enjoy our semester break. A semester break of 1 week? Goodness! I already shared yesterday our schedule and you will notice that only Tuesday has no class, then the rest are filled. 
I am actually wishing and hoping our professors could chop our time like we will only meet once a week and the rest are allotted for making activities or homeworks. If they will allow us to speak, what should we do in our time? I would definitely use my power as a class representative to request an effective schedule so that we can learn better and at the same time, we can do our work separately. If you don't know, 90% in my class are working. 
To connect my experience in my topic regarding if my generation was experiencing more anxiety than other generations. And I think the answer is yes. As you all know, from current records and statistics about suicide was because of extreme anxiety. Suicide is the second leading cause of death as of this generation. Thus, the severely affected age was around 12 to 18 years old. Can you imagine how much stress and anxiety a child bear to commit suicide?
Also, I noticed that social media has a great influence on why kids, youths and young adults are becoming more prone to anxiety. Social media has an invisible power to manipulate people and society to push, cancel and judge a particular individual. I believe I don't have to say much about how social media affects our lives because we all are experiencing it.
The screen time of youths allowed them to lose so much fun outside and discover themselves. Unlike, in using phones and computers, they just expand knowledge and information, not creativity itself. I have been watching myself as I grew up in screen time since I started blogging. Although my imagination and experience as a writer expanded exponentially, the creativity to other sides lessen even more. It was the effect of screen time. 
How much anxiety costs in our physical and mental health? It costs us so much because when we are having anxiety, we cannot exercise, eat properly, don't socialize, are too lazy to move around and feel tired from morning to evening. Thus, in our mental health, it drains our ability to reason and formulate a wise decision. We cannot empower ourselves because what can we get from ourselves? Nothing, but pure negativities and evil desires. Stand up my fellow young adults, it is not time for us to be attacked by anxiety. We have a very long way to go.
New article in peakd!
---
Thank you sponsors. I cannot believe my sponsors block is like this. It's just good seeing all you there.
My previous articles you might love to read: