Wednesday, July 15th, 2020
Recently I keep seeing people commenting on articles saying they're new to Bitcoin Cash and want to learn more. If you're one of those people, this article is for you.
In order to really understand what Bitcoin Cash (BCH) is all about, let's briefly talk about money in general. For as long as any of us have been alive, none of us have really had a choice when it comes to the money we use. Whether it's the US Dollar, the Euro, the Yen, or whatever government issued currency is used in the country you live in. The reason we didn't have a choice is because we previously lacked the technology to come up with a better option.
You might argue that centuries ago gold and silver coins once served as a better option, but it's easy to see there are many drawbacks in using precious metals as money. For example, carrying around a bunch of gold or silver coins every time you need to buy something is rather inconvenient, as is trying to precisely cut a piece of metal on your own should a purchase be worth only a fraction of a coin.
Due to such limiting factors, using precious metals as money was eventually replaced by paper money. Paper money is much easier to carry around, and since you can have different denominations of paper money, you now had a way to conveniently pay the exact price of a good without having to cut pieces of metal to make a payment.
But as I've come to learn these last few years of being involved in the BCH community, there are always trade offs. Though paper money made it much more convenient to transact with one another, now we were forced to rely on our governments to print our money and make sure the market wasn't flooded with counterfeits.
But what happens when a government decides that it needs more money than what they've already taken from its citizens in taxes? They simply print more of it, of course, devaluing the money already in circulation, which can ultimately lead to hyperinflation and cause everyone's money to become almost worthless. Sometimes a government might even decide to just take the money directly from people's bank accounts as was the case for the people of Cyprus back in 2012-2013.
Clearly neither of those scenarios is desirable, and with the world moving closer and closer to becoming a cashless society, we are becoming increasingly reliant on our governments and banks to not screw up the global economy. This is because as our money becomes more digital, governments don't even have to bother with printing it anymore since all they have to do is type a few keys on the computer and trillions of dollars can be magically created out of thin air. Money printer go brrr, as they say.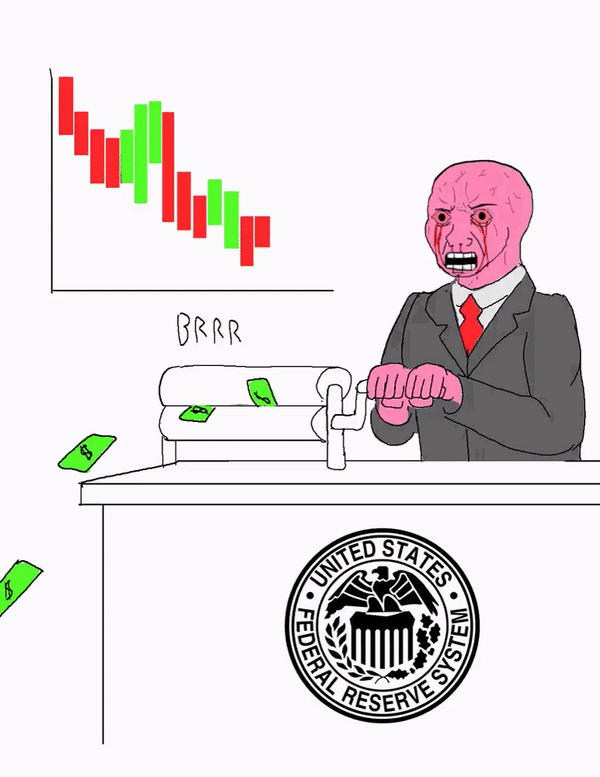 Fortunately, for the first time in history we have a new technology that can potentially free us from this authoritarian system. This new technology is called Bitcoin Cash.
Bitcoin Cash is a new kind of digital currency that isn't controlled by any bank or government. This currency is run by a network of hundreds of thousands of computers all around the world that work to insure Bitcoin Cash transactions are processed quickly and accurately at virtually no cost to its users. The reason these computers are able to provide this service is because they are incentivized to do so in the form of a coinbase reward that is awarded roughly every ten minutes to the "miner" who finds the next block in the chain. (If you're interested in learning some of the more technical aspects of how Bitcoin Cash works, I highly recommend starting with Satoshi Nakamoto's original whitepaper.)
Until now, we've never really had any other choice than to use the banks and credit card companies that make up the traditional financial system. In exchange for providing the convenience and safety of using a credit card, they typically charge anywhere from 2%-4% in transaction fees for their services.
But with the advent of Bitcoin Cash, we are now able to send money to one another, no matter how much or how little, without the need to use a trusted money transfer service. You can send your money instantly to someone on the other side of the planet, for less than a penny, and they can send it right back to you for the same tiny fee. The best part is now you don't have to ask for anyone's permission to pay for any good and service. And since you don't need your bank or credit card to authorize your transaction, this means your money is no longer restricted by any national borders. You can send it to anyone, anywhere, instantly, and practically for free. Just scan and swipe. This is what they mean when they say Bitcoin Cash is censorship resistant.
And because Bitcoin Cash isn't meant to be controlled by a central authority, the hope is that it will eventually allow us to have a truly free market. An economy where everyone is allowed to participate, regardless of where you live, what you look like, or how much money you have. BCH is a form of money that can simultaneously be a medium of exchange, a store of value, and not be under the control of a central authority. BCH can create new businesses and industries, potentially leading us to the kind of world only thought possible in science fiction.
Having said all that, it's still early in the game. There is a lot of work that needs to be done before the BCH network will be able to handle as many transactions as Visa and beyond. In order to increase the transaction capacity of BCH, various improvements must be made at the protocol level to speed up propagation times and other existing bottlenecks. And because BCH is decentralized and open source, this is why there are constant debates and arguments within the community to see what improvements need to be prioritized and how to make those improvements happen.
It remains to be seen if the BCH community will ultimately succeed in resolving the technological and governance issues that must be overcome before it can become a global reserve currency. We are still very much in the experimental phase of this endeavor, as is every other cryptocurrency project out there.
Still, I remain a firm believer that BCH has the best chance to become the best version of peer-to-peer electronic cash that anyone can use for fast, cheap, reliable transactions.
Bitcoin Cash. Just use it.