09|20-21|2021✨
I am full of energy today, yehahh! Thank you, God, for blessing me another day to live. It feels great to be alive and kicking!
Today, I am supposed to begin writing my article after my shift but because of this movie from Netflix, I failed. I have watched three episodes already of this shocking yet amazing series titled "Squid Game".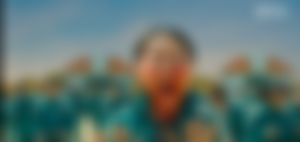 I badly want to try the game too but I am surely gonna die even in the first round of the game lol. I will not spoil you but it is really a "worth of your time to watch" movie. Swear! Watch it! Lol, I'm begging you. Let's watch it together haha.
So much for that, I am not gonna talk about that today because today I will be answering these random "Intimate Questions" from this link.
Many of the writers here join this prompt so why not give it try? So yeah, I will be picking questions randomly. I read it from ate @Janz article, check hers here - Intimate Questions: Lemme Try.
---
But before that, lemme show these amazing writers here. They are as impressive as their written works. You'll surely love them and their piece. Feel free to check them out.
So what are we waiting for, let's get it on!
A perfect date for me would be simply being with the man I love. Any place will do as long as I am with him. A date will never be perfect without "US" together.
Honestly, I like guys with thick brows, clean nails at yung mabango. But once a guy shows consistent efforts and pure intentions, it's my biggest turn-on.
Yung di mabango hihi. I had this crush back in college whom I think smells good because he looks good. But nah, not all good-looking, smells good. Nonetheless, he's a good guy though. And to be honest with you, my biggest turn-off really is when I know that the guy I like smokes. Delete! Delete! Clear cache and cookies agad haha. I don't know why but I just don't find it attractive when a guy smokes.
Being broke like my bestfriends I guess, I can't imagine myself going through those "maoys" and all. They did all the possible terrible things when they're broken. I don't want to experience those. I don't want my man to treat me badly. I don't know what will happen if ever the man I love breaks my only heart. I feared being hurt when all I give is love. As you all knew, I haven't tried crying over breakups. I pray to God that He will give me a man with respect.
"Why are you still alive when you said you can't leave without me?" charrrottt lang! Haha. Anyway, if ever I had a conversation with my ex, I would ask them how they are and wish them a happy life.
---