I'm Blessed To Have My Little Angels
Blog #206
April 3, 2022
Being a mother is not easy because of the responsibilities that we have to fulfill every day. From my daily chores, taking care of my partner and kids and guiding my kids in their studies is quite challenging. Sometimes I can't take enough rest especially if my kids are sick. But despite all those circumstances, I'm still thankful to God for giving these sweet little angels in my life.
My pregnancy with my eldest and twins might be unexpected but I'm so happy that they came into my life. I may have some hesitations and doubts about accepting this kind of responsibility but seeing and holding them for the first time made me the happiest woman in my life. I'm happy that I'm given a chance to be a mother because not all can experience it.
I'm Blessed To Have My Little Angels...
...because whenever I am sick, they are there taking care of me. When their father is not around and I'm not feeling well, they are the ones who take care of me in their little way. My eldest did those house chores that he can do since I can't do them. My twins are there to assist me when I need someone on my side. My youngest is always there asking me if I am okay or not. In their little gestures, they made me feel that I'm very lucky to have them in my life.
...because they made me smile when I'm down. They made me laugh with their cute jokes. They made me feel inspired to do better each day. They motivated me to strive harder in life until I can reach the desired goal that I set for myself and my family. They made me realize how happy it is to be alive having them in my life. Spending each moment with them and creating happy memories are always one of the best things that I would cherish forever as long as I live.
...because they taught me what love is. Selfless love or unconditional love is what I have felt from the first day that I delivered them into this world. No matter how many sleepless nights I had gone through, no matter how difficult the situation is and no matter what people think of me, it doesn't matter anymore as long as I made them happy, safe and healthy always. I can endure the pains and difficulties as long as I have them in my life.
...because they are reasons why I'm still fighting until now. I have been in many down moments, depressing times, and stressful days but thinking of my kids every time I experience those made me keep going. Many times I plan to give up because I'm tired already but when I see the faces of my little angels, I'm motivated to try harder. I'm tired but I will never give up as long as I have the reason to keep fighting.
Having kids may be exhausting sometimes because of their naughtiness and disobedience but when we look at the positive side of it, it's more fulfilling seeing them growing up as a sweet and loving children.
---
Today is been a good day. Though I'm not so active in the online world I'm happy that my eldest and Xander had started fasting for the first time. I thought that they can't make it but they are able to do it until 6 PM. I'm very proud and thankful to Allah for guiding my kids.
Happy Sunday read.cash family. Thanks for reading my article today. God bless you all.
Thank you so much to my dear sponsors who stay with me up to this moment. Thanks for your support and trust. I prayed and hope that God will bless you more.
Special thanks to @LuaDesamor and @LeticiaFelize for renewing the sponsorship. God bless you both.
To those who take time to read my articles, leave an upvote, comments, and likes on my published articles, a million thanks to all of you.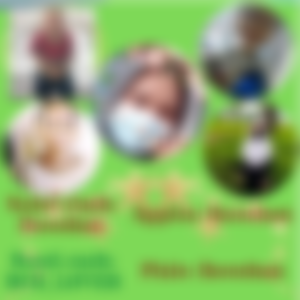 This is me, 🧕BCH_LOVER 🧕once again. Thank you for your time today.
God bless and Keep safe you all!
Before leaving, please hit the 👍button. Thank you so much!