We have been talking a lot of about the weather. Here, it was rainy, is still raining sometimes.
I like rain, you say.
I like it too! I like the music it creates on the ground, on the tin roof, on anything it hits.
We also have fog.
I love fog! you say.
I love it too! I like how it enshrouds the surroundings turning everything mystic, mysterious and magical
However, too much of anything is not healthy.
It's the monsoon season all right. We can't escape that fact. We had three weeks of incessant rain. The rain and fog turns everything into water. Water is a powerful element. It can destroy.
We had 24/7 of rain and fog alternately or at the same time.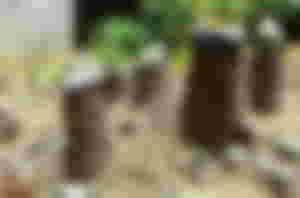 Look at these pebbles. The continuous rain created these tiny towers. I find that impressive. If rain can do that in a small scale, imagine how great damage it can cause in a bigger scale.
Here in our apartment, water seeps through walls. We had so much rain that it even rains inside our room. Thus we have used plastic containers to catch the dripping water. Not only that but even in our bathroom. Our landlord will fix everything soon when the weather is better.
That is nothing as compared to those who were affected by floods and landslides.
Today, the weather is better for the sun won.
The sun shone bright and lasted almost the whole day. We were able to hang our laundry to dry under the sun but one day is not enough.
Everything in the apartment is damp and moldy.
My partner was browsing online and came across a business which offers misting service. He made an appointment right away and he serviced our unit earlier.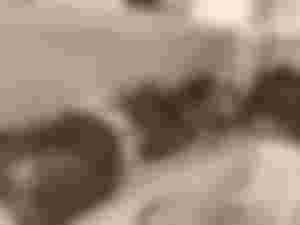 Hours prior to the appointment, we placed items in plastic bags like utensils, kitchenware, etc. I have no idea about this process or the solution they are going to use. I kept asking questions to my partner if it is safe. According to the guy, it is safe. Everything is safe when we talk about business.
Have you had misting service done in your homes or cars?
This is said to kill odor, molds, bacteria - disinfecting your place.
I'm very skeptic sometimes but we still went ahead with this.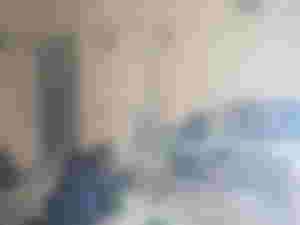 It was a simple process. The guy used a misting machine called Bac-To-Zero. He placed the solution (I forgot to ask what's in it) in the machine, plugged it and started the process. We stayed outside of course. We closed windows and doors while he did his thing. I just peaked twice to get photos.
The service guy said in the chat that he thinks one bottle of the solution is enough but when he came and did the misting, it took two bottles. When he was done misting, he came out and we waited for 10 minutes for the mist to do its purpose.
We chatted him and asked about the business. He said that this was just a hobby for him, not yet a full blown business. It was offered to them by a relative asking if they are interested to try it which they did accept since everything is provided for.
They are the cheapest service in the city. Some are wondering why was it so cheap and some even said that they are not legit. One bottle costs Php200.00 (around USD4.00) plus service fee of PHP150.00 (around USD3.00). We spent PHP550.00 for this. Other services would charge you double to triple of that.
The guy left soon after that and we waited around 20 minutes more for the mist to disappear. My concern then was that since it is mist, it will moisten everything. They guy said it will not but it did, at least the floor did where the mist settled. Amazingly, nothing else. I didn't know if it worked for there are still molds and there is still the odor caused by damp and cold.
I checked for the price of Bac-To-Zero online and it costs around PHP8,000.00 (around USD158.00). This can be a good business indeed. Especially here in the mountains where damp and mold is the enemy. However, as I stated above, I'm not if it worked.
We were planning to give it another shot. We were of the mind that it's just the first time, maybe it needs another misting. We will see about that in a month or two.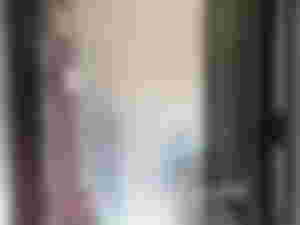 If you tried misting, did it work to kill molds?
I don't want to use mothballs or paraffin balls. I saw online that cedar balls are better alternative so I ordered that online. I hope that works. I am hoping to receive have that delivered by next week.
We are considering buying a dehumidifier too. What do you think?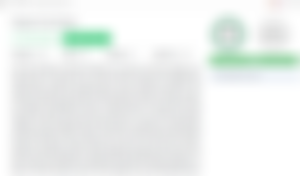 This is my diary for today taking a break from travel posts. I appreciate every one of you for your unending support and appreciation.
Because of the misting that we had today, we were busy with packing and unpacking and then cleaning. Then I had work done which made my day full and really busy I couldn't come here or in noise.
I'll be posting this and then go to sleep for tomorrow's work awaits.
I hope that you have a better day wherever you are.
Stay safe.