Back to the Past: The Rubber Shoes
What's your favorite footwear that you love to pair in your Uniform? Was it black shoes? Or a rubber shoes?
As for me...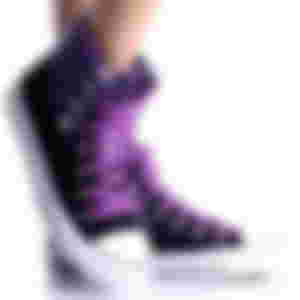 I prefer rubber shoes than a high heels shoes or even a flat shoes. Rubber shoes is one of the most comfortable footwear for me, to be honest. And if only rubber shoes in college is still allowed I will really choose that one because that is where I am more comfortable. But that's not allowed so I opted to just go with flat black shoes.
So let's go back to the rubber shoes, I still remember that era of when this kind of rubber shoes is what's in and most used of every student here in our place. That checkered knee high top. I also got one and got the violet color. It is adjustable and what I love on it thr most is that, I look cool with it ahaha. I am really obsess to look cool that time, lol.
And, I was so in love with the design that I asked Mother that I want that design. She didn't complain actually because aside from the shoes that I am currently using that time has a hole on it's sole, that shoes is not that pricey because it is just an imitation one. It doesn't matter to me wether it is fake or original, what's matter to me is that, I have new rubber shoes that I can use again on my daily life as a student.
And, mind you guys, before I replace my current shoes, talagang super gamit na gamit na yong nauna. To the point that the sole of it is already crushed and the water will already get in when it rains. Our school that time has no pathway talaga and very mabato kaya madali talagang masisira ang mga lafeyk na shoes, lol. While everyone in our room has black shoes, me on the other hand has this rubber shoes.
From first year to fourth year, I didn't experience wearing black shoes because I'd rather wear rubber shoes than to wear that kind of shoes. You know those black shoes sometimes cab give your feet a blister and that's what I hated the most. Dis you experience that? I experienced this during college days because we are required to wear black shoes with a heels of 2 and up inches. Of course I always choose the 2 inches one. But even so, it is hard for me and I hate it.
It looks pretty, yes, with our uniform but not for me because I really hate it, lol. I got lot of blisters because of that, haha. I love high heels only as a collection but never, like I will wear it everyday. Nope, never, just for a collection. And I only hate wearing high heel shoes but I still love them. I always wish I have a collection of those, Like I will stare at them like a love sick puppy, admiring their beauty, ehe.
Okay, back to the rubber shoes again. You know what's good on wearing rubber shoes? It is, I can run around and or if ever I am in hurry, I have no problem on playing games with my classmates because I am wearing my favorite rubber shoes. And you know, I was so thankful before that I wear rubber shoes because I can play Sipa with my other classmates haha. I think I already share that here, that we love to play that game, lol.
And until our fourth year, we love to play habol habulan, patentiro, volleyball and many many more haha. And playing that is much easier because of my rubber shoes. And because we are playing in a field, minsan madulas ee, I really laugh hard to some of my classmates that while running around, they will slipped because of the wet field, lol. Ahhh those memories that we have share. I will have it always in my heart. Those are memories that is worth keeping.
It's just sad that I don't have much of picture wearing those rubber shoes. But that's okay, mejo malinaw pa naman sila in my memory. ╮(^▽^)╭
So how about you guys? What's your story regarding rubber shoes?
---
November 02, 2022
--