Saturday's Ganaps
Today is Saturday, and it's a weekend day where we can rest ourselves from working during the week. But not all people can rest themselves because there are still some people who need to go to work, do their chores, and fulfill their roles as parents and children of their parents.
As for me, I'm just staying here in our house and reading a little blog. To be honest, I am not lazy today, but I can't focus on grinding today because my cousin's father is at our house right now. As you know, I already blogged about this matter, and I am still not okay. If he is around, I feel uneasy, and I can't do all the things that I want to do because I'm scared.
The feeling when I read the text before came back when I saw him. I can't still look into his eyes and I can't eat with them in one table.
I admit that I feel safe when I talk with someone I know virtually. Every time I don't have a companion or am scared of something, I always chat with or call him when I can't handle my emotions.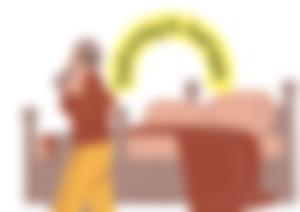 So this day, I spent calling and talking with him until I felt better. Though we don't have a proper communication or topic because I was nervous and can't talk well, I am glad that he was willing to give his time to me to accompany me. He is the first person I talk with after I read the text message from someone, by the way.
Then, after we talked, we decided to do the things that we needed to do. Despite how I scared my uncle, who is my younger cousin's father, I am still okay with his daughter. This afternoon, we celebrate a very special occasion: she was ranked third in this first grading period. I am so very proud of her because she can now teach herself about projects, activities, and assignments. I remembered how proud she was every time she talked to us about what was happening at their school. From rants and complaining that she is the leader again, she is the Muse on the subjects (which is why I always tease her that those positions need to join a pageant in the school), she won as one of the SSG officers, and other successful activities and achievements.
I don't like to tell her what her father did because she is still young, and I don't want her family to be broken and for her to experience what I went through when my parents divorced. So, even if I experience trauma every time that I see her, I can still remember the words that I have read in that text, and I still manage to be an older sister to her and not pass on to her the feelings that I have felt toward her father because she is inoccent and still too young to understand this situation.
Actually, I don't have any plans for writing this, but I need to let out my thoughts because they're distracting me. Especially when I got home here to our house from my sister's place. My grandparents needed to go to the farm, and I was the only one in the house. My grandma said to me that when they were telling me that I was alone in the house and everyone needed to go to the farm, she told me these words that were causing me a lot of pain.
"Don't text and ask some guys to go here just because you are alone. What if you are the one who is asking someone to go here in the house?"
So, this proves that they don't believe me that their son-in-law sent me that text and even doubt their granddaughter that it's her own doing. Do I look like that on them? Do I even look like a person who likes to receive a text message like that? In the past years, though, I disobeyed their advice not to have a boyfriend while studying; I didn't disobey the rule of being pregnant at an early age. Though I admit that I really like drinking alcoholic beverages, I know my limitations and haven't given my virginity to anyone because I don't want them to be disappointed and get mad.
I know that they are being like that because they don't want it believed that they have a son-in-law that does a thing like that, and of course, what should I expect when I don't give them money and don't do or give what they are asking for? I can't help but be disappointed in them. I just look okay and normal, like I am as usual, but there's a part of me that is thinking about suicide again because of this.
But I can't do that because, while talking with my mom in the morning, I remembered how happy she was while talking with us about our plans for the next few years. She has a lot of plans for us, and she is making sure that we, as her children, will have a good future, and I also heard her talking with her workmates and being proud of me because she has a daughter like me that helps her and helps her with the problems that she is carrying here in the house and didn't ask her for money to buy the thing that I needed. How? How can I end my life if my mom is like that?
---
My Previous Articles:
My 2 days experience of using my Xiaomi pad 5 and bluetooth keyboard
The different kinds of eyeshadow looks and how do we apply them
After I recieved that text message...
Finally, I bought accessories for my Xiaomi Pad 5
Sponsors of ExpertWritter