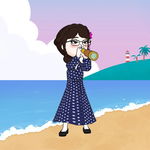 Today was hectic. Thursday is usually my most productive day. It's because every Thursday is Grocery Day. Madam had bought groceries for 7 households again. She had bought a week supply of groceries for us, for her Mom, for her driver, for her office, for her son, for the company drivers that are living at the house provided by the company, and for her favorite architect. Madam surely loves to give groceries as incentives to her employees whom she trusted the most and treat them as a part of her family.
Overloaded by tasks today, still I managed. My brain was also overused from sorting out the groceries into their designated receivers. My head quite hurts a little bit afterward. Sometimes, I got confused while doing the task. Good thing, Madam isn't there to watch over me. She was at the construction site doing some inspections.
From lists to boxes, my eyes have been wandering. I got dizzy along the way because I have to do it fast since the driver is waiting and he have another appointment to go to after that. If Madam was just there, surely she'll roar from time to time. Her voice is already echoing at the back of my head every time I have mistakes.
Fear of taking more time of the driver, I doubled my speed though it made me dizzier. After 30 minutes or so, I have finally finished and the driver was able to set off. Phew. That's a relief there. I finally can breathe normally.
Entering the house, I left the others and slump on the couch for a few minutes. I need to regain my strength because I have other tasks left undone. After a while, my adrenaline declines, and I feel sluggish. I can't bring myself to stand up and do something. I took a little nap there, and when I'm in my back consciousness, it's already noon. LOL. I have to do my tasks quickly or else I'll miss my lunch again.
Each minute is precious when I'm in a hurry. I can just always value my time when it's always at the last minute. I finished at 2 pm already. I have no choice but to have my lunch and snacks at the same time again. A double meal for a super-hungry person. I don't have any tasks to do after that but to wait for Madam to come home at 6 pm. I have more time to grind, so I wonder what topic to write this time.
Nothing comes out, unfortunately. I have been searching my social media accounts to farm some topics but my newsfeeds are all useless. I try to look for prompts and the random word generator but I can't look for words to back up these random ideas.
Unleashing thoughts from my empty brain is stressing me out because I don't want to skip a day of writing. Moreover, another stressful issue has reached me from our home this afternoon. Problems do love me so much indeed but I can't reciprocate the feelings, so I'm always searching for a way to dump it or let it go.
Time has passed while my notes are still blank. After a while, I heard the doorbell rang twice. I know for an instant that it was Madam already. Every time someone rang the doorbell intensely, for sure it's her. When she got off the car, she gave me a paper bag from Starbucks. It has Toffee Nut Latte inside. My eyes sparkled from the sight of it. Another kind of coffee, it is. I guess it's time to recharge my brain. It was a perfect timing because I have something to freeze my brain a little to let it know that it should work now and do some grinding.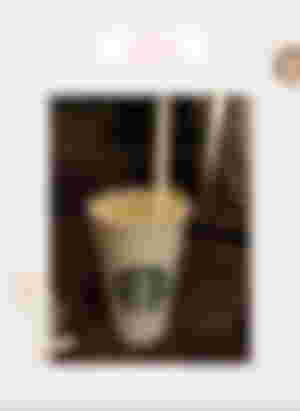 ---
Yay! Acrostic, y'all!
I guess I have been possessed by Ate @Jane spirit of love for Acrostic style of writing. This has been on my mind lately, but I haven't got any ideas to fit the style. The Toffee Nut Latte saves my day! We were surprised when Madam brought home that kind of flavor since she always loves to buy Coffee Jelly or Frappuccino. Besides, the toffee nut latte is limited-edition. That flavor is just available every holiday season. It's rare and expensive, so I'm savoring every drop of it.
By the way, thanks for reading today's blog. Sorry for its randomness. Well, I'm always writing random topics. I'm guessing that you are all used to my way of writings already. LOL 😆 Still, I'm very much grateful to all of you for always checking out what I have written.
Until next time, then...
---
Ops, wait up!
Do you have the passion to write but haven't registered to this platform yet? Then hurry up and register to this link 🔗. Join us on our journey of blogging and earning BCH. Also, make some noise with me on noise.cash just like how you make noise on different social media platforms.