How far can you go when you are helping a friend?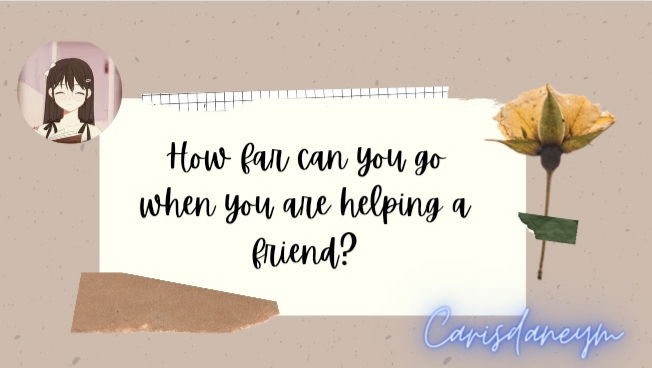 It's really in our nature that we tend to help our friends when they needed a hand but how far can you go through? How patient are you and what are the reasons why friendship can be ruined in one snap?
I have friends who help me financially and one of them is my friend Mariang Rosas also known as immaryandmerry. We've been friends since senior high school and the pandesal that worth 2 pesos or $0.04 had a big impact on our friendship. Her simple food treats, her advices and many more but she loves to make fun of me, she's a bully president :) and giving and helping each other makes us happy. When we had a social experiment we also had a chance to meet amazing persons that even they are the who need a hand, they didn't even blink twice just to help us. Generosity is within us. I guess. You have reasons or not, when you are willing to help, you will help.
I can say that I am a good friend indeed. I mean, when you need me, as long as I can, I will help in a way that I can. I already shared before the generosity within me where I shared how I easily trust a person. Even though we really don't know each other in person and we just met online. I always ask myself cause they always said that I am so stupid when I am helping but is it really my fault that I trust a person or is it their fault that they hurt me. Let me tell a short story about my two friends, one is my friend for almost 6 years now and the other one is a virtual friend of mine for 2 months.
Let us call her Dana not her real name, we became friends when I was a 15-year-old kid who started to work at a very young age. Of course, she knows how hard I struggle in life and she is there when I needed someone to talk to. Fast forward we became friends and I know she's not rich but she act like one to be fitted on what they call "high class students " in short I can describe her as a social climber because she has iphobe but doesn't have money for internet connection, she have fancy clothes but never ever had enough money to buy essentials, she have a rich boyfriend which make her uhm nvm. So she borrowed some money on me but it's been a year yet she can't pay me. I mean it's understandable because they are poor too, I just need an explanation about what happened. She didn't even bother to reply on my messages and now it's already 2 years. I don't know what to say, is it really my fault? that I trusted her but just because of the money she wasn't able to pay, she also forget what are friends are for. I always saw her post on her social media accounts and act like she doesn't have something to be resolved.
The next person is a guy a who happened that I met on noise.cash. He's a good guy and he had a baby who needs milk. So, as a good friend, whe he ask for money, I didn't think twice and helped him. You know I learned to give to someone not because I have something to give but because I know the exact feeling to have nothing and it really drained me. I was crying for my school allowances, school uniforms, books and even personal needs. Having nothing, I know the exact feeling so my heart easily melted when someone is saying that they don't have any at all. Based on my observations, he indeed helped a lot of users back then but the thing is when the greediness hit him up, he lose everything and even his hard earned money. It's been a month when he asked me but after that I never seen him online. That's the sad thing, he also got scammed and I do not know if he can still pay me or not but still wishing for the health of his baby. I just wanted to say that all I need is simple explanation and I am willing to accept whatever you can give, just tell me how it went. I just need some explanation that you didn't lied to me, that all of your reasons are true because if not, is it really my fault that I trusted the one that I called as a friend?
I also have one friend who borrowed a $100 to me. She knows I have some since I just get my scholarship allowance back then, she needed money because her money was taken away by her mother, it is supposed to be for her selling activity but they used the money for emergency purposes. That time, I also needed my money to buy a new phone for online class but she needed it the most. Sad thing when I got to know that she leave their house with her sister, I don't know what happened next when her mother visited me looking for her. She promised me that she will pay me when we get our allowance again so I said yes cause why not? She is my friend and she needs help. Fortunately, she was able to pay me and I am so happy for her when she decided to go back to her home with her family. At the end, she visited me and hugged me so tight and saying how thankful she is to havd me. Oh well, I wish to leave with her but the planned didn't happen since she go back to her family. I am just so happy that I was able to help her.
They also know that I suffer financially and they are lucky enough that their parents are supporting them. I just don't get it but why does it feel that I was the one whois begging? Why do I feel shy when I was the one an explanation. Why is it me who feel scared to talk about it. Why do I feel that they willbe angry if I reminded them with their debt. Am I the one who ask for a help? Why because of money, I lose my friends. Why they are ignoring me? Is it really my fault?
Author's Note:
Article #82 (July 27, 2021)
Hi! Thank you for reading my article today! I really appreciate your visit and if you have any violent reactions, feel free to write them down in the comment section. Again, Thank you for dropping by.
In case you want to be connected with my life, you can also find me in the following social media account that I have.