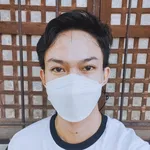 So, yeah. Our short vacation is over. We will come back to reality again. Eyes in front of gadgets, listening to discussions, all day long.
You want to say something, but you're holding it back because you might not stop yourself telling something else once you started talking. But that is not the case to some. They were caught online. The reason? They haven't turned off their mic.
Luckily, I do not do such things. I admit that I want to say something sometimes but not as harshly as others. It is normal to have resentments sometimes, but act it according to place and according to whom you are dealing with.
Anyway, let us go back to reality. Learning is better in the f2f setup, but we can't do anything but continue learning in this online setup. Let not this thing be a hindrance to our dreams. Instead, let this be an inspiration for us to strive harder and soar higher amidst life's circumstances like this.
This time, I want to be better. I hope God will help me always especially in achieving my dreams in life.
To anyone of you who will also have their class tomorrow, believe in yourself. We can do it. Just believe in the process! To those who are also taking up Accountancy, let's have faith and do not give on our dreams. We will all become CPA in God's perfect time.
That is all for now, guys. Probably, I may get inactive here due to some reasons. But rest assured that I will still read your article silently every time I got free time to do so. I never consider this one as a distraction but I want to cut down a little bit the time I spent online.
We have many books to read and I want to achieve my goals and even achieve greater things with the help of God. Good night, guys.
Thank you for your time.
Should you want to read some of my articles, you may try reading  When it rains, it pours: School Supplies Edition, Blessings from this Platform: Amazing People Edition, E-loading Business: My Experiences., There is always a road back for everyone., This Platform Helped me Buy a Phone, The Report for the Month of August, or Common Problems A Farmer Encounters. And if you are enjoying it, do not forget to show your support. Remember also that you are handsome/beautiful in your own way. So be brave and confident!
Thanks to my readers and sponsors for following my publications. May God bless you a hundredfold. Also, this is original content. Most of the photos I use are free images from either Unsplash or Pixabay.