How I Spent My Time During the Academic Break.
On the day that the university page—the Central Luzon State University page—announced that finally, we would get our academic break to ease some stress—and actually, during the academic break, they launched mental health activities such as online concert-like webinars that some local artist performed and shared their talent that the university has also planned—but instead of joining such activities, I decided to do the things I cannot do during school works days such as writing articles—that I could say I missed a lot because of how busy I was on doing other paper works, so instead of writing something and shared them here, I just used my time to write more important things that my grades are the prize. Drawing and creating arts, and being with friends are also the things I missed that I made happen this academic break and I could say that I enjoyed and used the academic break more efficiently this time.
The first thing I did after I knew that something like this would happen this week was that I managed my time immediately, chatted with the friends I missed so much, and scheduled a day with them. On Monday, I used to not do the remaining tasks I left out because vacation was the only thing that comes first to my mind. Yet, I still managed to write and even publish an article on that day. The following days were the best; I made to create an art piece. I may not finish the whole art but progress is much more important to me—if there will be no progress, there will be no fruit. After some days of preparing and managing my time, we finally met each other again.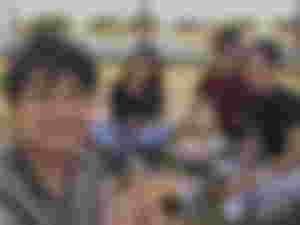 There are no such words that can describe how I feel to be with them again. I missed them so much. There were so many things that happened before we met together in a place actually. The girl on the left side didn't actually have a plan to go with us because she also had a schedule with her other friends. Therefore, destiny made a way for us to have some time together. After some time, we spent on the main reason for our trip, we finally set ourselves and bought something to eat at the newly opened park in the city. Arguably, it is the best place to be in if you are finding a place to rest your feet after some long walk. The wind above and the grass below our feet soothed us and felt that we deserve what we have today. In the past days that we used to face the activities, our professors assigned us to do, we have no time to meet for even some seconds because of how busy we were. We, especially I, experienced many breakdowns these past few weeks; I have no one to talk with, only the computer that I use face every day.  But finally, before we are going to fight another hard battle again, we at least have some time to break from some burdens. My heart was filled with joy at that moment. It might not that obvious with my physical appearance but the actual feelings were beyond words and indescribable.
The week after this academic week will be going on a tough road, for real. We have so many examinations to take, many activities that are left behind for some days of break, and many tasks will going to land again on our Google Classroom but I may say, I am ready to do and face those matters again. It's not that hard for me to face those actually; I already used myself with that since this journey started. The only thing that makes these hard is the proof that I am a human—I am living after all. Thank the creator for that. This week might be as tough as I imagined but here is the dreamer again, ready to seek his dreams and ready to fly using his creative and imaginary wings that made him here and start the journey that was only a dream before.
Thank you for reading this article.
You can read my previous articles here:
Music is What Makes me Calm These Past Few Days.
In This Challenging World, Who Are You?