I'm already okay, so you can freely go now and be happy.
---
I was at the coffee shop where we first met and the place of our first date. I was alone while sipping my cappuccino at the right side of the window. While sipping my coffee, I recalled the day we first met: the day she walked in with a book in her hand, ordered the same thing as mine, and sat at the table in front of me. She's reading the book The Guardian by my favourite author, Nicholas Sparks. And to my surprise, I had read that earlier before she arrived. I was thinking if this was a coincidence or maybe we were destined for each other. I was smiling at myself, thinking those impossible things. Then I glimpsed at her. Our eyes met for a second and then she giggled. Well, what if she thinks that I am a weirdo?
The next afternoon, I went to the coffee shop again, hoping to see her. That day, I brought my copy of Nicholas Sparks's book, The Last Song. I put it in my usual spot and headed to the restroom for a minute. When I came back, there she was, with her lovely face standing at my table. She was holding my book and I guess she was reading the back of the book. I approached her. At first, I was hesitant to approach her because of her pretty face. Then, when I was about to say "Hi," she turned around at me and said, "Uhm, I'm sorry for touching your stuff. Was this yours?" As I heard her speak, I felt like I was hearing an angel calling my name from above. She had a beautiful, soft angelic voice. Then I answered her "Uhm, yeah. Do you also like reading his books? " Then we started talking about Nicholas Sparks' stories and books.
She told me that she was about to get a copy of that book, but sadly, they ran out of stock, so she wasn't able to get her copy. But I told her that she could borrow my book since I had already finished reading it. While we were in the middle of talking, the barista arrived with my coffee. She served us both cappuccino. She looked at me with awe on her face because we ordered the same coffee. And I believe that we really are meant to be for each other because cappuccino was also her favorite coffee flavor, which is also mine. Oh, destiny really favors me. While staring at her reading my book, I thought to myself that if God gave her to me, I hoped that she would be my end game. 
I was taken aback by reality when my phone just vibrated. I looked at the screen and stared at it for a sec, then I packed up all my stuff and told Ted, my friend, who was a barista, that I will be going. I was walking down the pavement with a big smile on my face. Today is our 30th anniversary and I will also get to see her again. The last time that I saw her was last week, and after that, I patiently waited for this moment so that I could see her again.
I went to Auntie Ellie's flower shop to look for her favourite tulips. Aunt Ellie greeted me with a smile as I entered the flower shop and she then asked, "A red roses for her, right?" "I already prepared her favourite roses here." Then she handed me the bouquet of red roses. "Send my regards to her," she said, and then I bid my goodbye. While on my way to see her, I also bought a yellow balloon and a red tulip too. Yellow was her favourite colour, so I bought a dozen of yellow balloons. I went back to my car and then drove off to where she was.
When I finally arrived, I looked at myself first to see if I was looking good in my suit. I wore a suit because she enjoys seeing me in one and thinks it makes me look even more handsome. I stepped out of the car and took a deep breath, then started walking towards her. As I got closer to her, my tears started falling like a waterfall. When I finally got close to her, I put the balloons and her favourite tulips by her side. Then I handed her the red roses that I bought.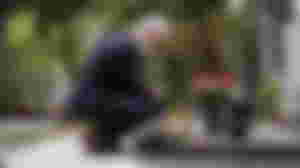 It's been 20 years since the day that I lost you. Time flies so fast, it is already your 20th death anniversary and also our 30th anniversary. My love, happy anniversary. Since the day that you left me, I have no longer looked for anyone like you. You will be my Mi Amore for the rest of my life. Wait for me, Elizabeth. Te Amo.
---
You can also check out my previous articles:
Still Gorgeous @80
Freewriting: Let The River Flow
wtf ?
81th Birthday Of Our Boss, Amo, Manager
My Name's Blurry Face And I Care What You Think
Supercalifragilisticexpialidocious
Underground Cult
I Can't Drown My Demons, They Know How To Swim
---
Author's Note:
Thank you guys for always dropping by and reading this article of mine. I really appreciate it.
You can always hit the Like and Subscribe button if you want to
Arrigathankyougozaimuch :>