"Two different mindset for living"
Blog#179:14 March 15,2022
Sponsors of GarrethGrey07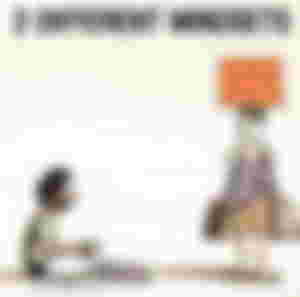 Have you ever seen a situation like this in the street? Or just near around you? Well honestly, the picture has also two different messages. One, we can possibly say that the message is it is trying to tell us that being incomplete(having a disability)is not an excuse for us not to work hard for our living and for achieving our dreams. While the second message is we might can possibly says that the picture shows us the difference between laziness and hardworks for survivability mindset of a human being.
From the photo we can see that one of the person is completely physically fit but he was the one who's a beggar, while the other person has disability was the one who's working so hard for his/her living.
Anyway life is hard, weather we want to stay inside our comfort zone or even if we want stay out of it. But however we have to work hard to enable to survive. In this era no one can literally help us to survive but only our own selves.
Furthermore in terms of survival there are two different mindset in humans, the easy works and hard works or Fixed mindset and Growth mindset.
We can possibly meet a million of people every day with different perspectives in life. Some people who are lazy and some people who are hard-working and people who are just go with the flow. Some (I just say some,as I couldn't say it in generally as there are also lazy People who are hard-working for their living) lazy people's perspective is choosing the easiest way for their survival, and that's for relying the help from others. They gather a lot of excuses just to stick in hardness of their life as they are not willing to get sweat to survive. Mostly likely, their reason was they are not well educated and the fear of no one will hire them, so they ended up to be a beggar.
Well actually, in the street you can meet a lot of people. Where you can sometimes define who's the one is literally in need and who's just lazy.
As a person who can be able to share, would you help this kind of a person? Honestly even in terms of helping others, there are also people who has two different mindset with how they help. Some people choose to help those who has a capacity to work then refused to give help to those who truly in need. Are they blind? Or just a soft hearted? Or what? Anyway I am not judging, just curious 😅.
When I am still working abroad. There's a time that I go to the city to hang out with my friends. One time while I am walking , I suddenly saw a whole family seating in the corner and asking for help. They have this poster saying "Please help for the children's education and food". The family contains 5 person, a young and healthy mother and father, 2 daughters and 1 son. When I saw the money that they have near their poster they already earned $100hkd and the time that I pass was just 10 in the morning, which means before the sun sets, they can still earn more. I suddenly shook my head as I can't believe that they are earning much than I am earning 🤣. They do nothing but to seat and watch their phones the whole day and taadaa they have money 😂, just like magic.
I can only says"SanaOL"(Hope all). But of course I am not praying to be a beggar someday lol, what I mean was how I wish everyone can earn money that easy😂. Like, while I am eating money is dropping lol.
I continue to walk and then in the other side of the road, I saw another person who is also seating in the corner, but this person is PWD(person with disabilities). This time the person is playing a song for everyone. He is using his talent to earn and for his living but sad to say when I saw his money they are all coins. I wonder why only few people are helping him, but I choose to him help than the first people I saw.
There is no harm for helping and supporting someone's dreams but sometimes helping has a downside too. I know that sharing is caring, but what if you're not just caring as you're unintentionally teaching them to be lazy? Sometimes we should also be cautious on lending our hands and choose the right person.
Thank you for reading ❤️.
Lead image source: Medium.com