Mr. & Mrs. Tea Cups Anniversary
February 9, 2022
For the very first time, I was able to write a faction story! I used this as my entry to one of the contests on the other platform that I joined with and I want to share it with you.
---
Guess what?
Me and my friends were invited to attend the anniversary of Mr. & Mrs.Tea Cups that's going to be held at their own Storybook Garden!!!
Did we say yes? Of course, we did! It's a once-in-a-lifetime invitation and I haven't seen the Storybook Garden yet! We all were red tops as it was indicated in the invitation that all attendees must wear red and the best part of it is that they are just requiring their guests to wear casual clothes.
We were welcomed by the couple itself and as always Mr. Tea Cups is in a great mood. Mrs. Tea Cups is in her white silvery gray long dress that looks so elegant and beautiful. They are walking hand in hand with so much love in their eyes.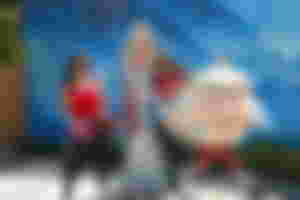 One of my friends was late and was just lucky to arrive while we are congratulating the couple at the entrance area. Mr. Tea Cups was in a chatty mood and telling us that he will give us a tour of their Garden but might leave us in the middle if there's someone who arrives as they are going to welcome them too. Mrs. Tea Cups assures us that we will not get lost as there will be signages on where we are going next.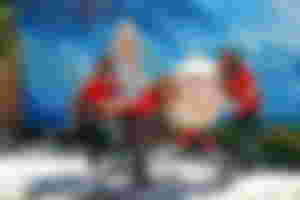 Right before we start walking some other guests arrives, Mr. and Mrs. Tea Cups excuse themselves and told us to enjoy ourselves.
We keep walking and meet some guests that are exploring the area too, they are all friendly and accommodating. The guide to the whole garden is written in books that you'll not miss seeing it.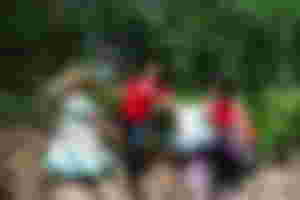 We even met Jack who is fetching some water at the well.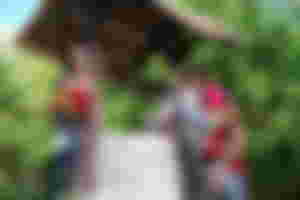 We help him out for a while before we excuse ourselves and continue our tour around the area. After a few minutes' walk, we enter another big door that looks like a portal somewhere. It was so big that we have to push together to open it.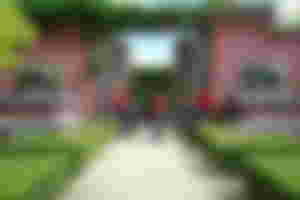 There was a wide area of luscious greens that are well managed. It was the first time I saw that kind of garden that I thought only exist in fairyland but wait we are in a fairyland right?
That explains why they have such a magnificent garden.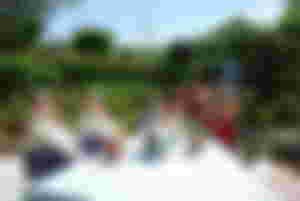 We continue walking admiring everything that we see until we reach the area where they set up the coffee nook for all the guests. They served cakes, coffee, and tea to everyone. And everyone I mean everyone is entertaining us, even the coffee mugs are telling us stories about how great and loving the couples are.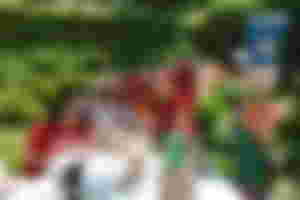 It was a simple celebration of the couple's anniversary but definitely worth remembering. We enjoyed having cakes and coffee with the other guest while talking about the garden and how nice the couple was.
---
Final Thoughts
I enjoyed writing this faction story. I didn't think that it would be that fun thinking of what to write next with just looking at the pictures. Will I do it again? Oh yes, definitely and I'm looking forward to writing more of these faction stories.
---
And if you are still reading this... Thank you for your time, if you enjoy reading it, hope you'll gonna click that button to like and subscribe. By the way, let's talk some more so I hope you will leave a comment below and share with me your thoughts.
©Eylz2021|#ClubBrokeBCH
You can also find me here
Hive 🌱 Noise 🌱 Twitter 🌱 Appics
All Original content unless specified otherwise ;)
032/365/2022