I'm still around
How are you awesome people of Read.cash?
It's been so long since the last time I have posted here that I won't even want to know how many days it has been. The first few months of the year have gone by so quickly for me. And they've been quite eventful. Some good and some not so good, but they've kept me much busier than I've been in the last two years. However, I'm starting to get organized. And I hope to find the time to be more active here.
Also, I need to keep an eye on my Smart BCH portfolio, which I have been neglecting lately. I have no idea of the latest tokens and NFTs projects, and I must do something with the ones I have.
But as busy as life can be. We must not lose focus on appreciating the small good things around us. And these days, I seem to be a hunter of Araguaneyes. In March, around here, these trees, known in English as golden trumpets, are in bloom.
Many of them are in full bloom these days, adorning the landscape like yellow specks. And the ones that are already losing their flowers are leaving that yellow carpet that also looks so pretty.
This photo was taken yesterday morning when I was returning from my son's school.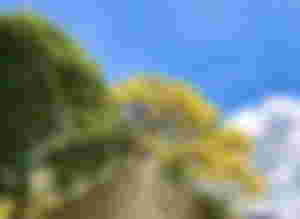 This other one was in a small park near my house a few days ago. I took it during a short walk.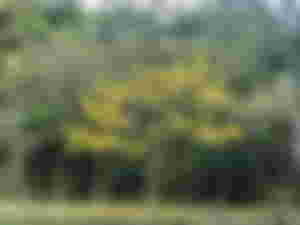 And before I say goodbye, I leave you with this funny picture I took a couple of days ago of this goat. I already wrote about it in Hive. I went to a bakery near my son's school, and on a small piece of land on the hillside above one of the walls of the bakery's car park, there was what looked like a family of goats.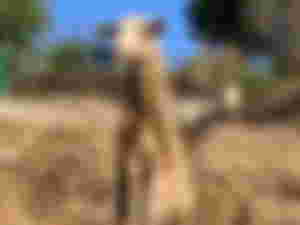 I was surprised to see some goats there. I noticed them since they were bleating so loudly. As soon as I saw them, I went over closer to the wall to take some pictures. I had a fit of giggles when one of the goats posed for the photo. Thank goodness that's what it was, and it didn't jump on me.
Some curiosities about goats that I learned while researching for the post I wrote. They have accents, as their bleating is different depending on where they are born and raised.
And did you know goats' pupils are rectangular? I wonder if that is the reason why many goats have such a crazy look.
That's all for today, thanks for reading.
All writings and images are my own unless otherwise stated.
© CoquiCoin  
You can find me also at Noise. Cash ⊛ Hive ⊛ Torum ⊛ Twitter
Until next time! ;)
March 16, 2022