Who Keeps Me Motivated In My Blogging Journey?
Blog #208
April 05, 2022
It's the fifth day of this month and tomorrow I'll be celebrating my 7th monthsary here. Every time I celebrate my monthsary on this platform, I would always remember the moment when I almost give up. I want to give not only because I was not noticed by Rusty but because I was doubtful if I could make it. When I am about to give, I'm grateful to have these people who keep me motivated. Who are they?
My Family
My family is one of my great motivators why I still keep on blogging up to now. I know this journey isn't easy at all but having them with me made me strive harder to be successful in this kind of field. The hardships that I had been through are what I always think and I make it an inspiration to keep writing every day so I can earn and help to provide for our daily needs.
I'm happy that I become part of this wonderful community where I earned a decent amount of money even if I'm just at home. Seeing my wallet filled with my hard work earned money made me so proud of myself for not giving up when things don't seem to be going according to my plan. I am grateful to God for showing me this kind of opportunity to earn because many times we were saved with my earnings here.
Right now, I save 80% of 1 BCH in my wallet already and that made me feel happy. Honestly, this is the first time I'm holding that kind of amount because when I worked before, I was only able to hold until 5k.
My Sponsors
Have you remembered the time you had your first sponsor? How did you feel at that time?
I still remember the time when I first saw the word New Sponsor in my notification. The feeling of having one for the first time feels so great. Having a sponsor makes me inspired to do better here. They are the ones who keep my fighting spirit high and they assured me that even if I wasn't noticed yet, they are always there for me, supporting, guiding, and helping me throughout the way.
To my 28 sponsors (old and new), thank you so much for your support. The sponsorship you have sent to me is a great help to me every day. Looking at your images strengthens my desire to keep achieving my goals every day and to keep doing my best.
Special thanks to my newest sponsors @Princeyahwe and @joydigitalsolutions for adding in my sponsor's block. I'm too much grateful to have you both. God bless you always and hope for more BCH in your wallet.
My Viewers
Seeing the viewers that I have in every article that I published made me inspired to think more of interesting ideas to share that could catch my viewer's attention. Thinking of a topic is not easy at all but based on my observations, the articles that could gain lots of views are the articles that the viewers could relate to like foods, sharing your monthly goals and monthly end reports, experiences during our childhood, and many more.
My Commentators
Seeing my articles with lots of engagements on them made me more motivated to write. I know some could relate to this feeling where we have fun talking with other users in the comment sections. From a simple comment to longer conversations. I'm always happy to have those users who just don't leave some comments but also tried to engage. It made me so happy to see that they are enjoying talking with me in the comment section.
My Family

My Sponsors

My Viewers

My Commentators
How about yours, who motivated you to keep writing here?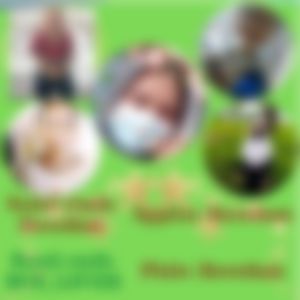 This is me, 🧕BCH_LOVER 🧕once again. Thank you for your time today.
God bless and Keep safe you all!
Before leaving, please hit the 👍button. Thank you so much!