Reminiscing An Embarrassing Experience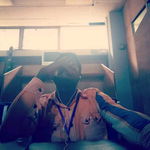 Earlier today, I was going through some of the books I had kept away and came across one I read in the second semester of my first year in the university. I remember reading a chapter that explained curly, wavy and straight hair a bit. I remember fondly when I read that particular part of the book in the school's library and how I had rolled my eyes because it made me remember an experience I had in secondary school (highschool). Permit me to share this story with you.
I remember this day because it was the most embarrassing day for me all through my time in the school. It was a Monday morning on the general assembly when the school's counselor had decided to use two males as an example for the entire school. Unfortunately, I was one of these males, and as fate would have it the other make student (who was my classmate) happened to be behind my on the assembly line.
She called the both of us in front of the assembly and asked us to kneel down. I was confused as this was the first time that had ever happened to me. More so because I had not done anything wrong which I was aware of. According to her, the reason she called us out was because of our hair. I do know one thing we (the guy and I) have in common is our hair, because it is both wavy and dark. Thus, forming what we popularly call "sporting waves"
According to the school's counselor, we had gone to the barbershop to get the hair done that way (sporting waves and dye) so we could use it to entice seduce naïve girls in the school. 😅😅🤣🤣 Yes, it is funny, but you'd be surprised it is not far from the truth as a reason as foolish as that was something people did back in the day. Also, it wouldn't be far-fetched if I said girls actually like(d) guys with sporting waves.
All we could do was just look at each other in utter confusion and disbelief. We had been in the school since SS1 we are now in SS3 and not once has anyone mentioned this to us, neither had she, because I remember meeting her in the lab a couple of times before that day. She must have seen me or my classmate before but said nothing.
It is not uncommon for people's day to start badly which will make them look for the slightest reason to vent out to others. Neither is it uncommon for people to use the slightest opportunity to show their power as a way of psychological warfare. Well, there was no particular war going on, but doing such a thing to us in front of the entire school can have an effect on the students.
We tried explaining to her that our hair is naturally like that, but she wouldn't hear us out. She was judge jury and executioner while we were just the people who had sinned and had no say. She told us to go cut off the hair, until she was sure we've removed all the waves before we can enter the class. I had cut my hair the day before and was on a low cut. Any further barbing would mean I was going bald 🤣🤣. We had no choice, we had to do it even though we were unhappy about it.
I remember that was the first time going bald in the school and how ashamed I was of everything that I couldn't even go out when it was time for break 😅. When I read about how my hair is only genetic and how I was punished for it for in more ways than one as I used my own money to get the haircut, I was disappointed and wondered if the woman knew and still decided to do what she did anyway.
Well, that was the story in my secondary school days, and I remember the last time I saw this classmate of mine, we joked about this event and laughed at that moment. I can assure that when we were being crucified, it wasn't funny at that time. But this is the beauty  of memories and the magic time has on these memories is that they eventually become a funny one.
Thank You For Reading 🖤🖤
Thanks to @BCH_LOVER for the sponsorship renewal, I appreciate your support ma'am.