I can still feel draft getting in spaces that they can get in. I can still hear the wind outside tossing what's left of the rain. I hope tomorrow is going to be a better day. Lots of places underwater. Lots of deaths again from landslides. Some roads are unpassable.
Let's take our thoughts some place else.
I just watched Free Guy online. What I learned from that is to give importance to everyone. We all matter for we all have roles to play but that we should not belittle others just because we have bigger responsibilities. How big or small your part in this life is, we are all important. Also, we have to value those who value us. Love is just in front of us but we keep ignoring it most of the times.
I also watched SAS: Rise of the Black Swan in Netflix. It's the usual story of how those in power will always use others to their advantage. However, there are those who will fight back. Unfortunately, no matter how much we fight, those in power will unite.
In both movies, there is that little thing about love winning in the end.
I wasn't able to work that much today because how unstable our power is and our internet. I would have wanted to push through but it would be frustrating and stressful so I decided not to work a lot. I just did some few tasks but that's about it.
I have been playing Dragonary but the update now is that they have upgraded the game and raised all the fees needed to upgrade your dragons. It is indeed a free to play game but it will take you forever to upgrade if you don't invest in the game. Also, the levels have been harder too. I don't know when I'll be able to buy some tokens to upgrade my dragons.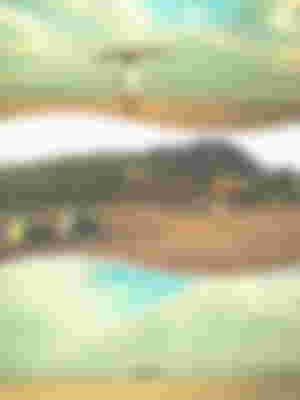 I've been meaning to share this one back when I was longing to go to the beach and still does want to go to the beach. This was one of those instances when we can freely travel whenever we wanted. The nearest beach is just an hour or two away.
This particular time, we texted some friends who wanted to go and we just hop in a bus. We did brought some changes of clothes but the waves here are strong. We decided to rent tents and spend the night at the beach. We had a bonfire too and they will set that up for you but for a small price of course.
There were other quick escapes to the beach that we have had back then.

This photo was taken on one of those moments. Even for just a few hours at the beach, that would be enough for us. We can stay long enough there and catch the next available bus to take us back to the mountains.
I try to avoid checking on my news feed in fb these days for all I see is death. Just the other day, a friend's mom died not from COVID but from internal bleeding. Today, another friend's dad just passed. And so much more. I think everyone can relate about bad news all around.
However, it's ironic how life and death happens at the same time. It's one of the "natural" things in life that occur. It reminds us that nothing is permanent. When our time comes, then so be it. We have to celebrate life and make the most out of it the best we can. We have restrictions these days but soon we can be freer again. Do what you can for now. Learn new things. Improve your skills. Anything. Something. Just do it.
So that's about how my day went. It's not as productive as I wanted to be for this kind of weather just gets to you. I guess I have to have coffee in my system again. I haven't had it for almost a week now.
I bought some kimchi and boiled potatoes for tonight's dinner.
After this, I'll be sleeping it off again and hopefully I can have a better mood tomorrow for work. If everything else is stable. We'll see.
I hope you have a better day. Stay safe.
Now, the rain and wind is picking up again.