September 27, 2021
I still can't absorb the shocking news revealed by Big Boss in one of our meetings earlier. Some changes will be made especially the admin forces. I've been on my PC encoding the minutes of meeting and then when big Boss spoke that's when I look up and it means serious business.
We've been in a skeletal workforce ever since the pandemic. If you are one of my readers you know already that I do a lot of work since we are short-staffed and Big Boss still can't support the funds because the client on our past projects still hasn't paid us for the work we've done. There are only me and the Supervisor and Architect together with Lady Boss and Big Boss.
Before the meeting started someone knocked on our office door saying he's told to submit his resume. So I checked his resume and ask what will he be applying for and he told me he's applying for a messenger. Huh? We have a messenger though. We don't need additional, what we need is another document controller and purchaser(the one who'll call suppliers for materials needed in the project).
At 10 am the meeting started with the usual reports and updates.
Then he said that our old messenger and purchaser will not continue to work with us also two of our architects, and we'll need to hire and train new people for the said positions. I, we were not informed about these beforehand. I was quiet and just stared at my PC. I can't seem to understand why.
"They have their reasons" that's what Lady Boss just said.

I messaged them wanting to confirm and they all say the same. They found another job because they can't cross the borders. They are all from Negros.
Even the architects will not go back. I want them to go back and be the solid team that we are.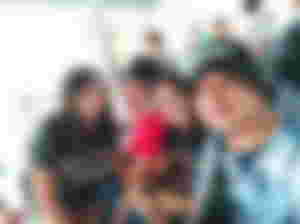 Only the two of us left and I can't seem to imagine working without them. Ever since I started working they are my constant guidance. I never knew anything about constructions but they mold me to be a knowledgeable one. huhuhuuhuh
Lady Boss came to me and said "People come and people go, you can't put a dove in a cage forever, you need to let them fly and use its wings to fly" We'll find a new one and will do what we always do, it's a part of our work.
I am the kind of person that easily gets attached and doesn't easily forget. I may be rude to them sometimes but I cherished them. Aigoooooo
Since we need to hire new staff so the longest training will happen next month and it's October and it's the start of the last quarter of the year. I want to curse but I know it's bad so I just cried earlier.
I just hope they'll land a job with a good employer and would treat them the way Big Boss treats them in the company. They're a great loss to us honestly.
Another emotional day for me I guess. I've just finished talking to them on a Video call and they don't have other choices as they say. I've been with them for four years so it kinda hurt me to see them walk away from the company they once called their own tavern.
Do check their works also..... kamsamida!
Thank you for reading.
Keep safe & God Bless!
Fin!