Highlights of the Month: July Is Here!
We'll talk about how my June went, how I totally destroyed or abandoned it for important reasons. Since the pandemic, I've only been at home doing housework and going out a few times. I was an introvert who couldn't get along with other friends or cousins because I preferred my own company even when I was alone.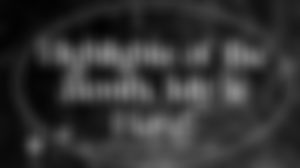 I first discovered the noise, and after 7 months, I felt compelled to try writing articles here because the system in noise has changed and is no longer as it was. It was difficult to write at first because we were not satisfied if we were writing things that captured the attention or interests of the readers, which is the goal of writing, for them to read your pieces.
This month has been the worst month for me because, for the first time in my life, I failed to meet my goals because I hadn't opened my account here for quite some time. I didn't even make half of what I did last month. The reason is that I went to the city, and I can't explain why my mind can't work when I'm there. Perhaps because we always go out and I woke up late, around 11 a.m.
Even though I did not earn much, I am content because I learned my lessons. What makes it significant is that I am still confident that I will do my absolute best in the coming month. I'm still happy because my sponsors haven't abandoned me, and I've gained more subscribers here, which makes me believe that I'm still valuable here, albeit not as much as I was before.
One reason is that I didn't bring my laptop with me when I moved to the city, and you know, I write my pieces on my laptop because it's difficult to write and make lead images on a phone. I am proud of those who use phones but still create and write high-quality lead images and other images. Or maybe my phone is bad and that's why it's not working properly. Haha. Just kidding.
Thank you to everyone who is still here with me. I also apologize for not always visiting you, but I promise to do my best to read all of your stories here. I hope you continue to earn as much as you do every month; I am so proud of you for not giving up on this site. Always may God bless you.
Lead image from Canva.
Thank you, my dear sponsors; I will be eternally grateful to all of you for continuing to support me. I promise to write as much as I can just to let you know that I am deserving of your assistance, and I will also write informative pieces.
Publishing Date: July 2, 2022