October 9, 2021

Hello beautiful readcash people! It's the Weekend and Happy Saturday . How do you normally spend your weekend? Me normally, just doing the house chores and of course resting. Before the pandemic, when I was still working in an office, we ended up hanging up with my officemates anywhere during weekends but now, naah I'd rather stay home and be with dogs. I know age is just a number, I totally agree with that but you know what, I can really feel that my body is not the same as before. I am always tired and my body is aching most of the time so that is why I'd rather stay home instead and call for a home massage .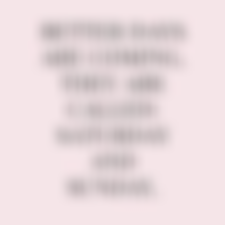 Anyhow, sorry for a very long introduction. I am writing this because I just want to share with you all why I love weekends. Yes, even though there's instances where my rest days are on weekdays, I still prefer to have it on the weekend. Like who doesn't love weekend's off? I guess there's none. Having a weekend off makes my rest day more satisfying. Like most of us, we love to go out on weekends rather than weekdays. Agree on this?
Aside from that, Saturdays and Sundays when you hear those days it feels like I regain all the energy that I lost during weekdays. When you just realized that weekend is over and Mondays, Tuesdays, Wednesdays, Thursdays and Fridays and realizing those days are just like all your energies are all gone lol. Like it's gonna be another weekday that you need to survive with. 
On the other hand, I am not saying having weekdays off is not good because let's face the fact that there are a lot of companies whom they give their employees weekdays off. Most especially in the BPO industry, right? Ever since I worked in the BPO industry, most of my days off are weekdays and it sucks but that's life.  I believe only the government employees are very fortunate to have weekends off for the rest of their employment life. 
Let's all be thankful that we are still given offs on our works. That's the time that we can rest, relax and spend it with our loved ones. Either will be given weekends or weekdays, let's all be grateful, thankful. We need to rest, not to quit :).
Thank you again for dropping by everyone. This is my entry for @JonicaBradley writing prompt "If I Were..." If you would like to join, simply follow her instructions:
Write about "If I Were..."

Write 100% original content

Join and submit to the community PromptlyJonica

Tag @JonicaBradley

Have fun!
To my dear sponsors:

Thank you for the support. I appreciate you all. Continue to be a blessing to all of us and more blessings to you all as well. Check their pages everyone! Cheers!
October Articles:
Food Blog 101, You'll gonna love it – Part 1
Airdrop – Camiguin Island, A Paradise to Visit
Is it worth fighting for? Random questions on a relationship
Fruitful September and Let's claim it October – Readcash and Noisecash Update
Always my favorite – Avril Lavigne (Part 2)