Prompt Challenge: What's inside your Gallery?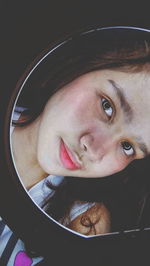 At last!! I can now do the most awaited challenge! Actually, I read a lot of articles regarding the challenge that @meitanteikudo has launched. Actually, I wondered if I could do it if no one had tagged me, but hours later, after reading some postings about it, I was surprised to see that @mrspepper27 had already tagged me in this challenge.

Thank you ate for challenging me.
Let's get this Gallery Raid started since I'm really pumped to take on this challenge!!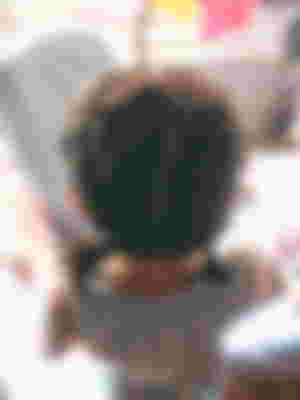 The oldest photo I have in my Gallery was the picture of my son in year October 15, 2020. That time, I remember that my youngest sibling braided his hair. As you know, we really want him to have a very long and curly hair. (Ginagawa nila minsang barbie itong unico hijo ko) He was only 6 years old that time it was taken.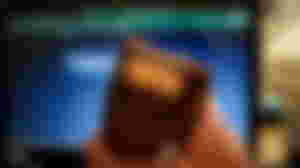 I just captured this today. I was craving for some sweet and noticed that I still have 1 sachet of Reese chocolate in our refrigerator. Since partner is currently working, I sent him this and when I did, he asked me to bring some of it on the weekend.
I like doing selfie but this time, I will choose a selfie that I remembered the story behind it.
So this selfie captured when I got lost to a place I am not really used to passed by. Actually, this was funny because it was just around my partner's place but still, I got lost because I am not aware of the streets. I also asked some people within the area but they just just pointed me at the wrong place. So at the end, I contacted him saying that I am somewhere close to their area but I don't know where will go.
Ps: I don't have a stable signal that time so I find it hard to open my waze app.
Then after 123456789 10 years, at last... I saw his elementary school.
Lesson learned: Never asked anyone especially strangers.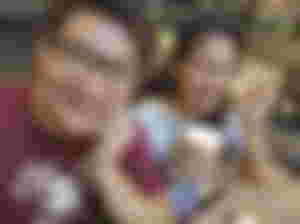 This was taken year 2019. I have many photos of my partner but all of it was like a meme for us. If he see this article I made and put his meme photo here, his definitely will get angry. Lol.
Anyways, this sweet guy here is the most precious gift I had years ago. I can say that we met at a very perfect time and season. For me, even though he's grumpy, (most of the time) I still adore him and admire most. 😍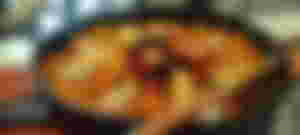 Presenting, Toni's and Sergio's Paella ala Carne. (The meat here is Pork)
This was the most amazing dish that we tried so far in terms of eating in a high-end restaurant. By the way, it was just taken last year. That time, I remember that we planned to get back to McKinnley, Taguig City to just check our padlock in the love locks but also, the plan is to go back to this resto as well since we are missing their paella last time we went in 2019.
For me, this dish is so really worth it. Would you believe that we eat all of it with just the two of us?
While working on this essay, I had some free time to glance through my photo gallery, and I couldn't help but miss all of the experiences captured in the images. Other photographs that have vanished from the collection come to mind since I sometimes erase them on purpose. Cameras are, in my opinion, one of the most important innovations in the world. Without it, I'm not sure how I'd feel about reminiscing about the past.
Anyways, that's all for today's article and see you in my next content!! ❤️❤️
Edited: I forgot to challenge some of my besties here. Ate @JRamona20 and @imanagrcltrst your turn guys!!!!