My Drawings!!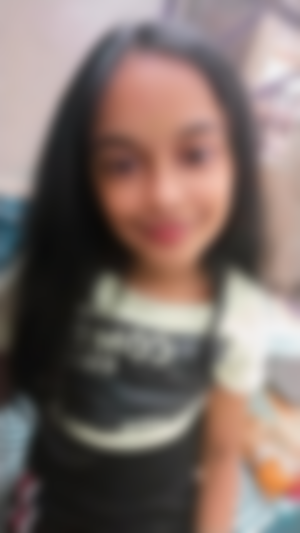 Hello everyone. Good afternoon. My name is Sathyamithra loosely translates to Sathya = Honest and Mithra = Friend.. so, I'm an honest friend. I asked my Mom to share these drawings with you and she told me to stand by her and narrate what I'm gonna write in the post as she said this post is my responsibility now.. (subtle eye roll).. can't believe she typed that.. (nervous laugh). Well, she is writing everything that comes out of my mouth and face, I need to be careful in what am gonna express now.. hehe. On last week of April, they announced our summer vacations and since then, I have been very bored at home. Mom bought me books of course, but I'm too lazy to read those (Mom typed this, I did not tell this)..
Anyway, I asked them to buy me some crayons and a drawing book which they did. I took it as a challenge to draw at least one thing per day and keeping my days busy with drawings and evenings with my karate classes. My main goal is to never give mom and dad some break (again, mom typed it without me saying)..
Let's see my drawings now.. I first started with some fishes.. A simple yet pretty one I have made.. just some colourful fishes swimming in their natural habitat. Do you see that submarine at the bottom of the ocean? yeah, that is what we do, always disturb animals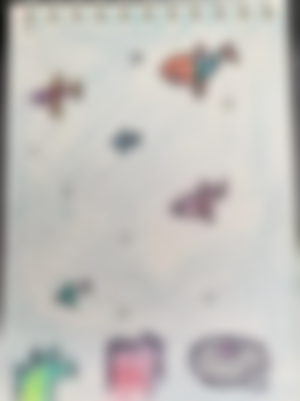 My second one is me in a house standing on a stairs and watching the carpet on the hall where I kept my toys.. just like Mom, I like to think we are rich and I have a separate room for myself which I do not have now :/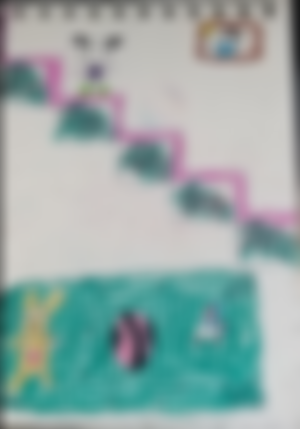 The third one is a birthday party.. just like every kid, I like to attend birthdays and they are always exciting..
Mom typing: ignore the fact that, the cake literally looks bigger than all the kids together..
Me shouting: My cakes are bigger though...
My Mom: that's what she said....
Me confused: Huh????
My Mom: Moving on.....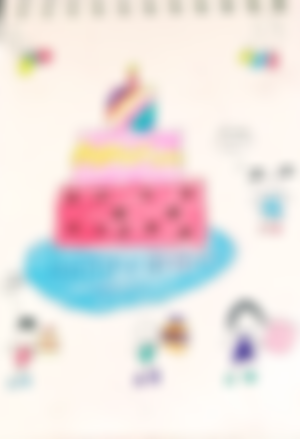 My next one is a drawing of an anime cat.. Mom asked me to try drawing anime characters as they are fun to look at and I searched google for the same and found this cat very adorable.. so I drew it. Do you guys like it too? This is one of my mom's favorites..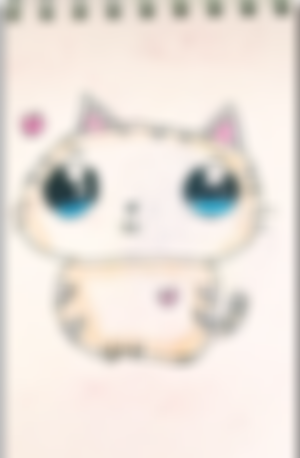 Dad told Mom that he had been trying for some jobs outside the country and maybe one day if he gets an opportunity, we might have to move.. and I took it as an idea and drew a plane that gonna carry us... Mom looked at it and said "oh God, please save us".. I do not know why she said that though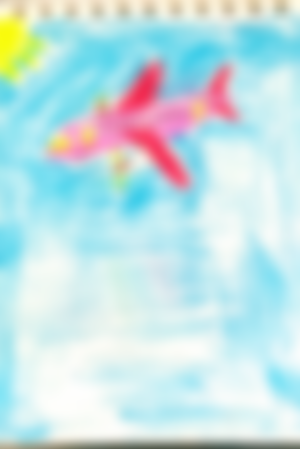 This is my Mom's most favorite thus far.. it is a pic of a doggy, just enjoying it's time in dog park.. I told her how lucky that dog is compared to me as it's Mom took the dog to park and my mom didn't... (Mom refused to type this line, fyi)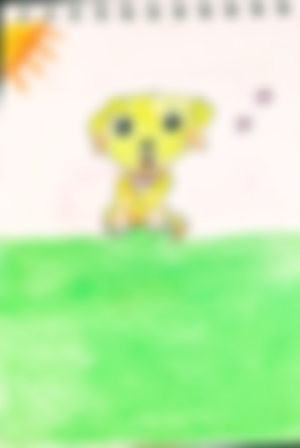 Ever since I was a little kid, drawing landscapes and houses with Sun is my most liked format of drawings.. and I had to draw one or two of the same.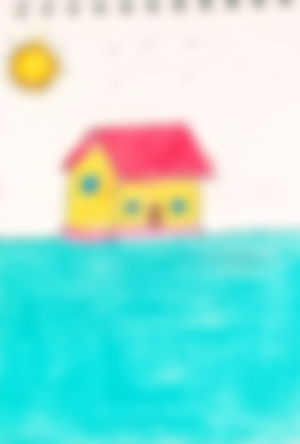 The next one is our school bus. Dad drops and picks me from school and I do not take bus but I watch them everyday.. Si I tried to draw one searching for it in google.. Mom asked me why the grass is black? I did not answer for it.. :/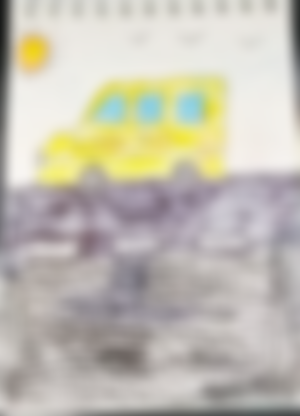 This one is one of my favs.. It is characters from a cartoon show I watch on TV, called Chota Bheem and Krishna... I see Lord Krishna as my best friend, I tried to draw him along with his friend in the show.. Mom said nice try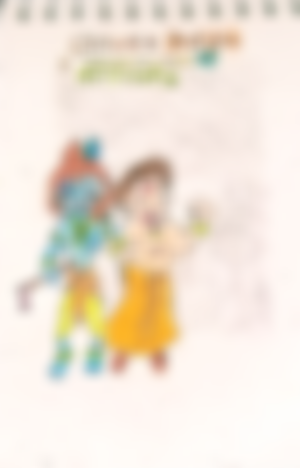 Since I like drawing landscapes, Mom asked me to take it as a challenge and draw a complicated one instead of regular houses or trees and Sun.. So, I googled and picked a little tougher one and drew this.. do you guys like this?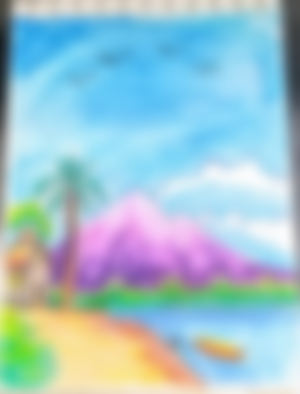 My school looks so old and boring.. So I had to draw a nice looking school of how it looks in foreign countries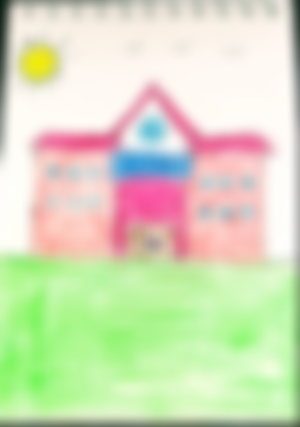 This is another show I watch on TV, is about a 6 year old boy who is a cop already with super powers and protects the city. Mom says "how stupid it sounds".. I don't mind, do you?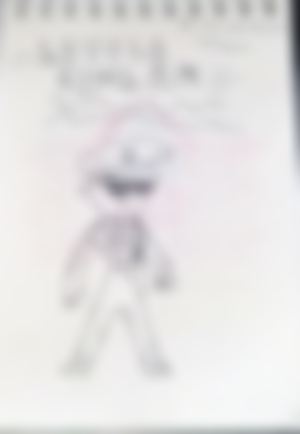 Mom then asked me to upgrade my skills by learning 3D drawings and I had to google and try the same.. It really looks like stairs, do you think so too?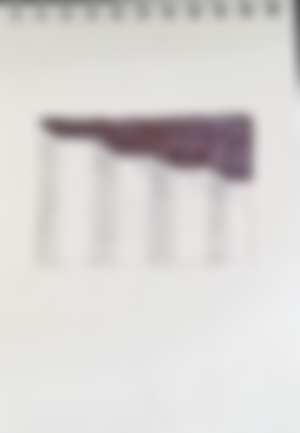 I sleep on a bunk bed everyday, Mom and dad sleeps on ground level, I take the top.. so, I decided to draw it.. we do not have photo frames or toys like that, but I decided to add them because I always dream of having a nice room..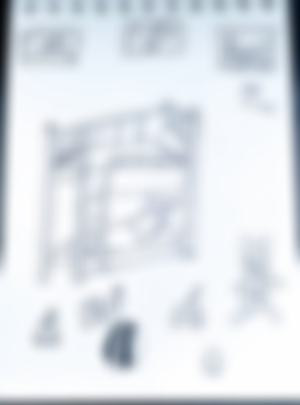 I do not have any story for this, I happened to remember a unicorn while I was sitting idle one day, so i decided to draw it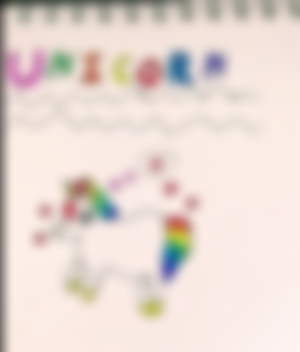 The last one am gonna share here is the one I decided to draw for my Momma.. she is always watching or listening to paranormal stuff and she loves the genre very much, I had to draw a haunted house to dedicate it to her... The three girls are me and my cousins and I was pushing them saying "let's go inside". Mommy said she is proud hehe..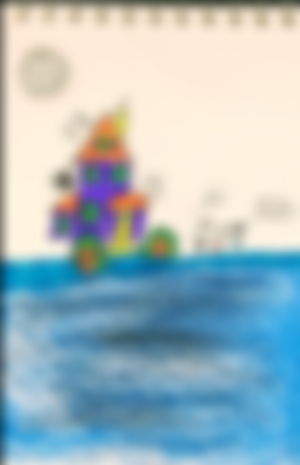 That is all for now guys, I'm gonna draw for all May.. as my school starts by June only, I might share part 2 of it.. hope you guys liked it..
Bye bye guys, Mom says she need to thank you people because you all are nice.. SO, thank you guys!
Mom types:
Thank you sponsors, love you all. I hope you like the drawings above.. Please give her some encouraging and motivating comments so that she will keep drawing and won't eat my brain during vacations.. <3
Yours bloggingly