It was a long journey for me yesterday. A three hours journey turned five hours but I bless God for the safe trip. The bus had fault on the way but we waited for it to be fixed and continued our journey. I woke up this morning feeling more weaker and my body aches so bad.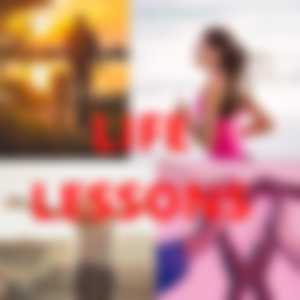 Let's talk about some life lessons which I know we are conversant with them but they should be a constant reminder to us everyday. Let's remember it's just a life to be lived.
---
Take your health very seriously: In this part of the world I am from, everyone is a nurse or a doctor. We are used to self-medication, we just go get drugs to treat ourselves without any professional prescription. We work too much and refuse to pay attention to our health, we tend to rest whenever our body is tired and breaks down on its own which shouldn't be the case. Take enough rest, watch your health daily so that it doesn't paralyse when you least expect it to. Eat good food, eat a lot of fruits and think positivity at every opportunity you get. Take care of your health early.
Make every moment count: I have seen people around me take life like they created it so they decide what happens or how things happen or seen some who think they have all the time. The truth is everyone will die someday, we all just don't have an idea when it will be, why not make all that you do count like its your last. If God should appear now and tells you how many hours, days or weeks you have to live, how are we going to live these remaining days? What will be different? I bet we will be good to everyone and try to show love, try to show others how much we love and care for them, do we have to wait for God? Why don't we just start now and make every moment with ourselves and people count as though it is our last. Also, do not try to commit suicide over something you couldn't control. Taking your life is like adding more fuel to the burnt fire already because it's a sin.
Do not give up because you failed:
"If you're not prepared to be wrong, you'll never come up with anything original." - Ken Robinson
Truth is, we do not succeed at every of our tries, some days we are fortunate to win at our first try and some other days, we fail. Should we really give up when we fail? No, we shouldn't, there is every possibility that what we initially failed at, when we give it another try, we do so much more that how we would have succeeded if we didn't fail in the first try. Failing doesn't mean you are a failure, giving up means you are, so whatever it is we are giving an attempt to, have it at the back of your mind that whatever the outcome is, you still a winner regardless. Keep trying and I assure you success sooner or later.
Run your race: The fact that twins do have some striking resemblance, dress alike, do things alike doesn't necessarily mean they are meant to live same life, they are two different people form birth, they both have their different passions, what they believe in and different sense of humour, thereby allowing them run their different races for fulfilment sake. It gets down to individual like you and I that are so attached to other people and how they do their things, what works for others might not necessarily work for you, that doesn't make super others super, it just tells that everyone is unique in their best ways and you should also try to find the path that works for you in various scenario.
Love God and love people: We are God's people and therefore when we say we love people; it means we love God. Love people around you, do good unto others, help whenever necessary, have fun with people. Learn from people and also teach people.
We are not islands of knowledge: We can learn from people younger than us and people of less experience. As the saying goes, maturity isn't defined by age but by experience and what we have been through. We should be patient enough to learn and unlearn, we just need to hear that one thing or direction to change our lives forever. Be humble to learn from people of any range. Learning continues till we stop breathing. Seek for help, get answers to those confusing questions. Do not rely on your own idea or knowledge.
Thanks for reading
I want to use this moment to appreciate my recent sponsors who renewed their Sponsorships (@Happyboy, @JonicaBradley and @Jane) Thank you very much.
Sponsors of Princessbusayo