Almost A Haircut Day Ended Up At Play Area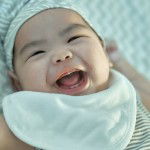 Matti's hair had grown longer and he scratches his neck and back often, perhaps due to irritation. Back in Oslob, I told my husband we must cut it soon, it was the father-in-law who did his haircut back in November. It's been more than four months now.
The last time my husband cut Matti's front bangs, it was a failure so he said he won't do the cutting anymore. His answer to that is to get it done by a professional.
We arrived in Cebu City on Saturday and on Sunday, we went to find a salon that can cater to toddlers.
On our way to the mall, I was checking online for any Cebu based salon with kid friendly environment but I could only find one in Talamban which is quite far from us so we just settled at Ayala as we were also looking to buy a new refrigerator, our old one had died during the pandemic and since we are staying in Cebu for another month or more, we decided to just get a small fridge so we can store food.
Going back, we headed to Bench Fix first.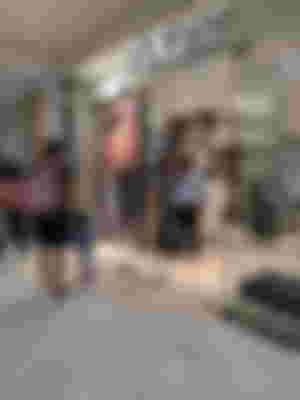 Unfortunately, they do not cater to us. My husband will get a haircut too but he wanted that Matti will go first before he does. We reached Salon de Rose instead and there were many people inside.
Upon asking, they agreed to cater to Matti. I spotted one kid inside but he was around six years old already.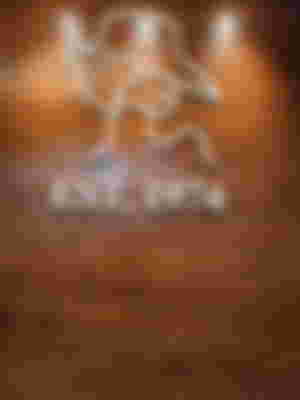 I have to take a mandatory selfie of us before we cut Matti's straight hair. I am just so glad that he was able to inherit my husband's straight hair and not my dull kinky hair.
We were on the waiting list, Matti's name will be called when it's his turn. Then my husband will go next. There were three men ahead of them. I waited patiently inside because Matti can't settle down, he wanted to walk around so the husband let him go out and walk outside first.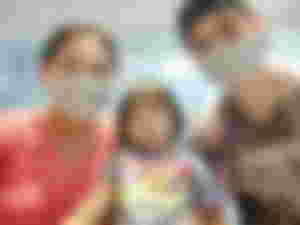 Then his name was called and we brought him to this very comfortable chair. The barber seemed scared to see he was going to cut a boy's hair. He then asked if it was Matti's first time and we told him it isn't but it was his first time to be cut in a salon.
The barber tried to be friendly, he even told Matti that he is a friend.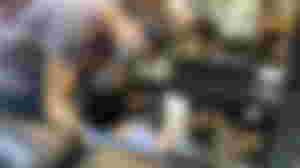 Matti looked at himself in the mirror, still out of idea what was going to happen. And then the barber brought a foam so Matti could sit higher.
Together with that, he placed a cloth around Matti while the husband was still coaching the little kid.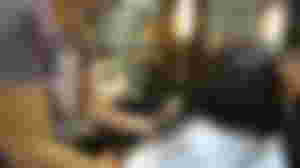 As the barber took hold of his hair clippers, Matti began to understand what was about to happen and he began sobbing and then bursting into tears and crying. The entire room was filled with his voice I was saying sorry to everyone around.
We tried consoling him and bribing him with watching a video on the phone but he was just so afraid. He was calling me and his papa while tears were rolling down his cheeks.
At that point, the barber told us it would be traumatic for him if we'd continue and we agreed so I decided not to pursue it. I guess we will have to wait for Matti to fully understand and get over the fear of hair clippers before he'll get another haircut!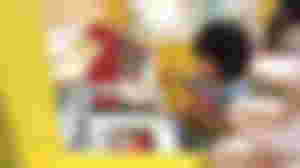 And because he was crying, I told the husband we will go somewhere to play. I brought Matti first to Daiso, then to Toysrus, and we ended up in a play area nearby Toysrus.
The fee was 175 per hour and an additional fee of Php 50 for the accompanying adult. The kid has to wear socks. Unfortunately, I forgot one so we ended up buying one instead.
Matti had fun although he cried at first because he got scared when a stranger was putting on his socks and not mama. I was still trying to fill-up the form needed to get inside.
I'll tell you more about it in the next article. For now, I'd close this one by assuring you that Matti had a blast and I guess he is ready to go to Kidzoona soon!
---
Check out my previous articles here:
---
xoxo,
momentswithmatti Mother | Boholana | Cebu | Philippines | Travel | Photography Enthusiast | Calligraphy | Art | Crypto Noob