Matti Plays Cars and Slides at Charlie's Cup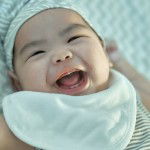 Hello guys! Finally, after two weeks, I am now having the enthusiasm to write about our trip to the mountains of Cebu specifically in Busay.
It has been a while since I have told my husband that I really want to visit Charlie's Cup. I have seen it on different social media sites and I wonder so much what's in that place although its name rings that this place is somewhat related to puppies or dogs, it could offer more than that too.
From Oslob on the last week of March, we headed to Cebu City and then stayed there for a week but decided to go back to Oslob when the mother-in-law messaged us about the possibility to stay in Oslob while we wait for the laptop to be fixed.
Until today, there has been no additional update about the parts that were being fixed. The last one was about a week ago telling us that the damages were covered by the warranty and the service center is still waiting for the parts to arrive.
So we decided to go back to Oslob and our plan was to take the Busay - Balamban route then stop over at Barili, then stay overnight at Moalboal, then head to Oslob the next day after lunch. I am glad to say that we were able to fulfill the itinerary I made.
Today, let's take a look at Charlie's Cup but I'd be telling you things about it in parts because it would take a lot of information because this place is actually big!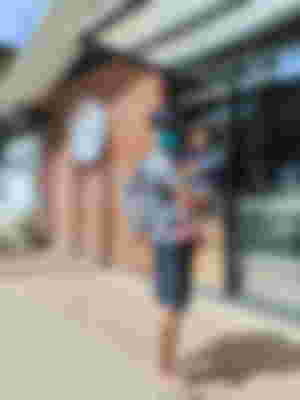 Papa and Matti at Charlie's Cup
Today, let's look at the playful part of Charlie's Cup. We reached at 9:30 AM at the location. Traveling to Busay brings so many memories. We used to drive here when we still have our motorcycle. The temperature is a bit colder here compared to that in the city so most people would go visit here whenever they have time.
We almost miss it actually because we were talking a lot while inside the car and I was not looking at the Map. I found out that this place was just before the Adventure Cafe and the rest.
On our way up, we could see a lot of new establishments, new hotels being construction and still, under construction, some food parks too which look really interesting which we might be visiting in the future, there were also snack houses along and even new tourist spots! There was one just next to Charlie's Cup even but we didn't have enough time to explore that so maybe we will do that next time.
The counter is located right upon entry so we ordered food and headed to look for a table. We immediately found this playground area so we ended up putting our stuff at the table next to it.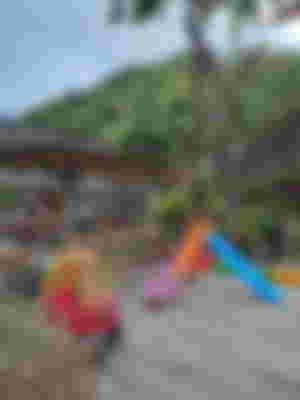 Matti of course ran towards these toys. His first option was this black and white little tikes cart. The car looks a little overused, it got missing doors but it still has the stirring wheel but it doesn't control the wheels anymore so Matti was so occupied just turning the stirring wheels but he was not getting anywhere.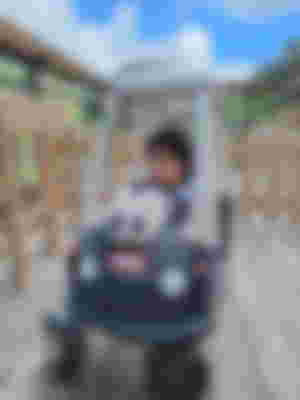 It took him some time just sitting there, turning the stirring wheels before he thought of getting out and trying the other one, the red and yellow car has a door but there's no stirring wheel this time.
Since he can't do anything inside because it has a missing stirring wheel, he asked to be taken out from there and went looking for another place to play.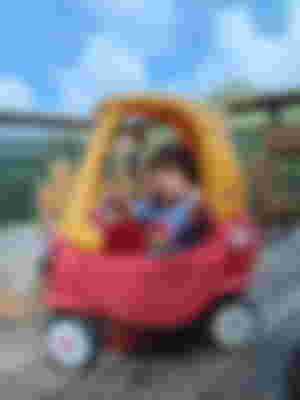 Matti asking me to help him get out of the car.
Now he turned his attention to the slide. He has the tendency of climbing on the slide instead of taking the stairs behind. He needs help climbing so I just took a photo of him while facing the slide and then helped him out.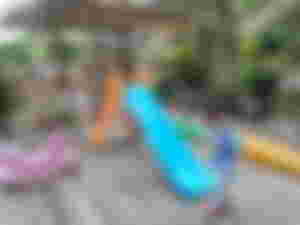 He was not contented with just one slide, I can't anymore count the number of times that he has to climb the stairs and then do another slide, by that time, groups of customers started coming.
I heard the other customers were call center agents and their team leader brought them up here with his car. I can't "unhear" them as they were talking loudly in English, I don't know if they should act like that but I understand because I had been in their shoes before although I talk low when in a group, these guys were actually a little loud.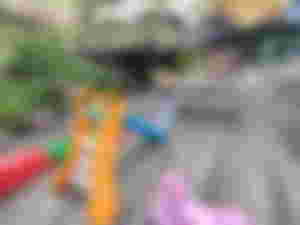 You might ask where's the husband, well, I let him take some drone shots first while I entertain Matti. It took him some time, that's how he usually does his thing. When he was done with the drone, he took over and played with Matti.
It was funny that Matti was also sliding in that red and green part there as if it was also a slide, his butt was already dirty as he won't stop sliding even if we would tell him it was not a slide. I am actually not sure what that was for.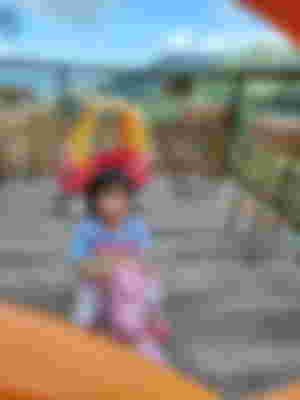 Finally, the last one he went playing with was this horse ride. He only played with it for a while and decided to go back to the slides.
I went on taking photos of the place this time. And the next article, I'm going to share with you the other things we did at Charlie's Cup.
---
Check out the previous articles:
---
xoxo,
momentswithmatti Mother | Boholana | Cebu | Philippines | Travel | Photography Enthusiast | Calligraphy | Art | Crypto Noob