I am a reflection of them
Looking at the mirror, I see myself smiling not because of my physical attributes but due to my reflection of how I've grown.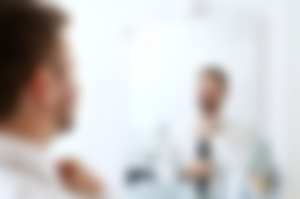 It feels like it was just a few moments ago when I am still a baby while being held by my mother while singing a lullaby. I can't recall the exact tune and words but I am sure it has been a wonderful moment.
They say I got the shape of my face and my skin type from my mother, my eyes, and height from my father, among others.
Aside from these mentioned physical attributes, I am also proud I got likable traits and attitude from my parents which I usually do and which reflects me.
I came from an indigent family, I learn to save at such a young age. I still remember when I was still in elementary wherein my pocket money going to school is just 5 pesos or sometimes 10 pesos. What I am doing during those times is to save 40 percent of it and spend the rest. That time, 5 pesos can still buy a lot. When I say a lot, it means it is already enough to make me feel satisfied.
Each time I think of these things, I really feel delighted in my heart especially when seeing that my dreams, our dreams, are becoming into reality one by one. Thanks to God for having the kind of fighting spirit, burning passion, and determination.
Phrases such as knowing what the goal is and never letting anyone stop me from reaching the goals I set, burning the old bad habits in one way or another to shed them, focusing on my goals with great passion, and many more are what make me feel stronger and continue to face everything no matter how hard it is.
As they say, everything is energy, vibration, and frequency. So I always strive to attract good energy to get on a good frequency and drive towards achieving goals in life.
There will always be obstacles on my path. Hills of mixed emotions, some people that will come, and problems to encounter, may try to distract me or take me out of the lane, but I won't get tired. No matter how many wounds I will get and no matter how many storms try to bring me down, I will remain firm and standing because God is good and He will always provide.
For I have my parents also, and I am a reflection of them.
---
---
You will also find me on: