Anime Series to Watch When You Don't Have Anything to Do
Anime Series to Watch When You Don't Have Anything to Do
There are only a few people in the world that does not watch anime. For the majority who loves to watch anime, here is a list of anime series that you would like to watch when you're bored. 
These anime series is fit for times when you don't want heavy plot with action, thriller and tragic stories. Just stories with not too much drama. For non-watchers, these anime are also great to introduce yourself into the wonders of anime.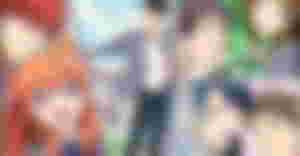 This is the first anime that came to my mind. This is about a manga artist who writes about romantic stuff but is actually a high school boy who does not know anything romance. Yes, it is about a high school kid who writes sweet, romantic cliché of a story that became a top-selling manga yet he is a boy who does not have any romantic bone in his body. The irony of his character will surely make you laugh. The story also presents other characters with fun and ironic personalities too. 
When you're feeling lazy, you should watch a lazy anime character too. This anime is about a high school boy who is . . . yeah, always listless and lazy. Tanaka does not do anything tiring and has no energy to spare with anything. But, the show is not boring but is actually comedic. It will make you laugh hard while you lay down in your bed. Together with his friend Ohta, who takes care of him, their everyday life will surely light up your lazy day.
Chill days can be a time for a love story, especially for a story like Hori and Miyamura. The cliché love story trope of characters with opposite personalities would never get old. Hori is a popular girl in school who gets good grades and have many friends, while Miyamura is a dull, quiet guy with no friends in school. But, both of them have secrets they keep. Both of them found each other's secret one day and that starts their love story. Their cute, simple high school love will surely make you feel like a high school girl in love too. 
 Here comes another love story or love stories I should say. This is about high school kid couples learning how to love and express their love. The different love stories of characters with different personalities will keep you watching for more. The innocence of young kids in love will make you feel young too. You will feel different and mixed emotions as these high school kids struggle in their confessions and expressions of love.
This is one of my favorites anime comedy because it is just so funny. Nothing's funnier than watching the everyday life of these dumb high school boys in an all-boys school. You're missing out if you never tried watching this series. It centers to a group of three boys with their different hilarious personalities. No drama, just fun (with a little funny violence like all animes have). 
This is a new anime that just ended its first season recently. This is a slice of life anime that many of us can relate to. This is about a boy who finally found his passion in life. He found love in art but he is not confident. How does it feel to finally find something you love to do but it already feels that it's too late? Plus, there are so many challenges ahead him. Watch this and you'll see youeself connecting with his character and rooting for him. 
And that ends the list. Hope you find something you would like.