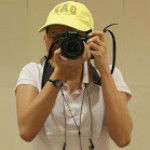 Just off the southern part of Mindanao lies a tiny island that is made mostly of a huge rugged rock in the middle of the ocean. Here, there are tell tales and myths from the locals that centuries ago this island has been visited by pirates and left legends of buried gold in their wake.
Long time ago, some have been trying to find out the what lies at the end of the mysterious cave. Using picks and shovels, local treasure hunters would pretend an overnight outing in the island to explore for treasures and gold. My grandmother told me that there were indeed scraps of antiques taken from the cave from some curious fishermen that prowled the area, thus magnifying their belief that something could've been hidden inside for centuries.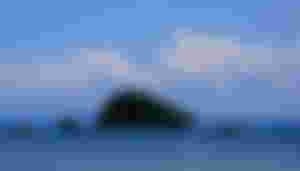 A family once take ownership of the island and built a small house. The father and his two sons, Jack and Tom (not their real names), ventured into studying the cave, still for the purpose of finding treasures and gold. A few weeks after, a couple more men came, believed to be relatives of the husband. All five men began digging at one spacious area in the innermost part of the cave. For few days and nights, they worked hard through the dark pit. However, when the digging was seemed so close to success, torrents of water have suddenly surged into the cave and down the pit drowning their hopes, Jack, his father and another man died in that ravagely tormenting water. And was later on known that the cave has been protected by the fairies in the island.
Tom, the eldest son, continued exploring the cave a year after, and was surprised to see that the pit they made was covered again as if nothing happened. He sought help from the local fishermen passing the island, but no one else would even step in the shores of the island. An old man warned him that the island was haunted by the ghosts of the pirates buried in the cave. Tom, however, was persistent, he began drilling on cave edges and walls that he believed were markings of the treasure chest, and madly destroying the nature that inhabit it. Not long after, he was seen dead and floating in the depths of the ocean by some local fishermen, and his mother had gone crazy walking and living in the streets of a nearby city.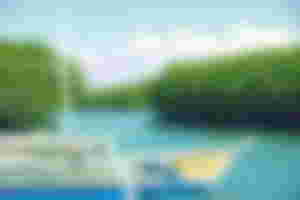 A sad story, I'm not even sure if this is a fact or just a myth, this was narrated to me by my great grandma after we play sungka when I was a kid. That was my first time to hear about pirates and thought that they're wealthy like kings, lol!
Anyway, true or not, the question remains the same for the people living nearby, is there really a treasure hidden inside the mysterious cave?
---
I just want to pull out a lesson from this story.
Life can be great and rewarding if we go through a scavenger hunt, there is nothing wrong in pushing for our dreams to work. But, if in the process, we begin to be selfish, self centered and destructive, then everything is just so wrong.
---
Bella Ciao! Money Heist is back! Season 5 is up! :)
To my new sponsor, @crazybeautifulfurmom, gracias mi amiga!
---
Related Article:
---
For @JonicaBradley writing prompt Monsters, Myths, and Legends
If you would like to participate, please follow these simple steps:
Write anything about monsters, myths, and legends

Write 100% original content

Tag @JonicaBradley

Write at least 600 words so the bot will give you something good

Submit to PromptlyJonica here

HAVE FUN
---
Lead Image and Photos by ME. First posted on my Flickr account. All Rights Reserved.
Ⓒ LykeLyca
---