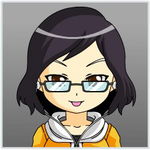 Hurray! I'm happy my OJT in this new career has finally ended. 😂 Two months is enough because I'd rather work elsewhere. 😆
Are you curious where I've been working since mid-October? I will tell you where and I shall include pictures too!
Actually yesterday I decided to go back to Metro Manila instead of leaving today. I had planned to leave Batangas province this morning but changed my mind because of a real estate related thing which you can read down below.
Also we went back to the boarding house early in the afternoon yesterday because we finished all the work that had to be done. It only takes a few hours to finish the daily work because there are three of us in the group.
At least the supervisor finally knows it's better to go home early instead of just wasting our time where we work. All we do is talk or play on our phones afterwards. Come on. 😂 She must have noticed how bored I get everytime the work is done, or not. 😆
What is the job I'm always talking about? Well that's not what I'm going to reveal today. Hehehe. What I will tell you about is the location where I did my OJT.
Yes I already mentioned I have been working in Batangas. I haven't mentioned the exact town yet though. So here it is, welcome to Nasugbu, Batangas!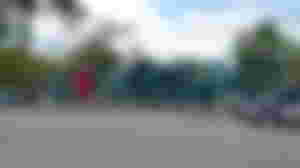 Then again, this signage is at the town proper. Where I really work is further away, one needs to ride a tricycle to get to that faraway barangay (village/district). 😅 I will probably reveal that location soon when I am hired to work abroad. Hahaha. What the, why can't I just say where it is now huh? 😆
I don't want to jinx my future career so I will just keep quiet about it for now. Hehehe. At least now you know where in Batangas I've been living. It takes me 4-5 hours of travel time (or maybe more when there's traffic?) just to get to the boarding house! 😂
Ah really I am so glad my OJT is finally over. It's like I just wasted more than half my money to pay for the experience just to learn a little bit more than before. 🙄 Oh well. I shouldn't have expected much.
That's the same thing I told the new trainee that arrived a week ago. I told her not to expect much because the American reality show we watched and the real life work here isn't the same at all. But of course the head manager did mention that the show is just 50% real, the other half of it is scripted and such. Well it was entertaining enough that we both went into this new career. 😂
Anyway, what can I say about Nasugbu? Well it is full of trees and mountains and you can see the ocean from high enough places! Oh it's a great place to unwind and live to appreciate nature. Of course there are plenty of beaches, most of them are private though, afaik.
If you haven't read my many articles since I started my OJT then I will share some of those nature photos here again. These were taken in various areas of Nasugbu.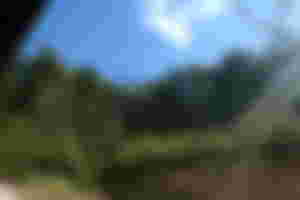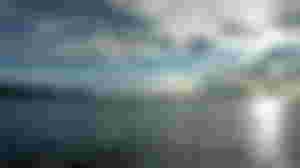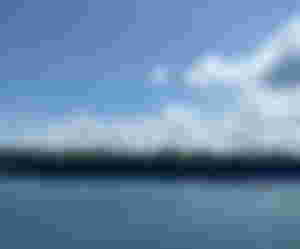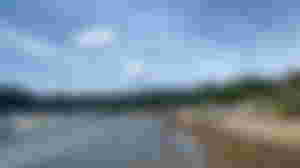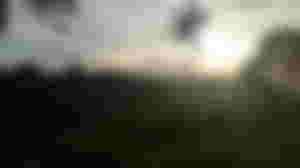 If I had my own vehicle I would stop by a lot of roads just to take pictures. Nasugbu, Batangas is very picturesque. There are many good views of the sea and mountains too! Hey one might even be able to get inside forests. 😃
Also I was lucky to partly experience the fiesta because Nasugbu's festival happens every December 1 to 3 (I think... 🤔). At least I was able to eat, drink and sing at someone's party/celebration. Hehe.
Didn't experience the town perya (funfair) though. Too bad I also didn't get to see the Fiesta De Los Toros and it's parade of cows and colorful costumes of people and such. Hey I wasn't aware of it. I just read about it before writing this paragraph. 😂
The Nasugbu town proper is more commercialized of course. Almost everything is there. There's various food stalls, Jolibee, Mercury Drug, banks, clinics and more! You won't need much except for a major hospital. 😅 It is not really where you can get top medical attention. You'd have to go to Tagaytay to get that, correct me if I'm wrong.
The reason I know this is because of my skin allergy dilemma in October up to November. If you've read my previous articles then you'll know what I'm talking about. Imagine, it was a simple enough skin allergy and yet there wasn't any dermatologists available?! What the heck! What more if you have a more complicated illness? Ah that's one of the problems of living in rural areas.
I have lived in the province before when I was younger but I was born and raised in the city. This is why I prefer to live in urban areas than rural ones. Perhaps suburban places would be okay for me too.
If someone would make me live in a house that's really out there / too far from easily accessible things in the city, I'd rather live in cities. In urban areas everything you need is a short distance away. Convenience makes life easy in non-rural areas so I prefer to live in one.
That's why I don't want to go back to live in our province despite whatever my mother would say. No way Jose, not again. 😆 I'd get bored out of my mind once more like my life was wasting away every minute. It's fine if it's just for a short while, like a week or so but more than that I would rather leave.
I wouldn't even stay long in Nasugbu if not for the OJT. The place is relaxing and wonderful but if I don't have anything else to do and everything is too far, I'd rather work somewhere else. 😂 On top of that my situation wasn't really that good at all so I'm happy my trainee days are over this month! I was supposed to stay until January but I'm happier that it ended this week.
It's also why I am looking forward to working in Manila this time. My upcoming job in this new career will be in the city of Manila. Oh la la. I'm happy to work here in the metro again, thank you very much. Haha. Hello convenience!
But first I will be selling some Batangas properties for the meantime. Hehehe. While waiting to get officially hired I will be marketing some Batangas lots and house and lots for sale. 😃
While I was there I found several developer properties that are really good, I even went to one of the sites. From affordable to luxury properties I am confident enough to be able to offer several to clients and interested buyers since I've lived and traveled in the area. I've seen how scenic and wonderful Batangas is.
Oh I will not be writing much about those properties on here though. I will be posting ads in my social media accounts one by one. Hehehe. Back to my real estate routine we go while I wait for my new job to start. 😊
Today I was supposed to go to one of the luxury property sites of a certain developer and also to their affordable development but it wasn't meant to be. Several factors didn't align for me to be able to go there. Oh well might as well just leave Batangas early right? That's why I was okay to leave yesterday instead of today. I will just go back there when I already have a client to tour in the area.
Batangas is too far for me to go to if I come from home here in the city. While I was staying there the place would have been easier to go to since the sites were perhaps only an hour or so away. Wouldn't go there on my own because it's still far from Nasugbu so I had arranged for the developer's service to bring me there since last week.
Unfortunately the coordinator only coordinated it with the person in charge during the weekend. Tsktsk, turns out that person got married during that time so she couldn't get it scheduled. She had rescheduled the site orientation to Wednesday this week but that means I would have to be in a faraway city in the metro at 7 am!!! Nope. That's too early for me. (It's so I can ride the service vehicle and have the person in charge go with me to the sites.)
If the viewing schedule was arranged earlier last week then perhaps everything would have gone smoothly as I hoped. I already contacted the coordinator since Wednesday last week but they only moved to have the schedule done during the weekend. Alas, nothing happened with my plan. 😂
Eventually decided to just cancel the planned site viewing. It's sad because it's a lost opportunity. I could have seen two more properties while I was there. Haaay. Would have been able to take videos and pictures too! Ah life... (This situation still won't make me buy a car. Haha.)
Anyway, I will not stress about that anymore. Will just keep working on selling those while I'm here at home. Hehehe. Today I will start posting about the other two Batangas properties. Oh la la. I am quite excited actually. 😊
That's one of the things to deal with when living in Metro Manila but selling provincial properties. Haha. Everything I'm going to sell would be so far from me. 😂 Still, life goes on and so I will just work on the things I can do from home. 😊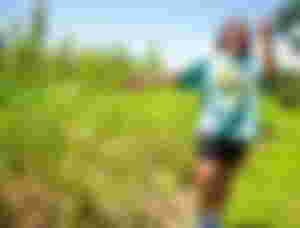 One more thing that I can say about my stay there... I'm definitely happier in Nasugbu despite my other work colleagues not liking me and vice versa. If I remove that one person in the picture I would feel a whole lot better living and working there. Even so, my mood was always good. I never got angry at all. 😂 I would get impatient but I never get annoyed like I do here in the city. I'm always nice even if some people aren't nice to me. 😂
But here, oh my. It seems like there are more things to get angry about when living in the city. 😂 We get irritated easily. That's because people here are less closer to nature than those living in rural areas. Such has always been the case from my experience. Crimes and pollution are more prevalent in cities you know.
There are even articles and researches about this: The less we come in contact with nature the more we become mercenary and unloving towards each other. I can expound on that but it's gonna be a topic for another day. Hehe.
Have you ever been to Nasugbu or Batangas as well? What do you think of the place? Is it true for you too that people in the provinces are nicer than those living in cities? 😁
XOXO,
* * *
Lead image and last two images from Unsplash. Watermarked photos are mine.
Not a member of read.cash yet? Come join us! Let's microblog on noise.cash too!
Sponsors of LucyStephanie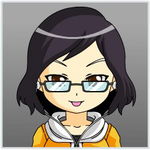 Enjoyed this article?
Earn Bitcoin Cash by sharing it!
Explain
...and you will also help the author collect more tips.