Little bundle of joy:Pregnancy story
How are you all people? Our electricity went back last night so it's time for me to continue grinding. I've been absent for one day here and it's time for me to catch up on what I've missed.
I felt sad seeing the post of some of the people I know on their FB, it's about their burned houses and things that turn into ashes. Some also post about how greedy person takes their things. Hays, there are still people who saw what happened as an opportunity for them to grab things they don't own. Theft as its finest.
Anyways, let's now go into the topic that I will share with you.
It's all about my pregnancy journey. I already shared here before about my first and second-trimester journey and also when I delivered my baby but I would like to join in this challenge that I've read from @Usagi 's article thanks for this idea :)
So I will be going to answer questions about my pregnancy.
1. Normal delivery/CS?
I thank God that I delivered my baby through normal delivery. And in the delivery room, It didn't take me long to push my baby out. Three push then my baby's out already.
2. Father in the room?
No, the hospital doesn't allow any companion inside the ward or in the delivery and labor room even inside the hospital. It is because of the pandemic. So, I am all alone until I get discharged. My partner will just go inside the hospital whenever my surname is called but we didn't see each other, he will be going to the guard and given a prescription that he needs to buy for me.
3. Due Date?
My due date was October 7, in all of my ultrasounds but people said that I might have birth early before October 7.
4. Birth Date?
My baby was born on October 3, 2021. Yes, that was just last year and he's already five months now. I expected it already because I noticed that my tummy is aching from time to time. It was October 2 in the afternoon when I experienced a sudden pain but the pain will last only for seconds so we didn't yet go to the hospital, we just rush there at midnight.
5. Morning sickness?
My first trimester isn't easy, I always felt dizzy and vomited every morning. I also lost weight because I don't want to eat and I had a strong sense of smell. It lasted until the second trimester, I easily got irritated and emotional even in the small things.
6. Cravings?
I don't crave one specific food. It's like every day I crave different foods haha. Spaghetti, carbonara, fries and many more XD. That's the reason why I have many pictures of foods in the gallery. What I saw on the FB or the tv, I crave for it haha.
7. Gender of the baby?
My baby's gender is a boy. I know most of you already knew this. I shared a lot about my baby here, his monthly celebration and about how he got an allergy. My father was very happy when I announced the gender of my baby, he wants a son before but we are all girls haha. Now, I think my baby will be spoiled by his grandparents.
8. Place of birth?
I gave birth at Rizal medical center in Pasig and I love their facilities and staff. They accepted me even though I am not from their city. At first, I didn't expect that I will be going to their hospital since the hospital here in my place is near. We went there first and they told us that they won't accommodate patients since their bed is full and there's a staff who got positive by covid so they told us to look for another hospital since I am still 6cm and it's already midnight, we reached at Rizal medical centre at 1 a.m. and my tummy experienced strong contraction already. I thought they won't accept me since I don't have a swab test yet but they swab me when I transfer to the labor room.
9. Hours of labor?
In the labor room, I just stay there for almost 6 hours and they transferred me to the delivery room when I am 8 cm already.
10. Weight?
My baby's weight is 2.8kg but he is healthy and fine. And now, he's a cute chubby baby already.
11. Baby's Name
My baby's name is Stephen Adrian. My partner and I decided to give our bay two names so that we are equal in naming our baby. I am the one who decides the first name and he is the second name. And it compliment, people say it's a good combination. We nickname him pen pen hehe so cute.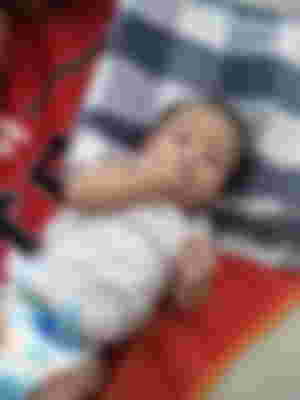 And everyone, this is my baby. A cheerful and loving baby who gives strength and joy to us.
Here are the previous articles about my baby's monthly celebration.
My baby turns three months: spiderman baby
And there you go. Thank you for reading guys :)
I just want to express my gratitude to these awesome people here for their support.
-Loveleng18