Stress is a real killer and often results in depression if not handled properly; I've been going through a lot of stress lately as mentioned in "kristoffer's inferno", thus resulting in constant forgetfulness which I sincerely do not appreciate. As a means of eliminating stress, I decided to take a walk this morning while observing my environment; my not so beautiful environment considering I'm in a rural area at the moment "my much hated Ondo state".
Though I was a bit shy because a lot of people were passing by but I managed to take a few pictures along the way when nobody was looking; it's not a civilised place hence no one is going to sue me for taking pictures of their not-beautiful-outdated-styled houses. It's a typical village hence you should understand the complexity of those houses; mud here and there with those weird looking wooden windows and brown rotten roof. At least they managed to have a tarred road all thanks to the not-so- functional local council leaders and yada yada which I'd rather not talk about.
Woke up feeling like taking a walk hence I took a walk down the street to buy Bread and Akara; if you're a Nigerian you'd know that this food is the perfect breakfast or pre-breakast depending on your stomach's density. I bought the Akara (Bean cake) which I forgot to take a picture of, and went to the nearest bakery in search of bread when I noticed the beautiful arrangement of the grass and the trees in the compound; it was a perfect scene for me.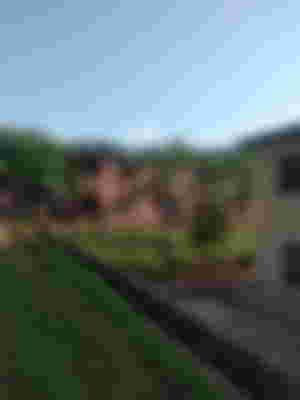 My photography skills are definitely bad; my sincere apologies. I simply took the picture the best way I could, after which I took a few steps forward and took another picture showing the side view of the house at the right side of the picture as seen below; another not so beautiful photograph, pardon my inexperience.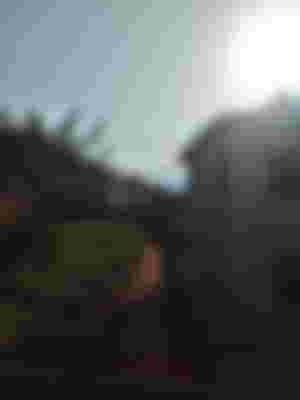 The sun was really burning up there and blurred the image a little bit which I didn't like but had to flow with it. I at that moment wished I had a special device that could switch off the sun or probably reduce its intensity for more convenience as it was interfering with my lack of experience in taking pictures and was making my inexperience very obvious.
Had to take a picture of the sun as well since it was bothering me and I couldn't leave it out of the photo; the sun was probably seeking attention and I gave it what it wanted. Behold an impossible picture of the sun as taken by me...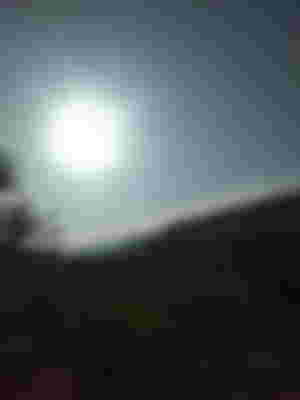 Looks like the picture turned out to be more beautiful than expected; maybe my photography skills are secretly developing without telling me. I like the reflection of the sun almost like it has a four cardinal point with the usual North South East West embedded on it as learnt in Geograpgy class about eleven or twelve years ago. The arrangement of the grass makes the picture look like it was professionally taken but I assure you it's simply a coincidence because the grasses were not noticed by me when the picture was taken.
Few steps forward and another not-so-beautiful scene attracted me; I had to take this pictures before I suddenly changed my mind for no reason.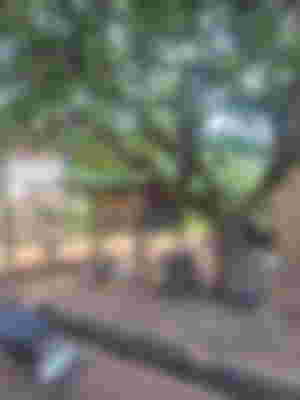 Few steps forward and took a picture of the long street while simultaneously showing my shadow as shown below; hey don't judge me it's all a means of eliminating accumulated stress, I'm simply trying something new instead of the usual "stay in door all day while staring at your laptop screen".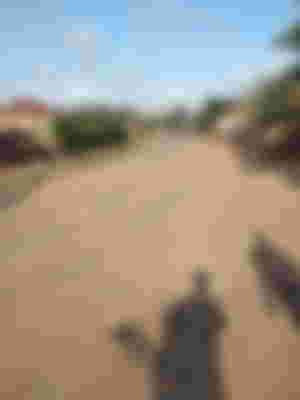 I didn't capture the houses properly but the weird houses on the left and right makes it obvious that it's a rural area. My shadow shows I'm putting on an over sized shirt or perhaps an under sized body in a normal sized shirt...lol; whichever you choose to call it. That's my colleague beside me @Hadamson showing me around in his hometown located in Ikare, Ondo state Nigeria.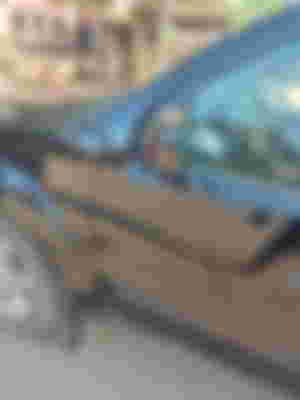 I don't know whoever owns the above car but I wanted to take its picture real quick before I get sued for trespassing; I guess I was too quick and didn't get a proper shot of the car. After which I took a picture of the next compound with a not-so beautiful arrangement; a really old grinding machine behind a not-so large tree and people sitting on a bench in the compound, with my colleague going in to buy us sachet water, after which we bought the needed Bread meant to be eaten with our Akara amd went back to our apartment.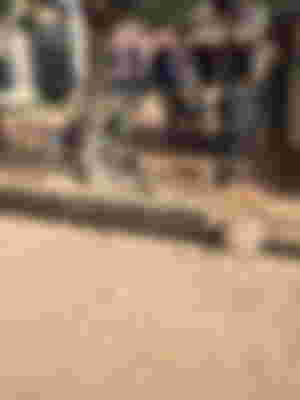 I couldn't take more pictures because a lot of people were taking over the stret afterwards and was a bit shy; I don't like being stared at, I find it weird.
Talking a walk this morning was fun, taking pictures was much more fun, eating pre-breakfast was even wonderful. I took a walk this morning, had breakfast and went back to sleep afterwards. Woke up few minutes past 11 and decided to write what you're reading right now. Few minutes to 2pm and I'm hungry again...I'd better take a walk to the nearest restaurant and make myself comfortable.
Toddles!
Lead image is as captures by my smartphone camera.
Sponsors of Kristofferquincy