Mouth Machine Gun
Date: May 19, 2022
Author: JustMaryel
Waking up in the wrong bed is not good, especially during the red tide. Gosh, literally my Thursday is very unproductive as I am not in the mood to do something or even move my body because of cramps here and there. This is the reason why I don't want to be a girl but I can't do anything about it but to accept. I don't know if it is just me who loves to eat and eat and crave food. Something people think is that I am pregnant, which is not far to happen. I declined my friend's invitation co'z all I wanted to do was lay in bed while craving and imagine foods I was seeing in front of me. When I get bored scrolling, I visit the site and do my thing and vice versa throughout my Thursday.
I've read few writers about their entry in mothers day bingo edition which I also want to make my own entry because I related with it and probably I usually heard this one in Mama mouth machine gun that is really unstoppable once it started. Mothers day bingo edition by @Ruffa .
---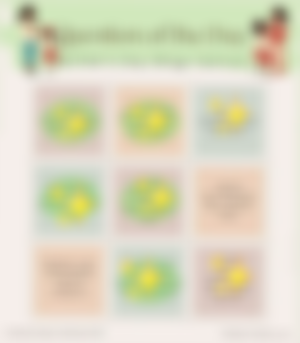 I always hear this line every time I have a headache or I'm not feeling well. This is her favorite line among the rest hahaha. Everytime she knew that I'm not feeling well, this was the first line I always heard before she took care of me. She always insisted that everything I felt was a result of using my cell phone. That is why I seldom told Mama I'm sick para walang mouth machine gun, lol. 
Gosh, si Mama talaga to hahaha. Before I was in high school I loved to go on strolling rides where I usually recruited my classmate living somewhere far away from home. Mama always asked me "why I was late that I was supposed to be not" and I always answered "may tinapos lang na group work" which she clicked for a while. Until, she noticed it happened successively and told "papunta ka palang, pabalik na ako". Even Papa told me this and now I am the one who's saying this to my nieces because their reasoning is my kind excuses before.
I don't know what is wrong with older people when I say my point they call me "bastos, walang manners and even defensive" though I am just explaining my side. And if I did not answer them , they would say " naputol na ba dila mo kasi hindi ka nagsasalita". Gosh, where could I put myself knowing that when I choose one, they will have something to say about it? I keep my mouth shut but at the back of my head, I'm explaining my side while crying just to release my frustration in their kind of mindset.
Geez, Mama always told this one during Saturday and Sunday which happens we all wake up late and she did all the house chores by herself surely after she finished everything her mouth machine gun is unstoppable and even threatens us "pouring hot water for us to awake".
Also a favorite of Mama when she commands something and I proclaim I haven't seen it hahaha. The most difficult thing to find is the hair comb as it usually places it everywhere in the house. By the way, she also added ``pag ako makakita ipakaon nako sa imuha" (when she finds it, I will eat it) that never happens naman hahaha.
Thanks a lot😘❤
---
Recent Articles:
Lead image is mine edited in Canva.