Another B.I.N.G.O
Date: May 02, 2022
Author: JustMaryel
I promised yesterday to catch up with you guys due to my inactive days but then I broke my promise not just today but also for tomorrow. Reason why I am busy is that tomorrow is the natal day of Mama. Together with my sisters and nieces we plan something memorable because we want her to experience a small gathering without her knowledge though we cannot give her a money cake. Today, we made our moves in a silent way for her not to notice at talagang kanya-kanya ng palusot para makaalis para rin hindi siya maghanap. Me and my nieces shoulder the cake and decorations while my two sisters are in charge of the food. Hopefully, our plan will be successful.
Anyway this topic should be last week when I published B.I.N.G.O discussing where I made an acrostic that should be an introduction but as I re-read I realized there is no connection aside with the topic that made me decide to make another like I am hitting a bird in one stone. I first encountered this self care bingo in sis @Usagi with her article "self car bingo" which I automatically add to save articles so I could use them when my brain doesn't or I am at a busy state. Thank you sis @Usagi for saving my Monday. Honestly this kind of writing is my safe zone aside from being easy, it always saves my day. I don't want to miss dahil sayang din ang kikitain. Proceed to bingo self care😊...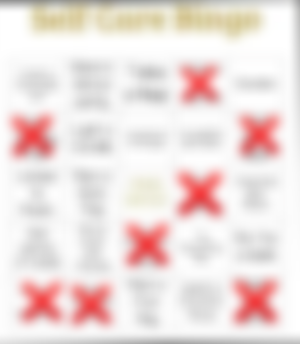 ---
Yes, a journal which is far from a diary because my journal is where I wrote the word of God during my personal devotional. It composed the message, command, warning, promise and application of God. It has many ways like one chapter or 511 method (5 chapters in the book of Psalm, 1 in old and new testament and 1 in Proverbs depending on the date). It sounds like a hassle but it is worth it. Also on this site, I consider my other journal, though it is an online one, so I can express my emotions and write about my day.
In spite of the fact that I am junkfood, softdrink, chocolate and other unhealthy food I am still into healthy meals especially veggies so that I make sure I don't miss any of it. I think the most healthy meal I have is the vegetable salad that really makes my appetite ramble.
Being kind is what I really want to have, though I am not that kind but I am thankful that kindness still runs in my system hahaha.
I love doing this one especially when my nails are long because I can form. I even love painting it using a mixed color like four nails are similar and the other one is different. Sadly, my nails can easily break so I decided not to paint it again.
I still go with them when I feel bored and even facilitate bonding which alway turns out into drawing due to busyness.
Yes and no depends on my mood. I break from social media when my head is spinning which I know is not good, especially with my eyes that I quite abuse.
Always pag hindi ako tinupak hahaha. No matter how tired I am, I still have energy to talk with that person until late at night. The person who knows me very well. Thanks to you😘❣️.
I prefer online book co'z I am a wattpadian at talaga naman binubuhay ng paulit-ulit, lol. 
Thanks for my dearest sponsors❣️
---
Recent Articles:
Lead image is mine edited in Canva.