"Unexpected Sunday errand"
Sponsors of GarrethGrey07
Blog#164 February 27,2022 no.27
Hello my dear family here in read.cash how are you? I hope your doing fine and you did enjoy your weekend with your family and friends. Somehow in my part we had a unexpected errand.
It was around 10 a.m when my partner call me in DUO. I thought he would just tell me that he will be home for lunch but he asked me if I want to go with him to our house. I told him to give me some time, as I need to let our son sleep. It is already having his tantrums so he cut immediately the call, but before that he told me that he's already on his way home so if our son fall asleep I should prepare myself so we can go.
After 20 minutes our son finally sleep, so I got a chance to read ten articles before I took a bath. I still want to finish replying the comments in my previous article but I suddenly heard my partner's motorbike, that means he already arrived home. I immediately run to our bathroom and had a quick bath so I can prepare myself 😅.
I thought we will leave home after we ate our lunch, but he says that we are going to leave after I prepare myself. Since my son is still sleeping our plan is to leave him to my mother-in-law, but when I go inside our room he suddenly woke up, seems like he can sense that I'm leaving 😅. So my partner change his mind, he then to me that we will bring our son he can also go outside.
Actually I don't wanna bring our son, because it's a bit hot outside but I know if we leave him to his grandma, his grandma would be tired of chasing him so I just let him come with us.
Unexpectedly at around 11:30 we are already on our way to our house. We choose to took the short cut way, so the three of us can hop on my partner's motorbike. That means, we are not riding in the main road to avoid check point actually 😅.
In our way I saw some goats, cow's, sheep's and even some Carabao. I haven't been that place so I was enjoying the view. I suddenly miss my province as in our way we also ride along the rice fields. Although the sun is up, I really can't feel it's heat as in our way it's windy, the wind is so refreshing that even our son is enjoying his first road trip 😅. I just don't get a chance to took a photo as I am holding my son, maybe next time if we still took that way to our house I will took some photo.
The plan is I'll be going with him so I can help him to clean our house, but because our son is with us, my partner did everything by himself 😅.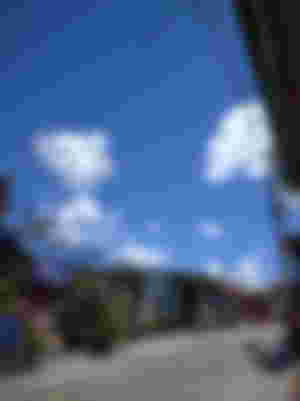 Our house was inside the subdivision and I've been there for three times since we bought it, but sad to say until now I'm still not familiar with the way to our house 😅. I got a chance to took this photo because my son is busy watching his favourite Cocomelon while seating in my lap. We are just staying outside as my partner is busy dusting the inside of our house so we can't come inside. The weather is hot but it's windy.
Since tomorrow my partner will start buying the materials for our house, we went to HOA(Homeowner association) after he finished he's worked inside. We need to get a permit for our construction material so we can start the renovation of our house on Tuesday. After we get the permit we decided to went back to our apartment.
We still took the short cut way but this time the weather is too hot, so when we arrive home I suddenly felt headache. I took some medicine and fall asleep.
Anyway, I think this is too much and it's kinda boring already, so I'll be cutting this article here😅. Thank you for your precious time.😊
Lead image source was originally from my gallery