The inspirational story of a color blind painter
It was such an amazing feeling whenever you finished your own masterpiece. Whatever kind of masterpiece you made like an article, story, novel, drawing, sketching and painting. At the very end of the day, what satisfies you is you are able to construct and give life to what you did. It doesn't matter what others will say because you know it wasn't for them - it was for you. You cannot call it a masterpiece without a sense of hard work, creativity, uniqueness and meaning of the piece you created.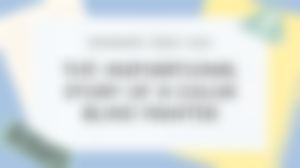 For some reasons, I am not blessed to make an appealing and pleasant drawing. My poor skill in drawing made me gain low scores and grades in art subjects, but it's okay. I tried to copy and learn as much as possible when I was in high school yet the result improved like 3% of 100%. My creativity in drawing is very limited, no actually I have a broad and wide imagination but the main problem is I cannot draw it the way I want. It's like my very own hands have been so hard and do not want to follow what my head tells it to do.
While I was reading on Facebook, there was some news that shocked me. It was about a painter who sold his pieces for about ₱40,000. It was actually big enough for someone who is not well-known. We know that the more famous and unique your painting is. The higher the bid it can get. But, he is not an ordinary painter like what we know because this man is color blind. The very first impression I had when I read that he is color blind, I was really amazed. How can a color blind person choose an exact color without actually identifying the correct one.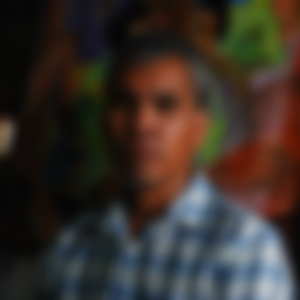 The man I was referring to is named Celso Pepito from Cebu, Philippines. Pepito's last name is very popular because there is a show in a particular broadcasting network who aired a show called Pepito Manaloto. Pepito graduated from college and he had no idea that he was color blind. Meaning, in his entire life since he was young, he had no idea that he had color blindness. I found this very interesting and surprising because how he managed to choose and mixed colors if he has color blindness? I guess the answer is, in painting, you will not be questioned on what color you choose because it is your own piece.
He found out that he is color blind when someone asked him to do a wood craft. The customer asked him why the color is not the same as what they agreed on. Then, he explained that he might not see the right color, but that is impossible. He has been painting and using colors since he was young. So one thing that popped up in his head is to verify his assumptions about himself. Later that day, the doctor told him that he has color blindness. It hurts him because as a painter, color is what makes your piece alive and presentable.
However, this doesn't stop him from painting, instead he disregards his disability. He wasn't looking at the color blind as a problem because he knew there are people who will help him. He made it as an inspiration to paint more and to prove that disability is not a hindrance to stop what he likes to do. His wife and some members of the family are helping him to pick the right color before he starts painting so that he will not make a mistake again.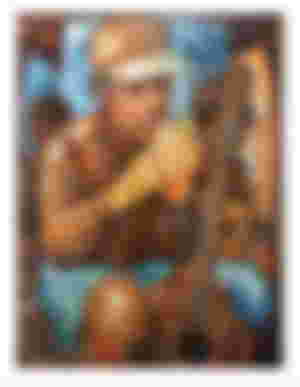 Color blind means you see colors different from other people. You have a hard time distinguishing what is the exact color. There are two types of color blindness. First, you have a hard time to tell the difference between red and green. Second, you have a hard time to tell the difference between blue and yellow. When you are color blind, it doesn't mean you didn't see color at all, it is just that you see it differently than most people do.
I am truly inspired by Celso Pepito because despite his disability, he still continues to do what he loves to do. So, whatever problems you have while reaching what you love to do, always remember that if you overcome it. Then, surely, you will meet the end and get the satisfaction you want. There is nothing wrong with having a disability because still, you have the most amazing gift given by the Above and that is the gift of life. Remember that you have your very own unique talent that can make you distinguishable, all you need to do is to wake it up and believe that it is all yours.
Thank you sponsors for you all-out support and love to this humble writer of yours.
My previous articles you might love to read: