Rats and dog invasion
Last night was not good. I was very irritated to a particular dog that keeps entering our fence. The dog jumped so high over our fence and gets aggressive to our dogs. I called my father inside to help me to get out the dog. It barks so loud and its teeth are baring to us. There's some saliva flowing down from its mouth. If you are wondering how tall our fence is, it's about one meter and a half. When the dog finally get out, I went to its owner. I talked to them nicely, but they doesn't believe me. They told me thay their dog is good and will not enter somebody's house.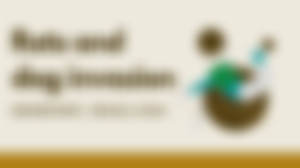 After a while, the dog is behind me. It's barking and I told them to put leash so that it will not enter in our fence. One thing makes me very angry is that their daughter threw a popcorn on my face. She said, "Oh sorry, I like your storytelling". I was boiling inside and wanted to kickoff their asses. Certainly, when their dog enter again in our fence. Pardon me, but I will unleash our three dogs and let them bite their dog. I know it's not right, but it's very dangerous for us especially to my little sister aged six to get bitten by that dog.
I had already shared in one of my articles that our chickens grew in number today. Since we have eight hens and six of them had already hatched their eggs. Of course, they didn't hatched at the same time. The total chicks we have now is 38. I am very fond of handling chicks because they are so tiny and soft. They are not wiggling and trying to resist unlike hens and roosters.
My father separated the 3 weeks old chicks from its mother hen. I don't particularly knew why but I think it's because to let the chicks to grew fast and survive on its own. I believed it is a good idea because to make them feel that they are in wild. They are in the cage which we built last week. The cage has three division enough for the size number of our chicks. So 6 to 13 days from now, the 2 hens left will hatched their eggs.
On March 24, I woke up early in the morning because I heard a loud bang in my room. It thought there were a charger exploded or something fell from my shelves. So I looked where the loud bang came from and to my surprise, I saw my little sister at the left side corner of my room getting an attache case from the drawer's top. The attache case fell and there's a huge cracked on it. My mother asked my little sister to get it from her.
I cannot sleep from that event. My body brings me to my garden and water my plants. When I visit our chicken's cage, I smell something so bad. If you don't know I am very sensitive to smell, but my hearing failed me. I followed the where the strong smell is coming from and there are dead chicks. I think the chick is around a month old. What's horrible is that it has no muscle tissues, but bones and feathers left.
On March 25, it is yesterday. My father has no work because it's his rest day. I didn't woke up early because he will be the one who will feed our chickens. When I was eating my breakfast. My father sat down in our couch and told me that he found another dead chick. Thankfully, it was only one. I told me yesterday before that day, I found two dead chicks.
On March 26, it is today. I found new one. As I expected, the rats keep coming and eating our chicks. I found some holes in the corner of the cages and I covered it with rocks. But it is not effective because they made new holes again. Honestly, I don't know what to do to hunt these rats. I am really pissed and our chicks are decreasing now. I told my father to buy rat traps and he will buy three. I hope it will be effective. Do you have any recommendation to how we can hunt these rats?
Aside from these unpleasant events from past few days. I am excited tomorrow because it's my mother's birthday. We will have no big celebration. We will be having a simple celebration with few relatives. The pool is being prepared as of the moment because we will use it later. I am still thinking what to buy for my mother. She doesn't like jewelery or stuffs like that. My mother is not materialistic and she prefers something that we can use everyday. That is why I am having a dilemma about what to buy for her.
I heard from my sister that my mother wants a big cake. I ordered a cake for her from my close friend who is a professional pastry maker. I love his cakes and cupcakes. I chose chocolate filling, but strawberry outside. He will add some berry's on top. I cannot wait to see the finish product tomorrow. I hope that my mother likes the cake tomorrow. I think I will be quite busy tomorrow and will be inactive for that day.
For now, I have activities and quizzes to do. I finished some of them yesterday and it's too tiring. I squeeze everything that I can get from my brain to solve the coding problems. Luckily, I still have my previous notes from senior high school up to now. I use it as a reference on how I will make my codes shorter and functional as well. My mother is sleeping and my sisters are watching movie titled 'Turning Red'. I will bake some fluffy pancakes with banana now.