Hola, friends of Read.cash!
Today, I haven't had much time to think about what to write. I've been busy. And again, I've been spending some time on chats and Twitter with the Airdrops and the trends with Smart BCH. And I had the feeling to be a bit unproductive. But at least this morning, I took the chance with the dips in cryptos to get some more Cardano for my bag.
So going back to write. After I read today's post of my friend @Eylz2021, I thought it was a good idea to go down the road to answer some questions. But instead of selecting some of the lists of philosophical questions that she used. I opted for the random question generator.
So let's get to the point. I generated 15 random questions to tell you about myself or what I think.

I think I like a lot of cheesy songs. And if I think of one now, Sugar, Sugar comes to my mind.

The week is just beginning, but last week, I learned about Smart BCH and some of the projects that are rising around it.

I would definitely be sure to have internet and be able to be in touch with my family. I will read a lot of books. And also since I will have internet, I would spend some time in Read and Noise.

I wouldn't use the word fascination in a general way to refer to a mass murderer. But it's obvious that human beings have a morbid side, and these people arouse our interest. Understand what motivates them and leads them to commit such heinous acts. And that's why the movies and TV are full of these stories.

I can't think quickly of a movie, but I can think of a series. Almost everyone has watched Breaking Bad, and I haven't. My husband has tried to get me to watch it a couple of times. And I haven't started the third chapter both times. Maybe the third time is the charm.

Many of my friends have borrowed a lot of books that haven't been given back to me. And my sister, even though we are adults, hasn't lost her habit of sometimes doesn't return to me what she borrows from me. And my niece goes the same way. But I love being the aunt she turns to when she wants something "fashion".

I love to travel, and I think I would like to travel almost all over the world. But today, I wouldn't want to go to Afghanistan.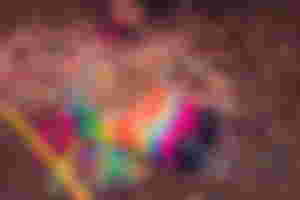 Most of the adult parties I've been with piñata, usually put in addition to candy, sex related stuff. But I would put lottery tickets and some banknotes in mine with the candies. It's not the funniest thing, but no one would expect it.

I like many cities. And I could live in many of them, but if I can only choose one, I would say. When I was younger, I wanted to live in New York or Paris. But now that I'm not so young, I would love to live in Madrid. I love the good vibes of the city.

Lately, I'm not aware of fashion trends. But if I can talk from my memories. In general, the fashion of the 80s. When remembering, it makes me shaking with laughter. And one of the most cringe things I remember was the leg warmers trends. I don't know how I could wear that.

Easy one. With a cup of coffee.

A couple of days ago, @Stea mentioned in a post in Noise that she doesn't want to be a grumpy old woman. And I replied to her that I don't want to be one either.
In fact, I would love to be like my grandmother. She was one of the kindest and most lively people I have ever met. She never said no to anything, and she could be old, but her spirit was always young.

I would be a naughty ghost and wouldn't want to scare you. I would hide things or move them around to make jokes.

In Venezuela, we don't have four seasons. Therefore, we don't have Fall. But a long time ago, when I was still single, I traveled with my parents to New Hampshire in the US. And we spent a weekend in a town called North Conway. The purpose of the visit was a tourist road trip to admire the fall foliage. To enjoy the autumn scenery, this was the most beautiful place I've ever been to.

My warning label would say. "Be careful she has thorns". I have a reputation for being like a cactus, a bit thorny to express my affections. But like the cactus, when they bloom, they have the most beautiful flowers. When I want to be sweet, I can be too.
To all my dear readers, thank you so much!
And my wonderful sponsors! You are the best! I encourage you to visit their amazing articles if you haven't done so.
And a special thank you today to @KrisCastro and @Maxpollina, my most recent sponsors. I do really appreciate this:) An to all of you that have recently renewed my sponsorships. Thank you so much!
Images credit on the caption.
All writings are my own unless anything different is stated.
© CoquiCoin  
Let's go for a #BetterSeptember
Until next time! ;)
September 13, 2021