Prompt: Gallery Raid
I've encountered many articles regarding their photos on their galleries as they mesmerized the memories on that photo. I think it was the first prompt of the year and I forgot who made this prompt but a big credits to him or her since I survive this day without thinking deeply about the topic I need to write.
Since 2013, we have shared phone together with my siblings, it was Samsung that has memory card on it, I have lots of photos in that memory card that's why I keep it safe that until now it's still on my tablet. Due to technological evolution we are able to capture beautiful moments in our life in just a single click unlike before that it's really expensive to have a photo.
Nowadays, in just a single click you can easily store the memory in one micro chip then you can look for it anytime. The memories of happiness, sadness, sorrow, love, first heartbreak, jejemon days and many more. I'm so sorry if I'm so talkative, without further ado let's start this raid on my gallery.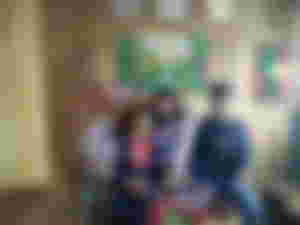 This photo was taken way back 2013 in Camp John Hay in Baguio City, this is one of the most memorable moments of my life cause we are able to visit one of the coldest places in the Philippines. Yeah I'm so cute when I was a little but now I'm not cute but handsome already, just kidding.
I have clear memory on this one, the first place we visit on Baguio was Strawberry Farm which we pick delicious strawberries and hide some on my pocket. Then after that we visit other tourist spot for 2 days such as Mines View, Lourdes Grotto, SM Baguio, La Presa which was forever more was shooted, and I forgot other places.
It's me together with my siblings, I enjoyed roaming around baguio city specially its very cold that I need to wear jacket just to make myself warm, the most fun part if your living in Baguio is the water, well we tried to woke up early in the morning then I went to the bathroom to take a bath .
When I touched the water it's so cold that makes me freeze for a moment. I don't know that there's a heater and I don't know how to turn it on. That's a good memory of me and I hope I can go back to Baguio someday and visit those places again.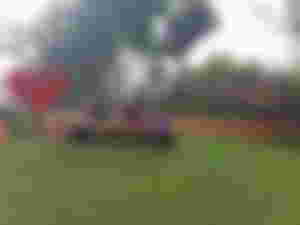 It was vacation that time when our aunt told us to visit them at Bulacan and we will have a swimming. The name of the resort is Noah's Park, I have lots of memories here, I remember that this place is near on the zoo that's why there's animals you can see at the perimeter of the zoo.
This resort can give lots of activities, there's a swimming pool for kids and adults, a terrain which anyone can climb and take pictures, there's also a videoke which needs to be rented. However my most favorite activities here is the maze, at first try I didn't manage to get out that's why I climb at the top to see where's the finish line.
After that I tried it so many times and manage to see different things inside the maze, there's even a little pond where's a fish is swimming. Then the next favorite activity I tried is the hanging bridge, I think it was 50 ft under the ground and it's very scary to walk on the bridge since other people makes it swing, at first try I feel like I'm gonna vomit.
I look under of it but when I'm on the middle, I enjoyed it a lot and also make it sway to scare my sister. I have also good memories in this one since we have other relatives came and they brought a shakeys pizza.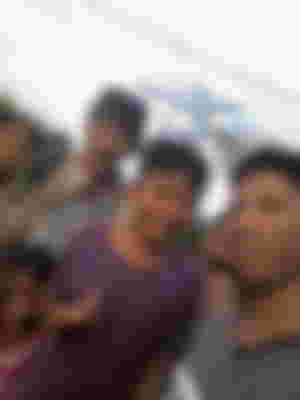 This is the time where my sister died due to brain tumor, my older sister and my relatives decide to take her home in province since we believe that the place you where born should be the place you will bury. We too, her home using ship and it takes us 2 days in the sea until we reach the port of Iloilo.
I'm glad to see my relatives specially my Lolo and Lola since it's almost 6 years since we left the province. There's a happiness yet sadness in me cause it's my goal together with my sister to visit our hometown again and we made it but she's already gone, still I do what she want.
I visit the house of her friends, visit the school where she attend elementary and high-school and even talk with her friends. I know that she's with me that time and I'm glad that I fulfill what she want to do if she's alive. As you can see in the photo, those are my cousins and my Lolo. Can you believe that he's already at 70s yet he's still strong to took care the farm land and feed the animals.
I'm glad that the kids helping him if they have no classes. And my Lola is also strong that she's able to help in farmland and fetch water at the distance well. I really miss my province, last 2019 we are planning to go home but the pandemic happens and it canceled out our flight. Hoping that this pandemic will ends so that I can visit my home province again.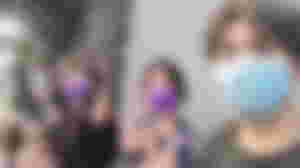 This photo was taken this morning at Heritage Park, we jog first up to Army Gym and go back to heritage park, my original plan was to jog upto Bonifacio Global City but I was with them that's why I stop and wait for them still I'm glad that I jog for a few meters after that we went to Devdn eleven to buy foods.
We look like idiots inside the convenience store since we are so loud talking and they don't want to get foods even if the treat is on me. In the end we manage to get our own drinks and bought some bread with hotdogs.
We eat it in heritage park, after that we play badminton while the two love birds in front are enjoying having conversation. Tomorrow we are planning to jog again but if they dont want then it's okay on me since I will jog up to BGC again.
Thanks to technological changes we are able to capture moments that we love, those photos that we can click anytime and try to remember beautiful things happened on that photo.
I found this prompt really interesting, I'm hoping that lots of users will join on this one cause I also want to see the photos you have maybe a decades ago, the more old it is the more memories it have.
Sponsors of Codename_Chikakiku