I Wish I Had Known Cryptocurrency A Long Time Ago
Blog #221
April 18, 2022
"If given a chance, ano yung gusto mong baguhin, or mga bagay na di mo Dapat ginawa sa crypto world?"
I have been reading lots of articles having this kind of question. It all started from @carisdaneym2 and it's not the only question that she answered. There are more questions but I just want to highlight this one today since I saw many users who tried to answer all those questions that were present in their articles.
Just like the comments that I left on the articles that I read about those questions, I said that I don't want to change a thing when it comes to the failures and mistakes that I have gone through. I don't want to change any, it's because of those mistakes I learned. I learned to be careful next time. I learned to read more things about crypto strategies and how things need to be done like setting up a wallet, funding my wallet, buying tokens, staking, and farming those.
I also learned to do some research on a certain crypto project after I encountered some rug projects or tokens in SmartBCH. Another thing that I learned is to HODL and just sell those cryptos when their prices go up. Honestly, when I started earning crypto coins last 2019, I don't know what Bearish and Bullish Market were. I don't know either about HODLing. What I have in mind was just to earn and earn. I'm happy to see that my wallet will receive crypto coins and I would immediately swap it to FIAT. That's my old self when I started exploring the crypto world.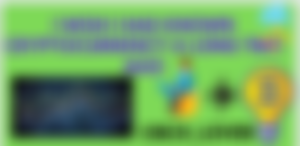 I may have not changed a thing about those mistakes however I have wished I had known about cryptocurrency a long time ago. Why?
If I had known it earlier than the year that I explored cryptocurrency, I may have known how to hold my earned coins. Just as what I had read in @Jay997's article before, the price of the bitcoin last 2017 (not sure with the year that was stated in her article because I forgot it already) was still 48 000 pesos or more than $900. If by that time, I was able to explore and hodl more bitcoins until today then I would have more money in my online wallet.
If I had known it earlier, I would have explored and learned more things about cryptos like investing in many crypto coins and projects, trading, and mining. You know as of this time, I really wanted to know more about trading but I wasn't able to learn because there are still things that are new to me and I could hardly absorb all those all at once.
Those are the reasons why I'd wish I had known the crypto world a long time ago.
That will be all for today. Thank you for reading.
---
It's the start of the week, how's your day read.cash family? I hope you're doing great on the first day of the week.
Previous Articles:
Saved By These Funny Would You Rather Questions
-https://read.cash/@BCH_LOVER/save-by-these-funny-would-you-rather-questions-097c5d4c
Parents Edition: Never Have I Ever
https://read.cash/@BCH_LOVER/parents-edition-never-have-i-ever-dbd3a780 This is me, 🧕BCH_LOVER 🧕once again. Thank you for your time today.
..//Telegram//..//Twitter//.//Noise.Cash//