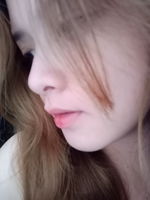 _______________________
Is it just I, who have noticed that the time ran so fast? We are now on the fourth day of December and the upcoming Christmas is fast approaching too. How's the fourth day went out for you? Have you made a lot of progress, which ever field it is? Mine? Not that productive and progressive but at the very least, I've got few blessings for today.
To start with, I woke up around 7 am this morning. I opened my account in here to check if there's an upvotes given to my previous blogs. To my surprise, its the second day that I was able to get $3+. When I opened my notifications, I was so stunned to see this consecutive affiliate payments in addition to Rusty's upvote and upvotes I've got from other users.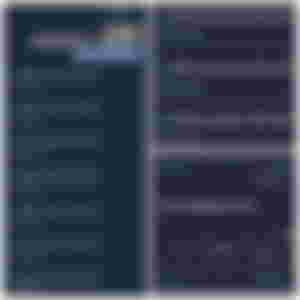 I opened my affiliates to see where it came from. It says, its from "Anonymous user." Like I said, its the second time that I received an upvote from this mysterious thing/being.
After which, I replied to comments being left to my previous blogs and left comments to others too. Alongside with that, I shared the blessings I've got in my noise.app through a post and checked my Cashrain earnings too.
Around 11 am, I informed Rhed that I will go to town. The main reason is to buy a new sim card for me to able to withdraw my earnings that I have stored in my Binance wallet. (I probably just write a separate blog for this matter.) My papa and I decided to just go with the other team members who rode in the mini truck that was drove by their team captain. We just brought our own chair so that we can be comfortable while on our way to the venue of their game. They were up against a team from Barangay Lunang. The game started supposedly at 1 pm but due to the weather, it was moved to 1:30 pm.
When we arrived there, we immediately went to their bench for us to be able to watch the match comfortably. First up, the committee get their names and jersey numbers and given five minutes to have their warm up.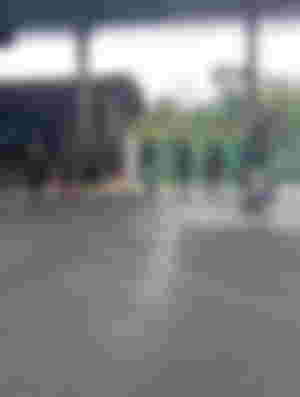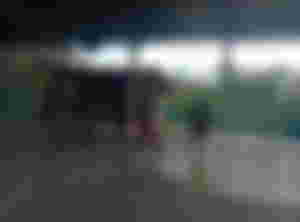 After the given time, the referee blown the whistle, a signal for the game to officially start. Before they entered to the court for the jump ball, they first have a short prayer.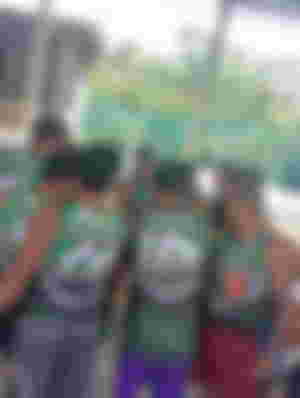 On the first quarter of the game, their opponent been able to get three consecutive shots which made them lead the game. It ended with the score, 17-8 in favour of their opponent. On the second quarter it ended with a score, 28-18. On the third quarter, the game ended with a score, 40-24. And finally on the fourth quarter, the score was 52-34 which made my papa's team loss that game.
And you know what, we were so disappointed about it because of the wrong decisions of the referees. Even if its pretty obvious that it was a "foul" they didn't call a whistle for it. Instead, they were just giving us a silly smile. And because of that, my papa called for a substitution and didn't play in the few minutes of the quarter. When he was already beside me, he shouted "you should have a seminar first." Well, even I that is not really that knowledgeable about the game, I also felt dismayed with what had happened in their game. Even our SK Chairman and one of the SK officials who accompanied. Even some of the audience. But like they said, "its referees decision." But what's more disappointing about it was, they called a foul to our team even though there wasn't. "Kung hindi talaga masama, susuntukin ko talaga yung referee ba. Kainis talaga. Halatang pinapaburan nila yung kabilang team." But it left us with no other choice. We just accepted that we lost. After the game, we decided to have a quick photo shoot as for our remembrance and went home.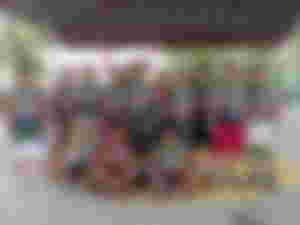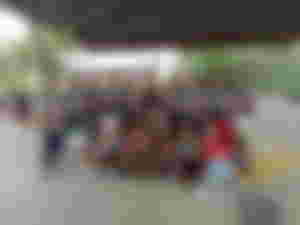 ________________________
We arrived around 5 pm and at around 6 pm this evening, we took our dinner. Right after, I started to write this blog. It took me a while to finalize my thoughts because my mama was busy talking about how naughty my pet dog was and other stuffs.
About their game, they still have another chance to play but if they will loss again, they will be out in the tournament. For now, we were just waiting for their next match.
I guess, I will be ending my blog now. My braincells don't have anything to squeeze anymore. Lol. XD
That would be all. Thank you for your time my read.cash fam. Good evening and Good night! 🤗
All photos are owned by yours truly.💕
________________________
With all sincerity and a pure heart, I humbly give thanks to all of you my read.cash family. To my avid readers, upvoters, subscribers, and commenters, thank you for the support and by exerting your time and effort to read my blogs. I valued every little things you have done for me. Thank you for you have made my writing journey on this platform wonderful from the beginning up until now. You are my inspiration and motivation to keep up and to showcase this talent of mine with all the best I can and have. May this platform last for a lifetime and more writers to come and be inspired to become a content creator.
_______________________

_______________________
PREVIOUSLY PUBLISHED ARTICLES:
"If only I have Money" https://read.cash/@renren16/if-only-i-have-money-db76c570
"On the Second Day" https://read.cash/@renren16/on-the-second-day-4d8c1f37
"A Recap and a Welcome" https://read.cash/@renren16/a-recap-and-a-welcome-5aad7bad
"A Winning Piece on Hive" https://read.cash/@renren16/a-winning-piece-on-hive-3cbc2f1a
"I am Broke by the Pain of Rejections" https://read.cash/@renren16/i-am-broke-by-the-pain-of-rejections-f645a931
_______________________
_______________________
Blog Title: "The Fourth Day ft. Forty uppers Basketball game"

Author: @renren16