Cook a Food Item
Cooking is an inevitable job most of us have to do almost every day. We have to eat some food anyway. But some people seldom cook. They survive eating junk foods out or buying cooked foods from online food stores, getting them delivered to their place.
Cooking is an indispensable activity for most homes in this human society. But, there are people who can eat foods in restaurants and roadside food joints, prefer big food brands' items delivered on doorstep, or even eat raw foods like animals.
Some people cook food dishes in their homes regularly. It is evident from the blogs and vlogs on cooking. I can mention the names of many bloggers who often post about their recipes on ReadCash and elsewhere.
Cooking is some sort of a hobby. My mother used to tell me to be away from the kitchen. But, I used to enter our small kitchen and explore what she cooked. I used to disturb her to give me half-cooked items. One of my favorites was eating half-fried potatoes. I used to like the semi-raw taste of vegetables. After growing into adulthood, I don't like semi-cooked items anymore!
My first cooking experiment was to make perfect half fry eggs. It requires a skill to keep the egg nicely cracked, maintain a balance of how much it is kept raw.
I delved into more cooking only when our teenage son asked me to cook. He doesn't like his mother cooks all the time! Probably he sometimes dislikes the perfect mastery over spices and oil. I like less oily and optimum (sometimes very less) spices. Cooking is an experiment I like right from my childhood days.
---
My mother used to cook delicious fish curries. Once a month, we used to have goat meat. Although my mother never ate meat in her life, she used to prepare meat dishes with an expert delicacy many meat-eaters might not possess. But today's food item is an easy one, and I don't follow any rules of expert cooking.
Chicken meat is not costly, and often cheaper than most fish. Our community has been living on chicken for decades. Maybe, since the 1990s, chicken is the most sold non-vegetarian food item in our place.
Chicken is easily digestible compared to other meats, such as goat, mutton, lambs, etc. I prefer fresh chicken to packed chickens available from different packed food brands. I usually go to local chicken meat sellers in our locality. I tell them what I want. Most of them provide the right parts of freshly cut/dressed chicken meat.
---
Buy chicken meat from the market. It doesn't matter whether it is a whole chicken or some parts of it. I don't mind if the chicken meat is fresh or packed dressed. Get some chicken meat and start cooking right away.
Simple way of cooking is to boil and eat. I ate burned chickens with salt during my student days. Those are the sweet memories, I often remember, how much fun some of us had on the terrace of the student dormitores.
Wash the chicken meat. If it is from the deep freezer, you must put it in warm water or get rid of the ice by doing the proper procedures in a microwave oven. Enter the cooking area or kitchen in your living space or dormitory. I had the experience of cooking in the kitchen of international youth hostels.
---
I don't have any obligation to follow the standard cooking norms. Please don't follow my cooking steps if you are a perfectionist.
I have purchased the chicken meat from a roadside meat seller. He cuts and dresses chickens in from of the buyers. I have purchased about 500 gm of chicken wings.
Wash the chicken meat with water. If it is a freshly dressed chicken, you may preserve the second washing water for adding while preparing the curry.

Add salt, turmeric powder, and cumin powder. Mix it nicely with your hand.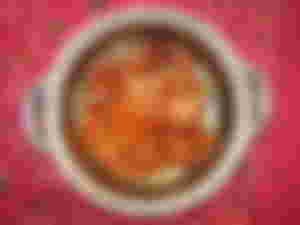 Photo 01: Chicken meat after applying salt, turmeric, and cumin powder.
Cut a few potatoes, I mean peel off the potato skins and cut them into small pieces, wash in water, apply salt and turmeric powder as shown in the photo.

Without salt, it will be tasteless, whatever skills you put. Even the top chef can't make a dish tasty without a little bit of salt.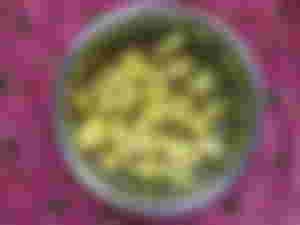 Image 02: Potatoes cut into pieces after applying salt and turmeric powder.
Please excuse me for the difference in hues of the captured photographs. The background illumination might have changed the color and hues.
Take a small onion, a few pieces of garlic, and a small cut piece of ginger. Chopp and make a paste either using a hand grinding technique or use an electrically operated mixer-grinder.

The finer the paste of onion, garlic, and ginger, the better is the chances of extracting the juices of the ingredients. It is my 'expert' thinking.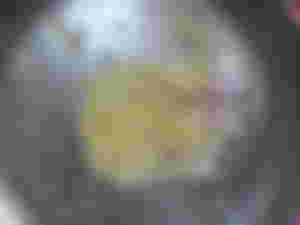 Image 03: Chopped (hand or electrically ground) onion, garlic, and ginger.
Oh my God! I forgot to show the photograph of turmeric and cumin powder. Please bear with the minute leakings of other spices on the top of the image.

You may put a piece of green chili or red chili powder (if you like it).

In earlier days, our mother and grandmothers used to get hand-ground pastes of turmeric, cumin, and other spices, even green and red chillis.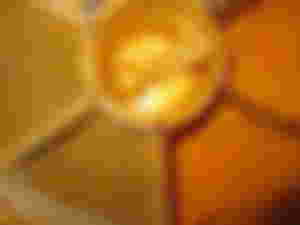 Image 04: Turmeric and cumin power used in the food preparation.
I always use a minimum amount of oil in every food preparation.

The potatoes are semi-fried in a minimal amount of mustard oil.

The photograph shows that I put a few drops of mustard oil in the pan.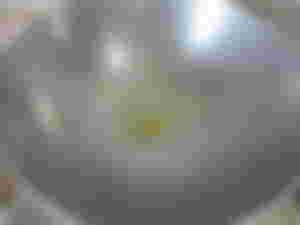 Image 05: Photo of a very small amount of mustard oil in the pan.
The semi-fried potatoes were my favorites during my childhood days. The photo below shows the semi-fried potatoes in the pan. I have to keep it for the curry.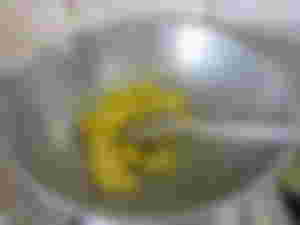 Image 06: Photo of the semi-fried potatoes in the pan.
After taking the semi-friend potatoes out of the pan, I put a little more mustard oil in the pan. This photograph I have forgotten to snap.

When the oil becomes hot, I have poured all onion, garlic, and ginger pastes into the pan. It is required to be fried until the color becomes a little brownish.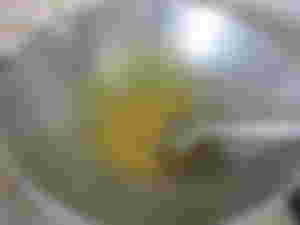 Image 07: The onion, garlic, and ginger paste are fried in the pan.
After the color of the onion, garlic, and ginger becomes a little brownish, I have put the marinated chicken pieces into the pan.
Image 08: The chicken pieces are put in the fried opinion, garlic, and ginger paste.
The chicken pieces are now required to be stirred well so that the oily past of opinion, garlic, and ginger mix thoroughly with the marinated chicken pieces.
Image 09: The chicken pieces mixed with opinion, garlic, and ginger paste.
It is now time to put the semi-fried potatoes over the chicken.

The chicken and potatoes are required to be well stirred.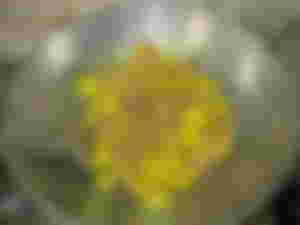 Image 10: The chicken pieces mixed with opinion, garlic, and ginger paste.
The chicken and the potatoes are thoroughly rinsed with the fried paste of onion, garlic, and ginger and are put under low heat for about fifteen minutes.

Pour a little water so that the chicken and potatoes are not burnt by heat.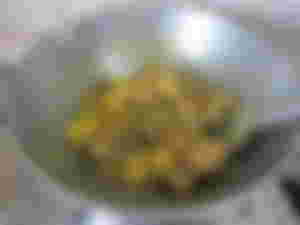 Image 11: Chicken pieces thoroughly mixed with opinion, garlic, and ginger paste.
Now, we take a pressure cooker and pour the water we have preserved after the second wash of the raw chicken.

Place the pressure cooker under low heat.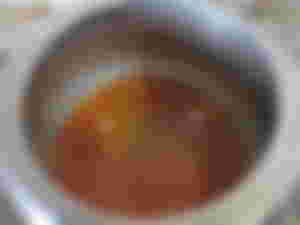 Image 12: The pressure cooker with the water we have preserved after the second wash of the raw chicken.
Put a little bit of turmeric and cumin powder in the water.

Stir it until the spices powders mix with the water.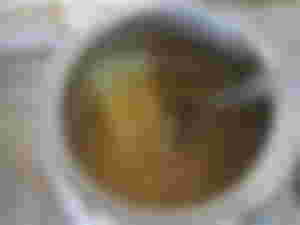 Image 13: The pressure cooker with the water mixed spices powder.
Put a little bit of cornflour. You may also put normal flour instead.

Again stir the water and mix the spices and cornflour.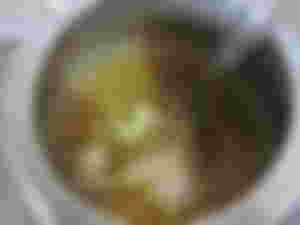 Image 14: Cornflour applied in the spices mixed water in the pressure cooker.
Remember, we have kept the marinated and half-cooked chicken mixed with fried onion, garlic, and ginger paste. Now, put that into the pressure cooker.

Apply a little bit of stir to mix the chicken and the spicy water.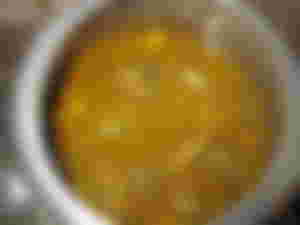 Image 15: The pressure cooker containing the chicken and spicy water.
We cover the pressure cooker and make it ready to boil under full heat.

We may count about nine to ten "whistles" of the pressure cooker.
my mother, and other elderly family members always put a very little amount of sugar in most curries. Now, my elder sisters also say that sugar is required in most curries, and vegetable items. So, I will put a very small amount of sugar.
Add a little bit of sugar. One tablespoon full of sugar will do.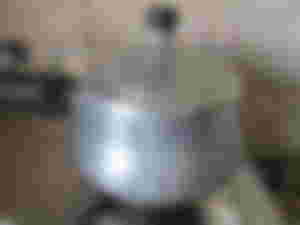 Image 16: The pressure cooker with closed lid under full heat of the gas burner.
The pressure is built-up inside the pressure cooker; it releases water vapor through the pressure-releasing nozzle with many "whistle" sounds.
After nine to ten "whistles" are completed, we put off the gas burner.

We keep the pressure cooker lid closed for about fifteen to twenty minutes.

The chicken curry is ready to serve for eating!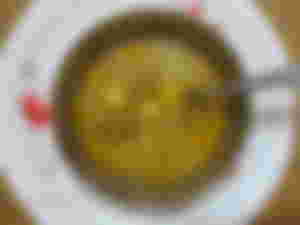 Image 17: Photo of the chicken curry served in a steel bowl.
We open the pressure cooker and check if the chicken is cooked correctly or not.

If needed, i.e., we find that the chicken is not yet thoroughly boiled, we can close the pressure cooker lid again and switch on the gas stove. Heat it for one or two more "whistles" and put the burner off.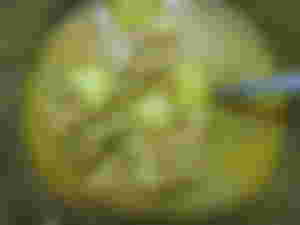 Image 18: A close-up photo of the chicken curry served in the steel bowl.
Look at the above photo and guess how tasty it would be to eat the chicken curry with rice, chapatis, or nun parathas.
Again, please excuse me for the difference in hues of the captured photographs. The background illumination has been changing the color and hues too much. The same chicken curry looks yellowish in image 17 but ligh yellowish in image 18.
The cooking of chicken curry is complete.
I guess many of you may ask me why I have chosen to write about cooking.
---
I am not fond of cooking. But, I generally like to eat something now and then.
So, food is part and parcel of my life. I can't avoid cooking.
Although my partner regularly cooks, I often try cooking.
It seems that our family doesn't dislike it.
I have tried to give a glimpse of my cooking rituals.
I think everybody should try cooking something someday.
---
May I ask my ReadCash VIP connections to offer their opinions?
@Amjad_Ali_Waince @Ayane-chan @cmoneyspinner  @Duvinca  @Ellehcim @ErdoV @Eybyoung @Jane @Janz @nomadghada @Oikawa @Olasquare @Queen01 @SolarPhasing @sj0820 @Talecharm
All names have appeared in alphabetical order.
I am directly inspired by food posts by @rebeysa85 , and very recently by @Amjad_Ali_Waince 's chicken soup.
---
I have been practicing STEM - Science, Technology, Engineering, and Mathematics for many years. I create solutions for password and cybersecurity relevant to blockchain and cryptocurrency.
If you like, you may follow my writing communities and submit relevant articles:
Thanks to my sponsors, whose names appear in the "Sponsor" pannel.
I wish all members of the blogging community strive here and elsewhere.
---
Cheers!
I capture all food images. Please don't use them without my permission.
Text and Image Copyright: Unity
Lead Image:  I created the GIF lead image with my text title and a number of my cooking photographs.
All other graphics and videos are credited just below it.
Disclaimer: All texts are mine and original. Any similarity and resemblance to any other content are purely accidental. The article is not advice for life, career, business, or investment. Do your research before adopting any options.
Unite and Empower Humanity.
I am also on Noise.Cash ... click the link if you are there.
February 26, 2022.