Mother's Day Bingo Edition
When you are just a kid or a teenager and you have a nagging Mom. When you only like to do the things you want but they sometimes love to find fault on you. We can't help but feel unloved, that they doesn't care and our happiness doesn't really matter at all. Sino ba naman kasi tayo diba, we are 'just' their child - Me, you or anyone here who felt that way before. Imagine hearing to them the words "Anak lang kita!" Or "You are just my child and nothing more. It's like I'm just here because they allow us to live.
Imaginr carrying a big resentment from them for years because you felt like they are the thorn or the devil who wants you to be sad. The one who stop happiness to go on your way. I felt this before too, the thing I want to do, the happiness that I'm trying to chase but I can't get because they are on my way, your way, I mean everyone I think experience this? Or nah? It's like they are one of the obstacles I have to slay so that I can finally taste the happiness that I am longing.
But, when you become adult this is where you will realise that what they did is only for our own good. It's only for us, this is just their way to teach us. It hurt us a lot because their way is kind of harsh but soon when the time comes that you have your own family. You will realise that it is only for your own good. For sure you will be thankful to them too that they shaped you as a person you are today. I'm one of them hehe. I'm happy with my Moms.
Although we still quarrel sometimes still, we will just forget it and be good again after just an hour. Anyways, I'm talking about this but actually I just want to answer this Bingo: Mother's Edition that I saw on facebook. It was created by one of my Favorite Author Ms. Mandie Lee. It looks fun too because most of them, I heard them with Moms even until today. If you also want to try you can visit this page. Don't forget to leave a like if it's not too much, hihi. Thanks.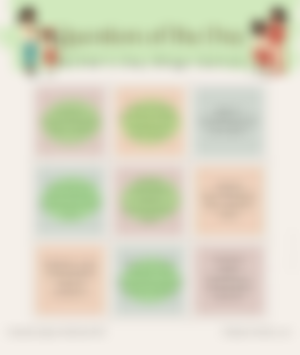 So here's the Mother's Day Bingo Edition. You know Moms, they love to nag about everything but that's just how they are. Maybe not all but our Mom is like a super woman with a super power that can let them communicate with other Moms because their words is always the same. Just as you can see on the bingo card lol. I bet a lot of people here heard this somewhere before 👀.
--
Off course I heard this a lot of times to my Mom already. Just like this one time. I am eating and suddenly I feel a sudden pain in my head like pinipitik ganorn. It's not really my intention to be heard by Mom but she still hear it anyway. And she's like "masakit ulo mo? Yan kaka selpon mo yan. Mag selpon kapa sige?" I mean, it's too hot that day. And I think that's the reason. I gave her a reason but you know Mother's. They don't need your reasoning. Because they are always right so you should listen to them. Ohhhh, Mom's!!! lol. That's why sometimes I will just keep to myself if I feel something on my body. Because surely, they will just give me a very longggggg sermon. Aigoo.
I can't really remember if how many times I heard this to my Mom. Like when they already know and they already experience this particular things but you don't want to believe and also apply it to yourself because you have your own way. I mean, really? Lol. But sometimes they are also right in some things but most of the times when I heard them say that phrase. I will just nod and okay, sure. End of discussion. It's better to listen nalang din kesa makipag talo.
So, I don't understand oldies sometimes. If you answer back to them and you just want them to hear your side. They will say "bastos" or "walang galang." But when you just choose not to answer, they still have something to say. Like "answer me when I'm talking to you?" I mean, I just want to just shut up so that wala mg argument but sometimes they will still see it as a no respect to them. It's like sala sa init at sala sa lamig, you don't know where to stand. Wala ng kalagyan ganon, lol. I heard this a lot to Mom before. I will shut up and cry silently but when they hear me cry don't cry daw and answer to them. Seriously no? Lol.
Well I admit I am tamad huhu. Specially during my teenage days. I won't move if no one ask me to. I will not sweep the floor, I will not cook and I will not clean this or that if they didn't ask me to. And that's why my Mommy D(moms partner) was always mad at me. It really come to the point that she will say that to my face and she will also sumbong sumbong me to my Mommy. And that's where the fight will start and that's also one of the reason why I don't like Mommy D. I know it's also my fault but you know kids, they will really look at it as 'pang aapi' if no one corrected them. Yep just ljke me.
Gahhh, many times already. They always say this when I can't find something. You know that, they will answer yes but there is really no specific place that they are pointing like "Diyan! Diyan lang sa tabi! Doon, basta doon!" Tas bigla ka nalang papaandaran ng "Use your eyes when you have to find things and not your mouth!" Seriously, hahaha but if it's them they are the only one who'll get mad at us if we say this to them. Why they like that no, huehue. We will be called bastos agad aga. Aigooom
--
I'm in good terms to both of my Mom. We still quarrel but not thst much anymore. They also listen to my side now but there are still time that they will still you know. But what's important is we will be okay again at the ed of the day. No hard feelings or what.
So how about you? How many times did you hears this phrase to your Mom and Dad? Hihi. This is a late one but as what others say,. Everyday is a mothers day so........ 😊. Happy Mother's Day Mothers!
--
If you also want to try this get the original copy here: Bingo: Mother's Edition. You can edit it on Canva or Picsart and put a shade to those phrase that you can hear by your Mom. Happy Bingo'ing, meowww.
---
May 13, 2022
--