Matti's 2nd Birthday Dinner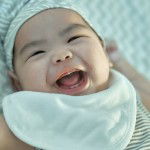 Hello guys! I just want to share with you how Matti's second birthday went. This happened on the 25th of July, about more than a week today, I know it took a long time before I shared this but I hope you would still read through.
Actually, prior to Matti's birthday, I had been contemplating the easiest, money-efficient, and cheapest way that we could celebrate his birthday. And it was around a week before when I finally decided that we will hold a dinner fellowship with our friends and church mates.
I had a lot of things in mind, from only spending for packed lunch for Sunday School kids to spending it with just the three of us in a resort in Panglao, or maybe bringing the whole family out to a nearby resort in Anda, or just not spending anything at all and just stay at home, have dinner and let Matti blow his cake candles. I just want to lessen the stress and such.
The plan of preparing a packed lunch for the kids was realized. It was the first option but the actual day of celebration was only decided when my father sponsored a whole lechon. When he said so, with my husband's confirmation, we decided on a dinner celebration instead. But after the event, I somehow regret the decision. I will talk about that later. For now, let me share with you how that day went.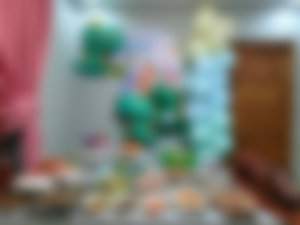 On the 25th, we spent the whole morning and afternoon preparing for what needed to be cooked that evening. In the morning, we went to Jagna to get honey and other ingredients from the grocery store. We were looking for a fish that we could cook as escabeche too but failed, I somehow couldn't find any meat shop that has ground pork and beef together so I decided to buy meat and then went to a shop to grind them together.
In short, we were so busy! That afternoon, around one, my sister-in-law, my father, and I were busy cooking everything. I also have some help from a friend who I appreciated so much! Thanks @jessmcwhite!
As for the decoration, I am glad I bought some balloons online before the actual date so they arrived just on time. I also purchased some balloons from a local gift store here and I printed a tarpaulin which I cut into a circle to make it unique instead of keeping it in a square one. It all turned out well though.
The entire day was super busy, I actually got some headaches and back pains at the end of the day when dinner was about to start but I have to brush it away. Then by seven, dinner started.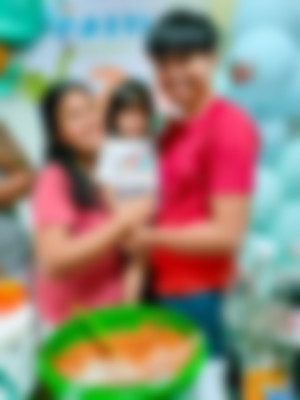 Of course we took a lot of photos of Matti. We let him blow his candles too but more importantly, we asked our pastors to bless Matti and pray over him before all the guests and family.
Most of those that I invited were from the church, some young people, the pastors, and close friends. My family on the paternal side came as well. And so overall, there were only a few people in the house, just really those whom we interact mostly and those whom Matti is very familiar with. In fact, there were almost no kids at all except for my niece and nephews and a pastor's grandchild!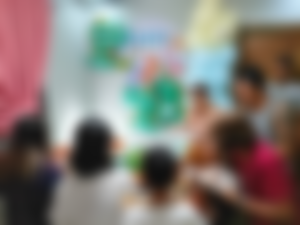 As for the food that we had prepared, I made a green salad, lumpia, bolabola, chicken wings, spaghetti, my father cooked Lapulapu escabeche, kinilaw or ceviche, beef caldereta, while my sister-in-law made chicken cordon bleu, and pancit! There were other foods on the table such as lechon which was ordered, my mother ordered some sweets too like macaroons and I baked banana bread again.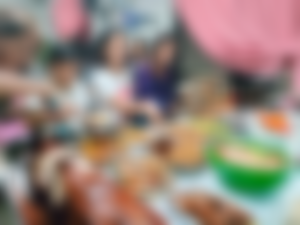 This was a simple gathering and I am glad that the people whom I invited came. I just wished that they loved the food that was prepared for them. The family also enjoyed the dinner together and fellowship came afterward.
But after all the dinner, there was still a lot of food left. As for Matti's cake, I ordered one with some help from Pinterest. The design was sent over messenger to Sticky Buns which is a local bakery here that can make customized cakes for their clients. I have been a client since we moved to Bohol.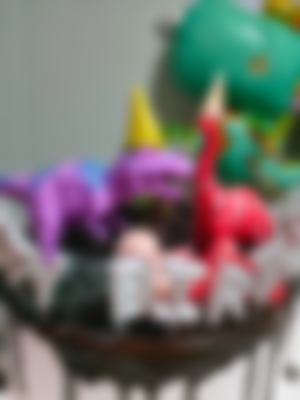 Customizing that chocolate moist cake was worth Php 1600. But aside from that, I also bought another cake, a drip one which costs Php 575 I guess and I designed it with dinosaurs with party hats. I also put candles that has Happy Birthday on them.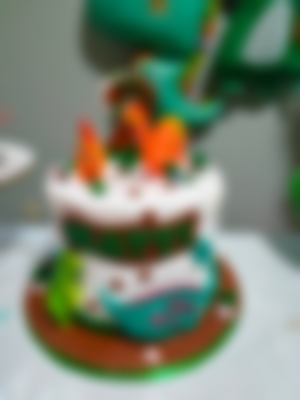 I was satisfied with how the cake was made, but the dinosaur on the bottom side slipped down, thankfully, I was able to put it back although there were some traces, and it was not very obvious.
After all the celebration, there were foods left and we have to figure out a way to lessen the contents of our fridge so we sent a lot out to friends and neighbors too, sharing them as well.
At the end of the day, my husband said I was so busy that day that I missed those hours that I could have spent with Matti. He was the center of the celebration but it was like the guests were more important because I spent almost the entire day preparing the foods that I couldn't even hold my baby.
Realizing that I figured that on the next birthday, I won't be holding such celebration any longer. I said sorry about that day and promised that in the next birthday, it will be spent with the family alone where we could bond together and make it extra special just for Matti, after all, it's his birthday, the focus must be on him.
Thanks for reading this article! Check out my previous articles here:
xoxo,
momentswithmatti Mother | Boholana | Cebu | Philippines | Travel | Photography Enthusiast | Calligraphy | Art | Crypto Noob
Sponsors of Momentswithmatti