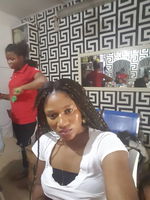 Today, I write with a broken heart and so much tears in my eyes for not having a husband, brother, aunty, uncle or sister who could stand for me in the assault I received from some three boys who stormed my house apartment claiming the landlord had sent them to come and throw me out of his house because I was owing him his house rent for almost six months.
In all fairness, I must still congratulate my landlord for his patience over me for a whoopping six months while on the other hand, I must condemn his actions for asking some young men to come and forcefully eject me from his house despite my continued worsened condition of not having anyone to my rescue or care for me and my kids.
It was barely seven years after my husband had left me and our kids and went to only God knows where that resulted in the fact that I have to work some extra harder to ensure I put some meals on the table as I'm constantly living only with just dependants alone with myself as the only person within the working age had my landlord began to suspect my inability to keep paying for the apartment myself and my husband and kids having been living which warranted him to invite me to his own apartment for a meeting.
In the said meeting, I was told that the apartment where we are currently living would be letted out to some other tenants whom they think would be able to pay him as at and when due, but the truth of the matter is that I've never been living up to expectations to pay my house rent as at and when due, due to the too many hardships we are at all times faced with at the moment though I pleaded with him for more time and understanding to allow me and my kids including my very old mom to Stay until I'm able to work out some money with which I would be able to pay up my house rent, but he blatantly refused and then gave me an ultimatum to evacuate his compound premises within a specified time period of just two months or I risk seeing myself, my mom, my kids and my property outside.
Moreover, I did all I could to help him see reasons with me and to stop him from committing such a dastard act but I ended up noticing that even my pleas all fell on deaf ears as he rose while pointing his index finger straight to my face and said to me, "just two more months", and then he left but at this point, I was really confused as regards what to do next, them I ran to a neighbor of mine to borrow some money and make up with the little I have in order to pay up but my neighbors all gave me excuses regarding hardships in the country that is seen everywhere which was why I got no dim from anyone concerned.
The next day I went back to plead with my landlord for just more time and instead of listening to me, he just rebuffed with a harsh word like, " stop coming to me without my house rent you Stupid woman", and then left
The situation became so unbearable as he ordered an electrician to come and disconnect my light which he did and ever since the past two weeks, I've been battling with a total black out while others enjoy light in the compound and even on the street.
I've pleaded many times to him but I fear my pleas aren't working any wonders for me at all until today when the most unbearable and most unbelievable inhuman treatment happened to me in the hands of tugs.
Wonders they say shall never end, I was in the kitchen trying to prepare my kids food for today's school and was surprised to have heard a very deep hard knock on my door asking me to open up the door on the orders of the landlord. I was at first very sceptical about the situation, so I refused opening it and when later I've heard my landlord's voice, then I went straight and opened the door and lo and behold, what greeted my cheek was a very hot slap for what I don't know I did wrong.
At once I asked my landlord what my crime was that he must have to hit me with a slap and his reply was that I wasted his time in opening the door late.
Then I challenged by proving it to him that i will take up a legal action against him so he doesn't understand the fact that beating up a woman is a big crime according to every nation's laws.
While I was yet speaking had he(my landlord) ordered the throng of street urchins who were with him to invade my house and throw me and my kids out including my old mom.
I tried resisting them but they over powered me so much so that one of the boys he had brought, had his hand rapped against my throat so that I can't make a shout for more people to come to my rescue.
I then managed removing his grip of my throat and then held him by his shirt while the second person landed a heavy blow on my mouth that got it bleeding. At this point, I was almost passing on but for the mercy of God given my state of tiredness from the scuffle that had gone on between me and six men including my landlord.
They eventually had their way inside my house after they had bothered me and just as you can see in the above picture of me with my torn jaw and swollen face that resulted from the punches they had landed on my face.
After making their way into my house, they ended up littering all the entire compound with my load and then forced my aged mother out of the house including my infant babies. Oh God where are you in all these! Why have you kept quiet for so long and watch me suffer this much?😭😭.
The situation has been such a tough one for me as you can see and ever since this morning, I've taken the matter to the human right department of the Nigerian Police force thinking they will be able to assist me but I was surprised when they (the Nigerian Police) asked me to bring some huge amount of money if I really do want to have them mobilized so as to effect the arrest but I told them I had no money to give them and I was blatantly told by them to then forget about getting justice since I was not able to pay up the amount that was demanded of me.
The picture below shows my first son Benson trying to arrange our property that were scattered on the floor inside the compound while one of my neighbor's daughter amd son are seen by the gate trying to open it. The situation is very awful and shameful as well as it still very much confusing to me regarding all that transpired and the roles the law enforcement agencies played in assisting me for what I feel was my right to justice😭
They also gave me an alternative of perhaps helping me charge the matter to the court but the truth of it all is that I must still have to pay them some money to do that which I refused cos I don't even have any dim of my own called money let alone giving them out to the so called officers of the law who don't even know what it means to be an officer of the law and a protector of the defenceless persons like me.
With that in mind, I tried getting a lawyer through the help of my friend but the lawyer's problems became far worse off than those of the Police officers as he made a demand that I have to always pay him him twenty thousand naira($50) each time he's to appear in court for me and that I will also pay him an initial or upfront amount of two hundred and fifty thousand naira ($600-$700) for him to file the assault case in the first place
Yet I told him still that I just don't have any money to spend as I e got issues to rectify at home but he rather talked of not being interested in assisting since I'm not able to cough out those amounts and start off the case.
After all the disappointments of not being able to get justice due to a lack of funds, I then taught of committing suicide so I can at least end the mortal game and go for a resting place among the dead but I was very much well aware what that action would mean to my kids whom I will surely leave behind to die off including my aged mom😭.
With that in mind, I just ended that taught of a suicide mission and then decided that since I was not able to get justice for having been assaulted at the hands of six men (6), I then placed and left all the problems in the able hands of God to avenge for me or fight my battle for me😭😭.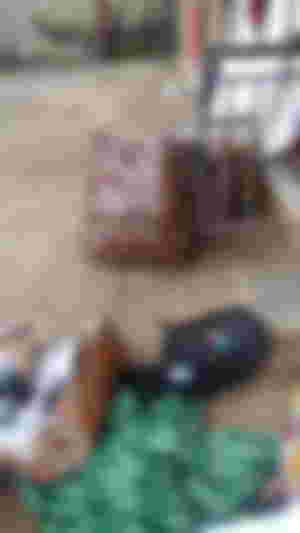 After all that, I decided to take my belongings to my friend's shop who is but a tailor and right inside her shop is where myself, my kids and my aged mother will be living for now until God in his infinite mercies decides to make a way for us for a better life.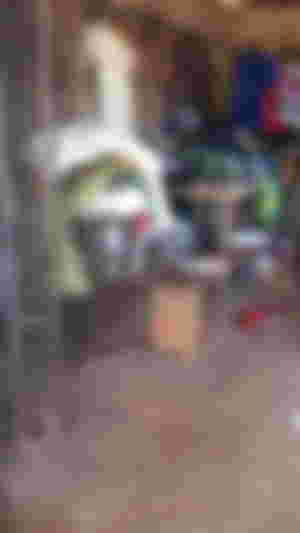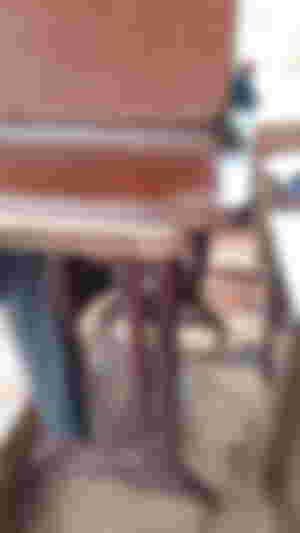 Pls I beg that you all put us in your prayers if we are to survive these hard and difficult times that I, my kids and mom are all facing.
Then lastly, what further steps do you think I should take considering what I went through in the hands of my landlord and his tugs?Thanks for reading my article and love you all❤️.
Image source: my phone camera.